Mansfield Traquair
We are looking forward to speaking to our new potential clients so if you've recently said 'yes' to the big question, chances are you're looking for a wedding venue. The place where dreams come true is Mansfield Traquair. A spectacular exclusive use venue for weddings, parties and corporate events, Edinburgh's 'Sistine Chapel' is simply extraordinary. Located in the heart of the city and lovingly restored to create a versatile space which combines stunning, historic architecture with state-of-the-art lighting and specification, you'll find that anything is possible at Mansfield Traquair. Event partners, Heritage Portfolio rise to the challenge creating events to be remembered forever - an experience beyond food, every time.
News
Romantic, spectacular and perfect - Nikki and Dean's love story
Nikki and Dean got married on a beautiful crisp winter day. Their wedding day was 'romantic and whimsical', filled with friends, family, love and unforgettable memories! Here is the story of how they met and what their Mansfield wedding was like.
MORE
Wedding Open Day January 2020
For a stunning Edinburgh wedding, look no further than Mansfield Traquair. Visit us at our Wedding Open Day to find out more, see the stunning venue and meet our Wedding Designers!
MORE
We couldn't believe how fast the team worked when they began setting up - like a military operation - most impressed!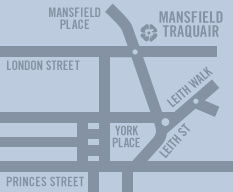 A venue supported by Heritage Portfolio