Stuart and Jen's Winter wedding
Stuart and Jen love to visit historic buildings and discover the stories they tell, so when they came across Mansfield Traquair they instantly knew it was the venue for them.
Read more to hear all about their big day…
Where did you meet?
Like most couples these days we met online - but not on Tinder or Bumble, but the lesser-known app Happn. We then met up from there, and within three weeks it was made "official".
How was the big question popped?
On Saturday 21st November 2020, Stuart had planned a walk up Allermuir Hill in the Pentlands - which wasn't unusual as walking was how we had entertained ourselves during lockdown.
Once we reached the peak, Stuart started to point out specific locations which meant a lot to us; Arthur Seat where we'd had our second date, Edinburgh Castle where Stuart had asked Jen out, he then pointed out both flats they'd lived in, the list was endless.
Stuart then stepped back and said 'I thought I'd be more nervous than this'. A puzzled Jen then turned round, and much to her surprise Stu was on one knee.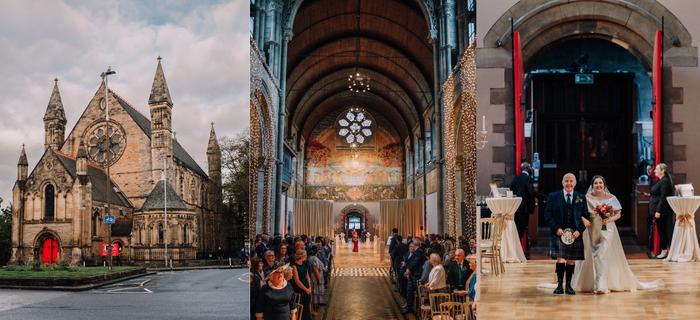 PLANNING FOR YOUR WEDDING DAY
How did you end up choosing to get married at Mansfield Traquair in Edinburgh?
When we travel, we love to visit historic buildings which hold a story. We particularly like churches/cathedrals for their beautiful architecture, stain glass windows and the sheer height of some of the ceilings. However, as neither of us has any religious beliefs we didn't think it would be possible to get married in such a venue - until we found Mansfield Traquair. From the moment we walked in we knew it was 'the one' so much so it was the only venue we viewed.
Did you enjoy preparing for your wedding day?
We loved planning our wedding and Clare made it so easy and stress free, answering any questions we had, most times on the same day. We always ran our ideas past Clare and nothing was ever too much trouble. We really felt we were listened to and our details/conversation was always captured.
It was so lovely being able to pop down on a few occasions too and see the venue set-up for other people's big day - it always gave us some inspiration.
Did you have a theme for your wedding day?
We didn't have a particular theme - just gold and grand, in keeping with the venue. However, our friends did nick-name the wedding the 'Royal Renton Wedding'.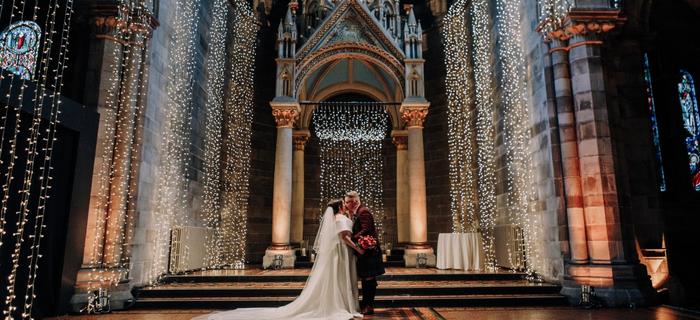 ON THE DAY
How did you feel walking down the aisle?
The venue felt so grand and atmospheric. In some venues the aisle is quite short but at Mansfield, you really get to enjoy the moment.
Despite this, when people say you feel like the only two people in the room - we really did!
What was your ceremony like and what made it special?
Our celebrant Neil really captured our story beautifully, getting the right balance of humour and lovey-dovey-ness.
Being able to write our own vows meant a lot to us, and really gave our ceremony a very personal touch. We kept these a secret from one and other, so it made it feel even more special reading them to each other on front of all our family and friends.
What was your first dance song?
Our first dance was Soverign Light Café by Keane. We both love the song and it reminds of us of our long road trips, singing it in the car at the top of our voices. It starts slow and speeds up which meant we could do the 'cute coupley' bit of a first dance but then we got to really get our dancing shoes on and boogie!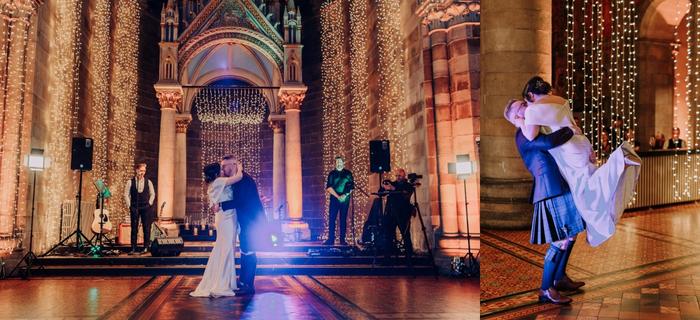 Tell us about your menu – what were your favourite elements and what did people say?
We absolutely love food so this was a big factor for our day.
At our tasting beforehand we got to try lots of delicious options before selcting our choices. We liked everything which made our decision nice and easy.
All our guests raved about the food, from the canapes, to their meal. Everybody's requirements were catered for which made it such an enjoyable experience. On the day, the food was fresh and hot, and just as we remembered. We received so many compliments, from flavour to the generous portions.
The added bonus was getting mini burgers and fish and chips at night too! Just the kind of food you want after a few hours dancing.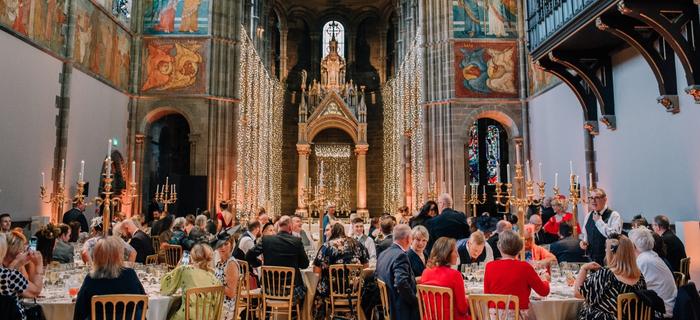 If you had to describe your big day in three words, what would they be?
EVERYTHING WE WANTED
A new story begins… where was your honeymoon and any big plans for the future?
We were lucky enough to jet off to the USA visiting San Francisco, Las Vegas and New York!