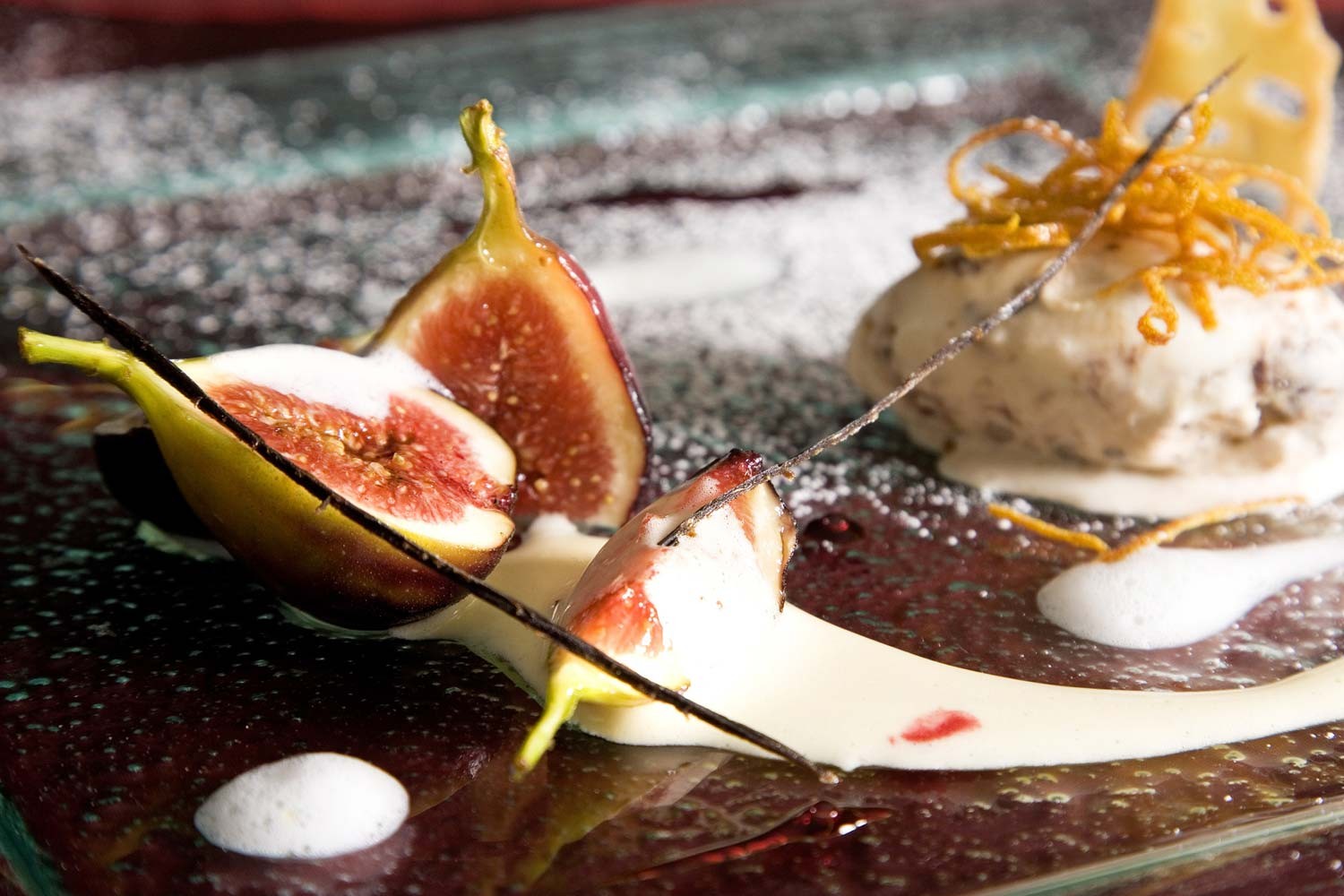 Food by Heritage Portfolio
Food obsessed, red-blooded and weapon wielding, our chefs are admittedly slightly off-the-wall on occasion. They are also ever-meticulous about detail, fanatical about food quality and passionate about creating sheer artistry on a plate.
Our absolute passion for food regularly takes us far beyond the confines of the kitchen - to farmyards, fishing boats, and country kitchens alike. Our ethos is to seek out the finest producers, however small; the quality and integrity of the raw ingredients is core to what is presented on your plate, surpassing even the most discerning of expectations.
We know that our live-and-kicking Isle of Skye langoustines are creel-caught and brought in by a day-boat called Equinox, skippered by Craig. Our award-winning chef hand-picks pork from a pig farmer called Robin, and John, the Fife farmer, delightedly shows us his oats locally grown and milled in Cupar. Our Edinburgh baker, Sean, matches our passion for no-added-nasties in the cakes he lovingly bakes with all-natural ingredients. We take time to get to know the producers personally, and they take equal pride in knowing that their food and drinks are beautifully presented on your plates.
You'd think they'd stop there, but our chefs live for the ninth degree, so the bit where food travels from pan to palate gives additional source of inspiration - soup served in shots, sushi on spoons, ice cream on sticks - these are a few of our favourite things!
Innovative and artistic, our award-winning chefs are self-confessed food fanatics, original and heavyweight 'foodies' who combine passion and culinary creativity in equal measure.
In short, our team's involvement in your event at Mansfield Traquair ensures occasion-perfect menus which incur round-the-room guest delight.
Whether it's catering for your wedding reception, corporate event or private party, we can tailor a solution that is just right for you.
Heritage Portfolio
Passionately driven, food obsessed, utterly charming professionals, smart and streamlined, disguised as waiters, butlers, chefs and even dream-makers alike.
Celebrated for providing a contemporary twist supported by timeless values, we remain absolutely true to our ethos of setting the bar at ultimate levels with a totally tailored approach to hospitality and event design.
Passionate, inspired and ambitious, Heritage Portfolio is the exclusive event partner of Mansfield Traquair. Entrusted by many of Scotland's finest heritage properties, as well as organisations across the globe, to organise events which are always innovative, dynamic and delivered with sophistication, we are expertly placed to provide ultimate levels of multi-disciplined event management at Mansfield Traquair.
Always polished and undoubtedly with true panache, we are renowned for staging the sedate and intimate as well as the flamboyant, glamorous and all-out spectacular. Our dedication and extraordinarily high standards, combined with boundless creativity and an unrivalled reputation for delicious, innovative food, has earned us many awards. These accolades include UK Event Caterer of the Year, Independent Wedding Caterer of the Year, Development Chef of the Year and a Thistle Award for Business Tourism, to name but a few. Put us to the test - much like our beloved champagne bubbles, we'll always pop up at the top!
Wedding catering, private party or corporate hospitality - Heritage Portfolio are the perfect caterers whatever your needs.
Drinks
Drinks 'to die for' dancing in glasses, lasting on lips, unwinding with clinking crystal - all complementing quite beautifully.
Our menus may dazzle, but every ying needs a yang. Our drinks selection is perfectly picked by consummate professionals who have literally gone the extra mile to ensure every option is absolutely appropriate. Circumnavigating the globe in our pursuit of the perfect accompaniment, the integrity of our drinks list is founded in a stone-turning search for the world's best producers.
Such is our attention to every last bubble and drop that we know that the wine of Stella Bella is thus named after the owner's dog, whose personality is reflected in the beautiful, spirited collection of wines. Our search for the perfect champagne house ended in the selection of Pommery - alone in its collection of champagnes for each season. Your spring celebration menu will be accented perfectly by 'Springtime', your midsummer wedding is toasted with 'Summertime', whilst your year-end awards are beautifully brought to a close with the raising of glasses filled with their 'Wintertime' champagne. Inspiration is not limited to alcohol – lime and cucumber crush, 'drivers' daiquirí', and even the juice for our 'apple bellini' is selected with care and attention at every turn.
Our drink selectors are committed tasters and educated enthusiasts, whose objective is to ensure the perfect complement to every plate. Served in crystal clear glasses and poured by perfectionists, our drinks and cocktails will tantalise both amateurs and aficionados alike.
People
Indulgently attentive yet unobtrusive service, delivered with composure and utter charm.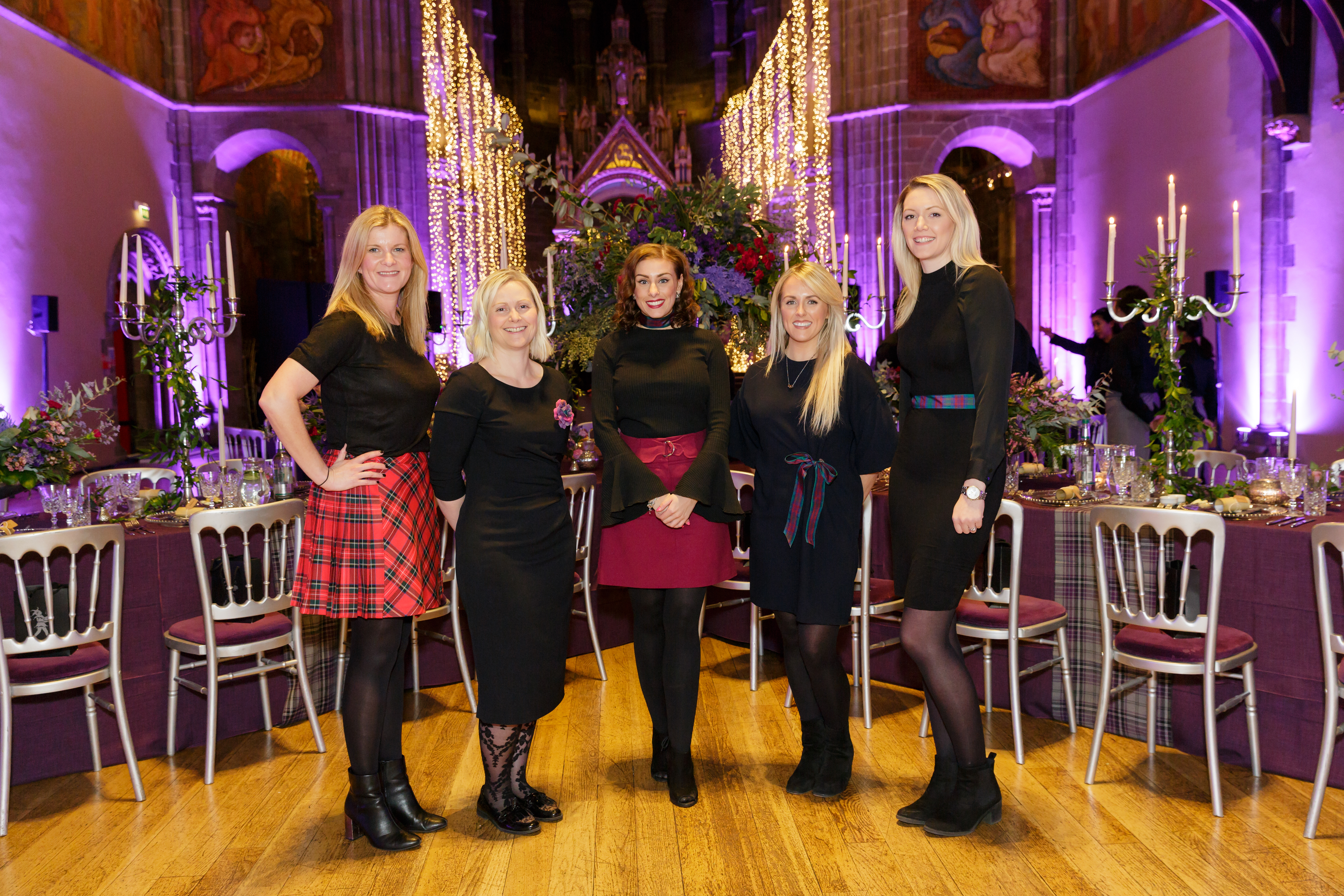 Renowned for their professionalism, their meticulous approach and for setting the bar beyond the reach of others, our passionate, intelligent (and we think rather good-looking) team delight in exceeding their outstanding reputation for delivering detailed attention which is expertly accented by diplomacy,composure and unfaltering smiles.
Friendly, tactful and unobtrusive, the team adds polish and style to every event, be it grand or intimate, formal or casual. Events are precisely set to ensure seamless delivery whilst being overseen by our team; individuals selected for their ability to combine confidence, efficiency and coolness under pressure with exceptional charm and discretion.
Whether top-to-toe in our trademark attire, or even themed in tailcoats or tutus, our team is known for being resourceful, personable and able to master the intricacies of each event. With no feather ruffled, you can comfortably release the reins, sit back to breathe in the amazing ambience and absorb the delight of your guests having the most fabulous time, enjoying what is so uniquely and unmistakably the event experience at Mansfield Traquair.
Testimonials
We are delighted to receive many letters of thanks from our guests. Below are a few examples:
"Everything was perfect on the day and numerous people have commented on how amazing the food was and also how classy and efficient the service was! We really appreciate everything you've done for us and the flowers were the least we could do!" David Ross
"The food, wine and service were excellent, you have a great team and we felt in such capable hands all evening. We couldn't believe how fast the team worked when they began setting up, it was like a military operation, we were most impressed. Your event planning beforehand was very professional and we have to say you have the most reassuring and calm manner – it is definitely a skill to be able to put clients' minds at rest! So thanks for such a great job – really hope we can work together again soon!" Kudos Scotland
"All of our family and friends have been raving about how great the food was, the service was, the venue was.....the list goes on! Lorna and the rest of the crew were brilliant on Friday and we would like you to pass on our thanks. Heritage Portfolio certainly can organise a great party!" Orla & James
"Heritage Portfolio is in another league. Their delivery was faultless and quite simply stunning to watch in action from the arrival of the marquee company to the catering staff. Their level of customer service is exemplary; we received nothing but high praise for their efforts. Well done to Heritage Portfolio and bring on the next wedding, these guys are in a league of their own." John McKenna
Gallery
By now you'll already have fallen for Mansield Traquair. Now take some time to browse our food gallery and you'll see that befitting to this inspirational venue, we can only serve perfect plates of passionately created food.
Your jaw will almost definitely have dropped when you viewed the images of Mansfield Traquair, this gallery should see your mouth watering too; it's not a good look for your wedding or event, so best get through it now.
It's a normal reaction. We call it the "Heritage Portfolio Effect".