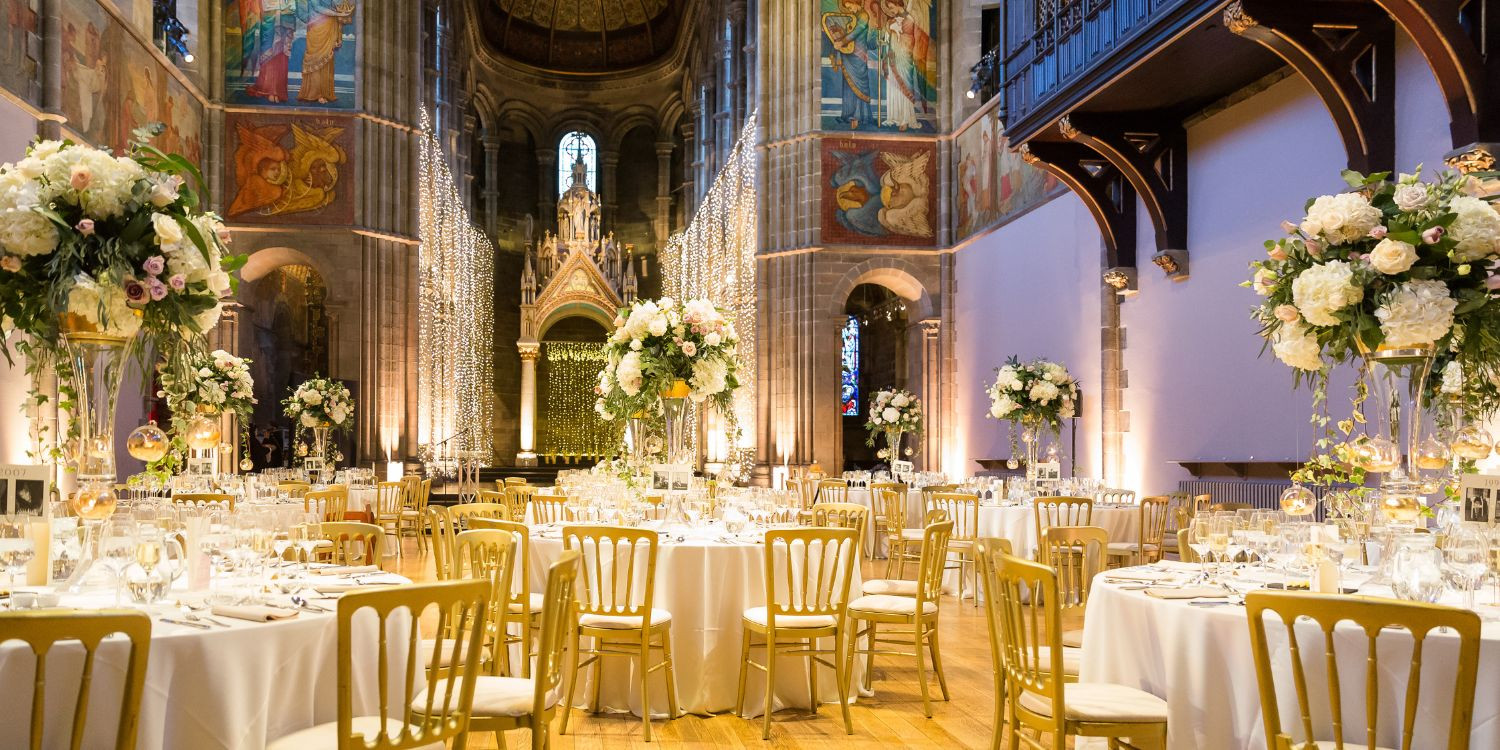 Weddings
Mansfield Traquair - Edinburgh's Sistine Chapel
Wildly romantic, graced with the most beautiful art and steeped in history, a wedding celebrated here is destined to join the realms of the fairytale. Aptly referred to as "Edinburgh's Sistine Chapel", Mansfield Traquair is an awe-inspiring hidden gem which holds within it's magnificent stone grasp the kind of thoroughly modern versatility which truly enables the transformation of simple dreams into a fully-fledged fantasy come true.
So, you've said Yes, you've cracked open the bubbly, perhaps at this very moment you're waving your left hand around trying to catch the light with something sparkly on your finger. Now it's just a matter of choosing where to hold your wedding, yes? Dear bride-to-be, if only it were that simple. You are merely beginning your journey into wedding mania and it can be a rocky path. But if Edinburgh is your city of dreams then Mansfield Traquair could be exactly what you're looking for.
No dream is unachievable, no scenario inconceivable - fairytales happen at Mansfield Traquair. The chasing of dreams ends when you enter Mansfield Traquair, a beautiful wedding venue in the heart of Edinburgh, because here they are caught and held forever, bound for a lifetime as cherished memories of the most magical of days.
Why not take a look around our website first, you'll find details of our venue hire prices, a selection of menu and drinks suggestions and prices, testimonials from bridal couples and much more. We hope this information helps you decide if you would like to hear more. Call us on 0131 474 6195 to make an appointment to explore Mansfield Traquair or email us your details.
How do you envisage your dream wedding day? Taking tentative steps, full of promise, romance and imminent joy, or striding down the aisle with sass and confidence? Whatever your vision, when you pass through the majestic entrance of Mansfield Traquair, your guests will have gone before you, gazing in awe at the soaring ceilings, the intriguing murals, and the carpet of petals lined with candles. Glass in hand, they will have wondered at the romance of the occasion and chattered eagerly with friends and family in anticipation of your arrival.
The Baldacchino, Nave and secluded, leafy garden are simply made for wedding ceremonies, as well as picture perfect receptions delivered with both polish and panache. Imagine the warmest, most intimate wedding breakfast, a sedate society wedding, and even nuptial celebrations which 'rock' for brides and grooms who professionally party!
Your wedding day is unique, a day unlike any other – to be treasured forever, it inspires hope and joy in all of us. Your wedding at Mansfield Traquair – majestic, magnificent with hints of magic abound. Take a moment together to absorb the expressions around you – love, laughter, wonder, romance, pride – the essential ingredients that great dreams are made of, and the foundation of a lifetime together.
If perhaps Mansfield isn't quite what you were looking for your perfect wedding day, you may want to take a look at another, distinct yet equally inspirational wedding venue supported by Heritage Portfolio - The Signet Library.
Bespoke & Luxury Wedding Design Services
Fairy godmother to many a bedazzled bride, these inspired experts wear out their wands in achieving the inconceivable and ensuring each and every fairytale has a happy ending at Mansfield Traquair.
From where to seat Aunty Ethel, to the thousandth candle lining your aisle, our Wedding Planners are the most experienced and obsessively meticulous transformers of dreams. With imagination in excess tempered by experience and judgement, theirs is an innate ability to make often complicated arrangements run without the slightest hitch.
These supremely versatile diplomats, thoroughly versed in the complexities of family relations, will lead you through every decision from lanterns filled with spring buds to trumpet voluntaries and gospel choirs. If you have a crystal clear idea of your dream wedding, we will make it happen and then some. For those finding their way to their big day with a little more trepidation, we'll take you with us in every step, building and realising your dreams as we go. Engage us in sourcing every element from spectacular floral artistry to gleaming, luxurious table settings, to music and lighting which will stir even the most reluctant romantic. All this, underpinned by exquisite menus, tantalising and tempting drinks and of course utterly professional and completely charming service.
Highly organised yet unobtrusive, imaginative but practical, our Wedding Planners are the fulfillers of the highest hopes, whose wisdom and professionalism expertly combines the absolutely fabulous with the practicality of budgets and family requirements.
It will be the day you've always dreamt of – happily ever after at Mansfield Traquair in the heart of Edinburgh, one of the city's best wedding venues.
Key Facts - Capacities & Specifications
Perhaps surprisingly, the restoration of Mansfield Traquair has cleverly and subtly incorporated ultra- modern technology and the types of facilities you might expect from a purpose-built modern venue.
Uber-technical capability means that your event can feature state-of-the art lighting and entertainment. Not only can artists traverse the ceiling on billowing silk (it's actually built to sustain the weight of a car) but you can hold great parties with guest-wowing stunts and room-trembling music. With equal aplomb, however, you can also host smart conferences, fairytale weddings, sophisticated garden parties, and supremely polished award ceremonies and presentations.
Full technical specification, floor plan and dimensions
| Capacities | No. Guests |
| --- | --- |
| Dinner | up to 350 |
| Dinner Dance | up to 300 |
| Reception | up to 700 |
| Seated Buffet | up to 275 |
| Standing Buffet | up to 600 |
| Theatre | up to 600 |
| Cabaret | up to 200 |
Key Prices
When you're planning your wedding, you will of course have a vision of exactly how you'd love it to be. For most couples practicality also comes in to play and there will be a finite budget that will influence your plans for your wedding day. This information is designed to help you decide if Mansfield Traquair is the perfect wedding venue for you.
Mansfield Traquair - a beautiful wedding venue in the heart of Edinburgh, Scotland.
Special Winter Wedding Offer 2016
Testimonials
We have been delighted to receive many letters of thanks from newly weds. Here are a few examples:
"We had an AMAZING wedding day at Mansfield Traquair – it really couldn't have been any better! Linkon and the team on the day were superb and it all went off without a hitch. We really enjoyed working with you too – Rebecca's pretty calm about these things, but you really helped me not to have a heart attack! Thanks again for making the whole process so enjoyable and dealing so serenely with the chaos that inevitably comes with us!" Kevin & Rebecca
"On behalf of my husband and I (!!) I'd like to say a huge thank you for helping us have the best day ever! We had an amazing day at Mansfield and all of our family and friends have been raving about how great the food was, the service was, the venue was.....the list goes on! Lorna and the rest of the crew were brilliant on Friday and we would like you to pass on our thanks. Heritage Portfolio certainly can organise a great party!" Orla & James
"Just wanted to say a massive thank you for all the hard work you put into our wedding day, you've all been amazing from start to finish and made the whole experience very enjoyable. We've had so many compliments about your staff and the venue! We really did have the most amazing day and so much of that is down to you. Thank you again." Vicky & Barry
"Thanks again to you and all the Heritage Portfolio teamfor helping us have the most fantastic wedding ever. We're still getting comments on how much people enjoyed themselves and how stunning the venue and food were. TOTALLY BRILLIANT." Sarah & Barney
"We had a really super day, the team on site were great ! It Wws wonderful working with you – you're all superstars. We'll send you pics . And, if we win the lottery, we'll book in for another party asap!" Beccs
" The weekend before last I was a guest at Mansfield for a wedding and I keep forgetting to email you about it. We had a fantastic day and Linkon and the team were superb, the bowl food was great and the staff were everything you could ask for at an event. It was such a pleasure to be sitting at a table and listen to the compliments from guests about the food and the venue. I had such a sense of pride and loved being back there again." Wedding Guest
"We just wanted to say a big thank you for making our day so special - you were all a class act! We wouldn't hesitate to recommend Heritage.......and hopefully use you again ourselves". Elaine Muldoon
"We had a most wonderful evening on Saturday and everything worked perfectly. Your staff were delightful, attentive without being obtrusive. Thank you and all your staff for ensuring that my daughter's wedding was such fun and a success". Colin Mitchell-Rose
"We would like to thank you all for making Vicki's wedding day so special and spectacular. Everything went like clockwork, nothing was a problem to the staff, they were all very friendly and welcoming. The food was fabulous. You all worked so hard and it shone through. The Mansfield Traquair was breathtaking when we walked in". Irene & Ian Cunningham
"First of all, the staff were terrific. Everyone was helpful, kind, keen to see that the day went off perfectly. The serving staff at dinner under the direction of Ian were super efficient - it was almost like watching a dance to see them serving. The food was delicious - your chef recreated those lovely dishes we all selected at the tasting and everyone commented on how good the food was. Everyone, down to the staff on the door were superb and I would be most grateful if you would pass on my thanks to them all." Ruth & Greg
"We enjoyed the wedding immensley and are very grateful that everything went so smoothly. Many thanks for the efforts of you and your team". Jenny Palmer
"I have received so many thank you cards with the most amazing range of superlatives - "wonderful, amazing, fantastic, stunning, theatrical and the best wedding we have ever attended" - are just some that come to mind. The venue came in for particular praise and so many commented on the quality and presentation of the food. You have really done us proud and the family are most grateful for everything you have done to make this such a memorable experience." Paul Murray-Smith
"Thank you to you and everyone from Heritage Portfolio who were involved in making our day go so wonderfully! We had a fantastic day". Jimmie & Carolyn Hay
"We just want to say a massive thank you for all your help in the build up to our wedding. It was all worth it - the day was amazing and Mansfield Traquair really didn't disappoint. Linkon was brilliant - totally unflappable, regardless what was thrown at him. He made the reception a breeze, so please pass on our gratitude. The place looked amazing and everyone commented on how stunning it was. They also really enjoyed the service and food." John & Clair
"Just a note to say thank you very much for the excellent service and catering at our wedding. We had a fantastic day which could not have gone any better". Clare & Alistair
"Thank you so much for helping to make our day truly memorable. We had an amazing time and have had loads of lovely comments from our guests about how stunning the venue looked and how good the food and service was during our reception". Shona & Anthony
Gallery
Take a moment to fall in love with Mansfield Traquair, that's all it will take. Such is the beauty of Mansfield Traquair that limiting the pictures we show of it is simply not an option. Please browse our gallery below the main image to get a glimpse of the possibilities of Mansfield Traquair.
Please don't worry if you find that browsing results in your jaw dropping rather unattractively – it's a normal reaction. We call it the "Mansfield Effect"
Take a 360° Tour
Seeing is believing and when it comes to Mansfield Traquair, a visit is all it takes to be forever smitten. Our 360˚ tour will give you just a taster of ambience that can be created, the beauty of the unique spaces and the potential to create an event to be remembered.
When viewing the 360˚ tour, don't forget to use the options at the top right corner of your screen to see Mansfield Traquair empty and fully set up as an evening venue.
Watch The Video, Feel the Love...
You've viewed the gallery, you've taken the 360˚ tour and you're teetering on the brink of falling hopelessly and irrevocably in love with Mansfield Traquair. We're about to tip you over the edge with a generously provided sneaky peek at a real wedding at Mansfield Traquair.
Our thanks to Natalie and Kenny, and Butterfly Wedding Films for sharing the love and allowing our website guests to enjoy a taster of their dream day.