Kim & Dominic's winter wedding romance
This Mansfield Traquair winter wedding was a feast for the senses. The colour, food, culture…everything was so beautiful. Think varying shades of champagne, silver, ivory, and gold enhanced by the charming winter light, stunning floral centrepieces, 3 wedding dresses and amazing cultural surprises – from the bagpipers in the morning to the Chinese tea ceremony in the afternoon to the lion dancers in the evening, and finally the dancing and ceilidh throughout the night – Kim and Dominic's wedding was an incredible international affair!
Photographed by Kirsty Stroma Photography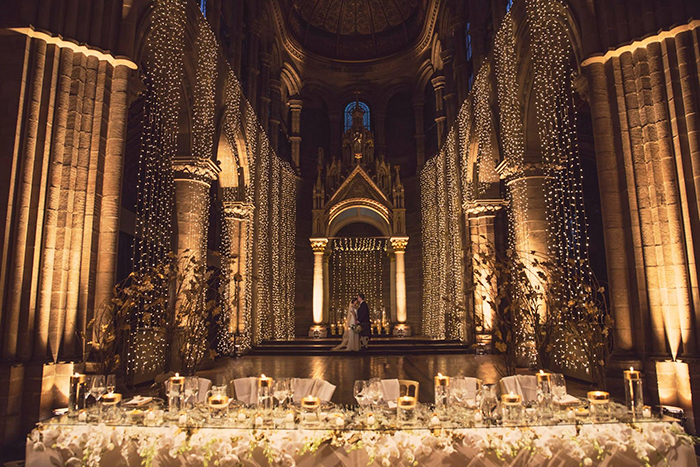 How did you end up choosing to get married at Mansfield Traquair?
Mansfield Traquair was the first and only venue we had seen when we were venue hunting! We both loved living in the New Town, and had our first ever date at a cafe near Mansfield Traquair. In addition, most of our family and friends were traveling from afar, so Mansfield Traquair provided the best of both worlds - a beautiful venue that is centrally located in our favourite neighbourhood.
Did you enjoy preparing for your wedding and the whole planning process?
Overall, the wedding planning went fairly smoothly! Perhaps the best part of it all was the menu tasting and cake trials! It was a hectic but rewarding process, and the whole Mansfield team did a wonderful job at organizing the whole event. Thank you Bryony for always replying my frantic phone calls and emails!
What was your ceremony like, what made it special?
Dominic and I went with a humanist ceremony as we wanted to incorporate the hand-fasting ritual alongside our own vows. And as mentioned before, the ceremony was especially memorable to us when my brother sang and played 'Over the Rainbow' on the ukulele during the signing.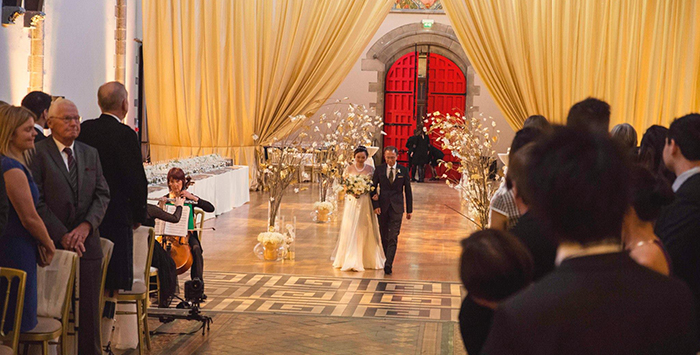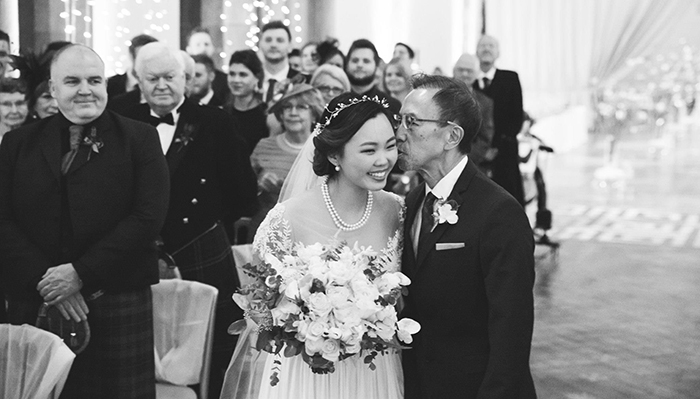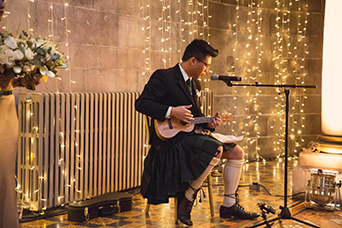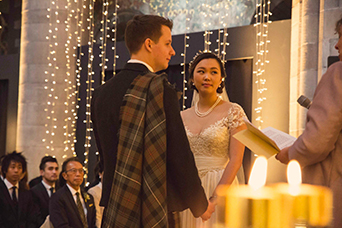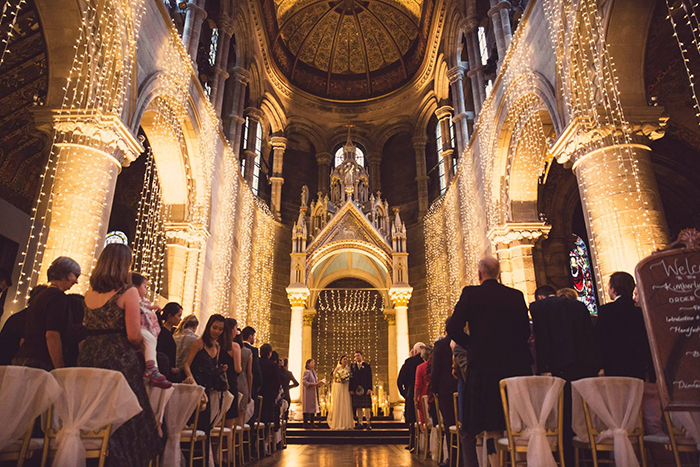 Your wedding theme…
We used a colour scheme of varying shades of champagne, silver, ivory, and gold. Mansfield Traquair has such a grand and opulent feel that we felt a metallic colour scheme would really complement and highlight the beautiful gold in the murals. When choosing our stationary, our friend (a very talented graphic designer - Jenny Tillyer) designed a vintage-y and Chinese invitation that helped unify our wedding theme. From flowers to cakes to bridesmaid dresses, we used our wedding invite as a template to finalise our wedding decor.
As for our table names, we named our tables after the airports we most frequently fly to when we were doing long distance!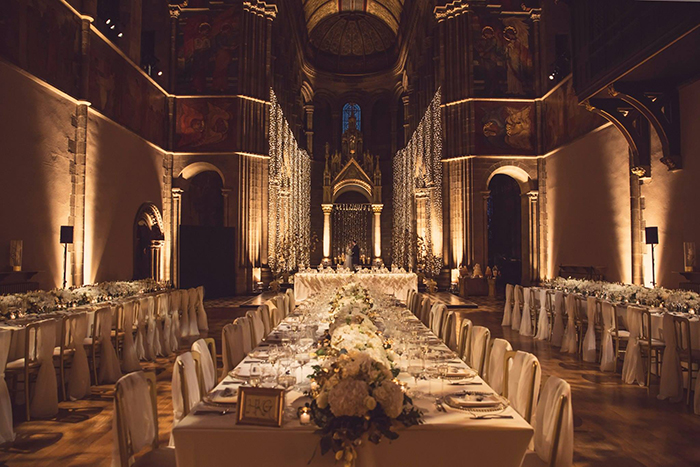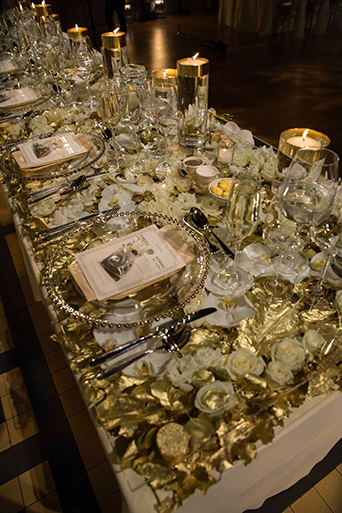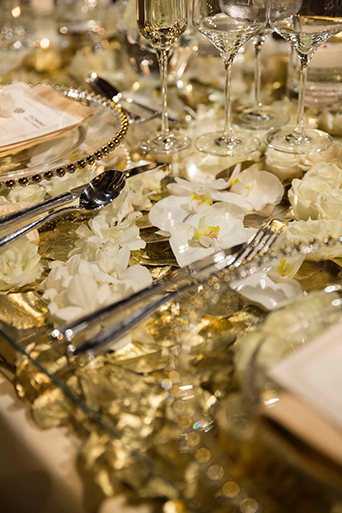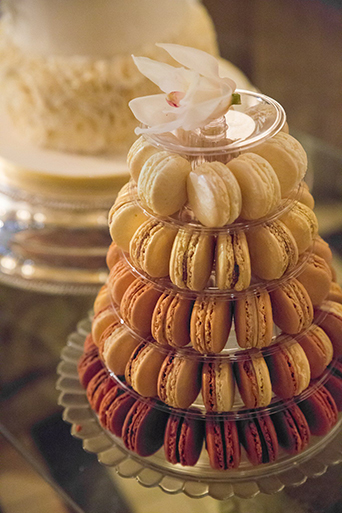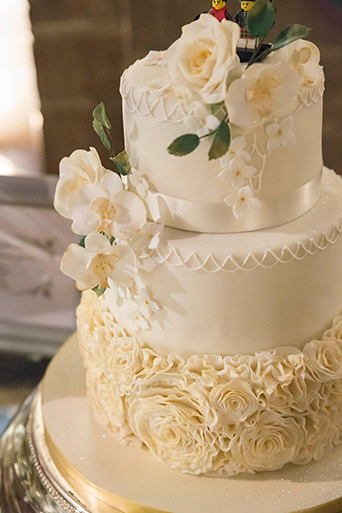 How did you personalise your wedding day? Where did you get your inspiration?
To personalize our wedding, Dominic and I tried to incorporate both our cultures to make the day unique to us. We organized the day to have a little bit of tradition and cultural surprises for all our guests, from the bagpipers in the morning to the Chinese tea ceremony in the afternoon to the lion dancers in the evening, and finally the dancing and ceilidh throughout the night, we've made sure to give equal attention to both our cultural traditions. Furthermore, we added little personal touches to our music selection, my brother sang a beautiful ukulele cover of 'Over the Rainbow' during the ceremony, and Dominic asked the string quartet to play 'Concerning Hobbits' for our recessional piece!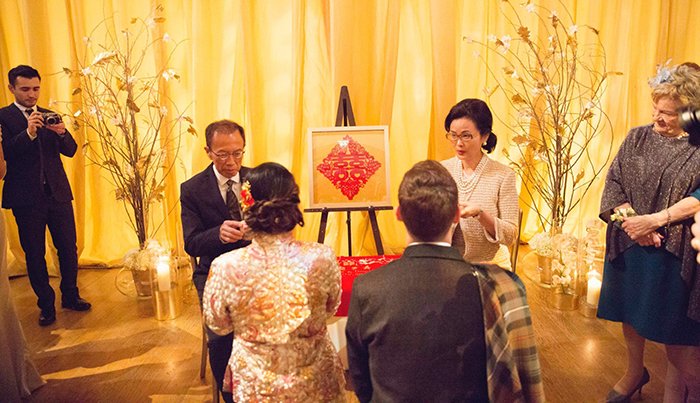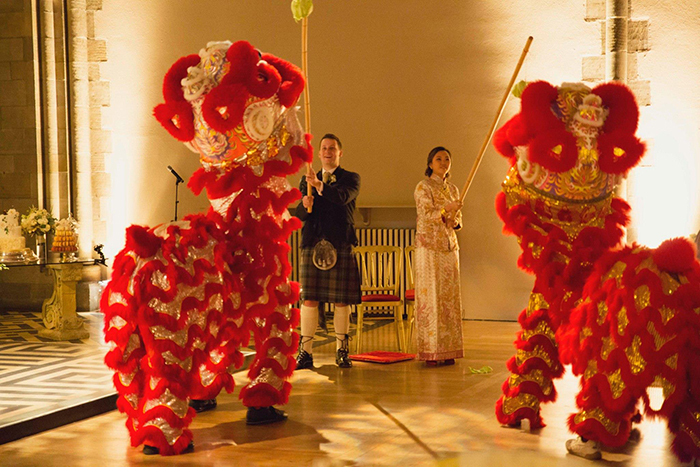 'The' Dress(es)!!
One of the things that made the day super fun were the dresses I got to wear! I had three dresses, each dress made from a different part of the world that holds a special place for me. My first dress was from the US, it was an ivory and embroidered off the shoulder Reem Acra dress with a lovely flowy skirt that made it perfect for the ceremony. To complete the look, I paired it with a long veil, a simple pearl headpiece, pearl earrings, and my grandmother's diamond watch.
For my second dress, I wore a traditional Chinese wedding dress that was brought over from Hong Kong. It had intricate silver, red, and gold embroideries throughout the dress. As for jewellery, I wore a mixture of jade, gold bangles, and emerald as it is symbolic in Chinese weddings!
Lastly, I picked a gold and platinum beaded evening dress for the dinner and dancing! The dress was from the UK designer, Jenny Packham, which had her signature vintage-y design that went well with our wedding theme. I absolutely loved dancing in this dress as it didn't have a train for me to step on! To top it all off, I wore some Nike trainers to make sure I was not getting any blisters from the dancing!
The menu – how did you select your menu? What were your favourite elements? What did people say?
We knew we wanted a choice menu from the very start because all the menu options Mansfield Traquair offered sounded amazing. In the end, we picked the slow cooked daube of beef and pork belly as our mains with a side of potato gratin and pak choi as the vegetable side. We choose the pak choi because we thought it'll bring a Chinese element to the menu! Everyone enjoyed the meal and we had nothing but compliments about the canapes, dinner, and late-night bacon rolls!
Tell us about a favourite or memorable moment.
The short period after the ceremony, when we were alone and waiting to greet our guests behind the red door was perhaps our favourite moment of the day because it was the first time we spoke to each other properly. It also gave us a little bit of time to reflect on what just happened!
If you had to describe your Big Day in three words, what would they be?
Magical
Emotional
Memorable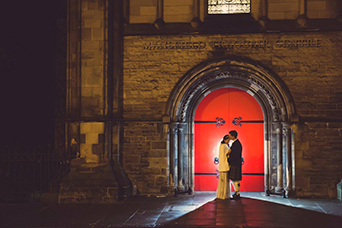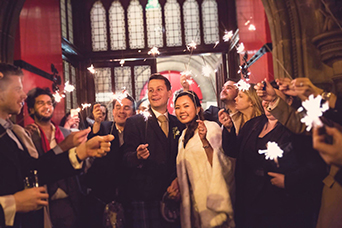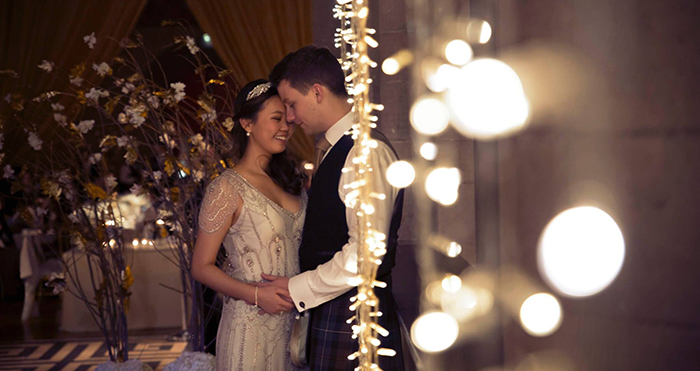 Photographer: Kirsty Stroma PhotographyVenue: Mansfield Traquair
Catering: Heritage Portfolio
Videographer: Cherry Tree Films
Flowers: Planet Flowers
Dresses: Lovely Girl, Reem Acra; Traditional Chinese Kwa (Unk); Eden, Jenny Packham
Hair: Audrey Maguire, Conolly's Hair
Make-up: Jenna Sung
Shoes: Valentino, Gucci, Nike
Groom's wear: The Kilt Store / Celtic Craftstore
Bridesmaid dresses: Jenny Yoo, Adrianna Papell
Wedding cake: Too Good To Eat
Entertainment: The Pickled Piper, Soul Inferno, Allestri Strings, Yee's Hung Ga Kung Fu