Romantic, spectacular and perfect - Nikki and Dean's love story
Nikki and Dean got married on a beautiful crisp winter day. Their wedding day was 'romantic and whimsical', filled with friends, family, love and unforgettable memories!
Here is the story of how they met and what their Mansfield wedding was like.
How/where did you meet?
We met originally at high school, however I (Nikki) am 2 years older than Dean, so this is not where we got together. I was doing my probationary teaching year with Dean's Aunt in our old high school - after a night out Dean's Aunt posted pictures of us both - Dean dropped me a Direct Message - 'I didn't know you worked with My Aunt Jen...' and the rest was history! We went on 3 dates in 3 days, and then we knew it was forever.
How was the big question popped?
There was always a running joke Dean would do it on a Monday, as Monday's are always rubbish. Christmas 2017 fell on a Monday and Dean had written me the most personal and funny poem which ended with 'you've read for long enough now, let's get around to what I have to say, isn't it funny how this year Christmas falls on a Monday.' Dean then got down on one knee and of course I said yes! To follow the tradition, we got married on a Monday!
How did you end up choosing to get married at Mansfield Traquair and why?
It was the first venue we visited, and we instantly fell in love. The scope to personalise your day and the welcoming nature of the staff really helped. We were interested in The Signet library also, however the lack of lift for our guests made our decision between the two for us.
How did you prepare for your wedding and the whole planning process?
Pinterest, Mansfield's Instagram, wedding open days and plenty chats with my best friend.
What did you find was most helpful about having an Event Planner?
Cassie was a dream to work with. She was kind, approachable, patient (with me particularly), understanding of our family dynamics and overall lovely to work with. She gave honest advice and helped me make decisions along the way, which I found extremely helpful.
Did you have a theme? What was it and why did you choose it?
We went for 'romantic and whimsical' as it suited the venue and because of the time of year. Grand and detailed also, again in keeping with the venue.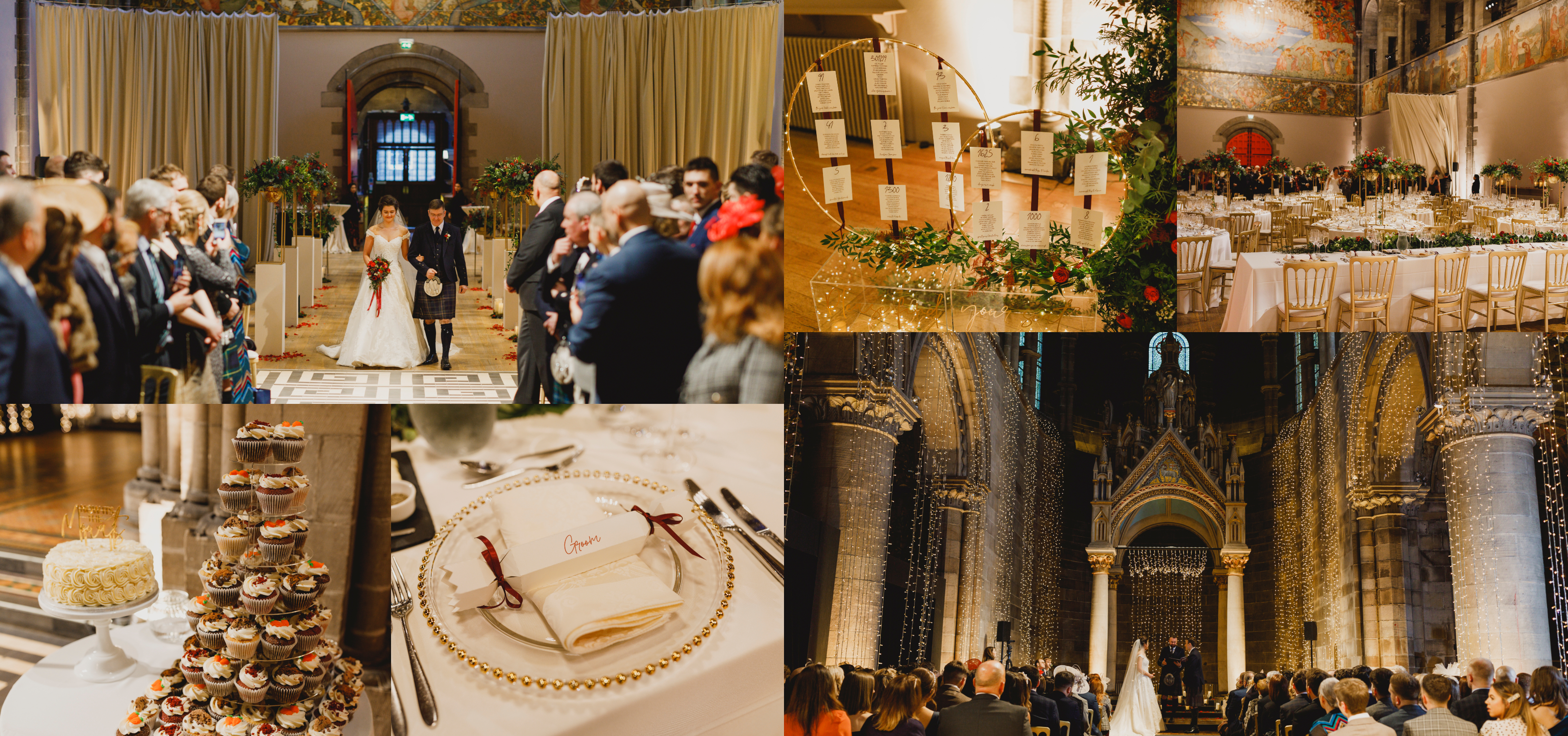 How did you personalise your wedding day?
Our stationery in particular. Our table numbers were all relating to us and 2Flux used pictures from our history to cleverly display and contextualise this for each table. We used a humanist who allowed us to work with him to compose our ceremony, which also made it personal. We selected an individual spirit enjoyed by each guest to put inside their cracker for a favour. This was time consuming but totally worth it! We had personal friends play our service and my uncles band play our evening reception. These were a few of the many ways we personalised our day.
Where did you get your inspiration from?
2Flux & Narcissus were incredible at taking my ideas and bringing them to life. I got a lot of inspiration from attending other weddings and knowing what I did and didn't like as a guest.
How did you feel walking down the aisle/standing at the altar?
Calm and excited! I'm usually extremely emotional, however when those red doors opened, I smiled the whole rest of the day and everyone else cried!
What was your ceremony like, what made it special?
We had a humanist ceremony which was personal to us. Our amazing humanist Chris Gray worked with us to allow for it to be exactly what we wanted. We also picked a close friend to play and sing 2 different songs. We included our Grans into our service with the quaich drinking ritual which was so special for all of our families.
Describe how you found the process of selecting your wedding menu.
Cassie and the Heritage Portfolio team made this one of my favourite parts of the planning process. We brought along all of parents and had a day filled with eating, laughing and bonding. I encourage any engaged couples to do it this way, as it really fused our families on our engagement and planning journey.
How would you describe the service and quality of the food on your wedding day?
Exceptional! Unlike any other large event I've ever been to! We had guests who have worked all over the catering industry comment on the silver service and how they have never experienced such delicious food at wedding. Our guests are still talking about the beef and taco canapés in particular!
What about the cake?
We used Mimi's Bakehouse who provided an extremely enjoyable cake tasting that we took our Grans along to enjoy. Having majority cupcakes was perfect as we provided boxes to allow guests to take anything left as a favour. We only had a little cutting cake left after the wedding which is usually unheard of!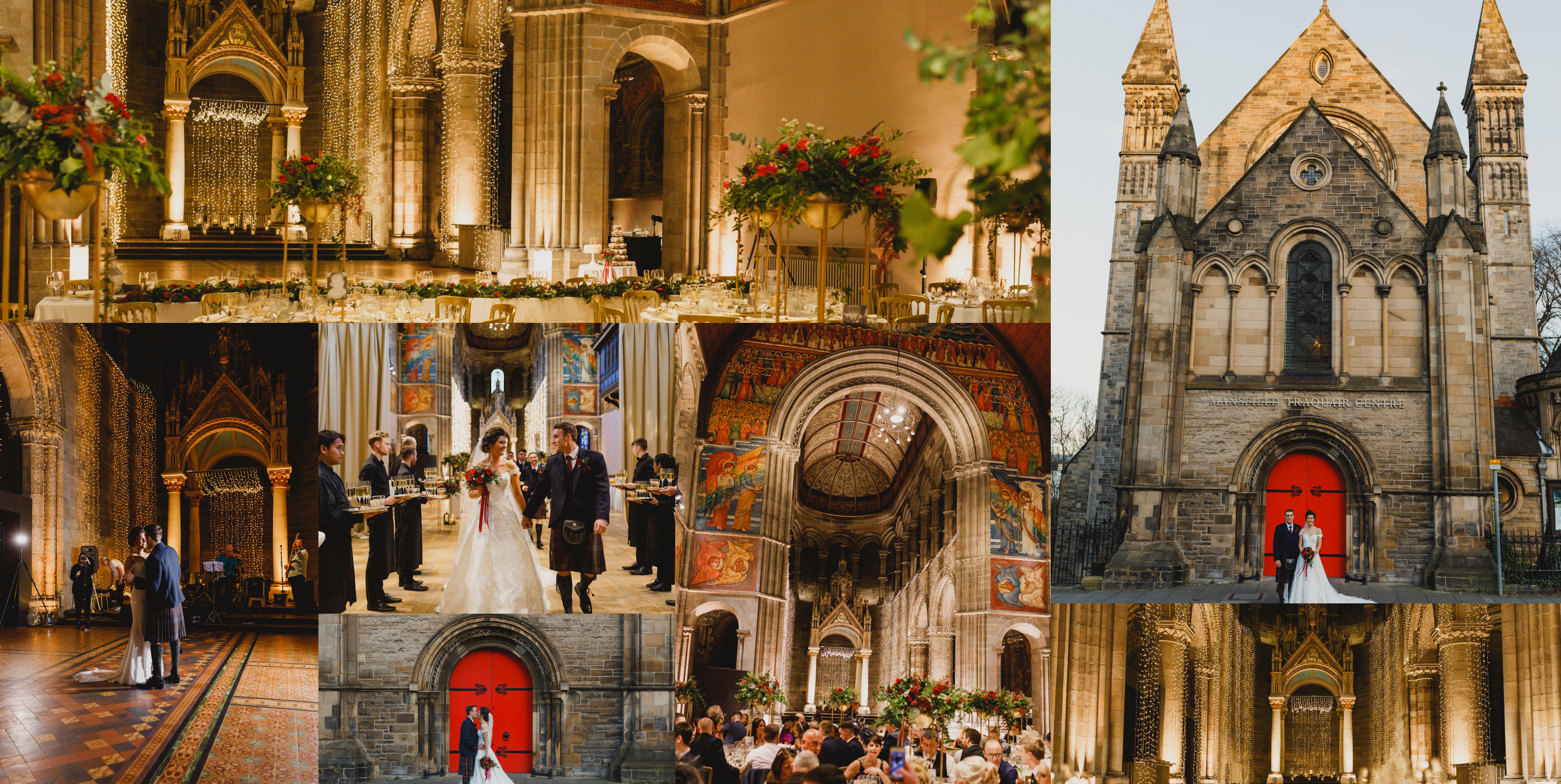 Tell us about a favourite or memorable moment.
When the red doors opened and I saw everyone I loved, especially Dean standing smiling (and crying) at the bottom of the aisle.
Any words of wisdom for future happy couples?
I was a nervous, worrying wreck before the wedding. The morning I woke up something clicked, and I had the happiest most enjoyable day of my life. Put your full trust in the Mansfield team - they don't do anything if it's not perfect.
What are some of the compliments you've received about your wedding day?
The professionalism of the staff, the amazing food, the attention to detail, and how spell-binding the venue was! One of our American guests posted pictures on social media and a friend commented to ask if my husband was an Earl or a Duke'.
If you had to describe your Big Day in three words, what would they be?
Romantic, spectacular, perfect.
Where was your honeymoon, any big plans?
At the minute we have a few things planned, however our first big venture is New York in April for some NBA games (Deans favourite) and Broadway shows (my favourite)
Please add any of your suppliers with any comments
· The Rutland Hotel - Bruno & the team there and the townhouses they have are spectacular! It's a 5 minute car journey and highly recommend a link with this vendor. We had the most stunning, spacious apartments to get ready in and Bruno an his team could not do more for us. From leaving favours in the room, to organising our guests - it was perfect!
· Chris Gray (humanist) - incredible manner, reliable, organised and by far the best humanist we met! We met a Mansfield recommended one early in our journey who actually stood us up for a meeting.
· 2Flux - I've mentioned them above and I know you already work closely with them, however they were so creative and amazing to work with.
· Candlelight Pictures - within 24 hours we have a 30 second preview of our video and we can't wait for what's to come. You can see this on social media. So reasonable priced when they do such an incredible job!
· Duke - again another Mansfield recommendation! We're still waiting to see any pictures, but the guys on the day were so lovely and fitted right in!
· Narcissus- Fiona and her team were so attentive and brought to life something better than I could have ever imagined! I had originally been disappointed when I could get Planet, however I'm so glad as I wouldn't have changed a thing!
· Capella - so quirky and professional and our guests loved them!
· Sophia Grace Couture - the best bridal shop by far!
Always dreamt of a winter wedding in Edinburgh? Contact our wedding planners by calling 0131 524 7287 or emailing mansfield@heritageportfolio.co.uk and start planning your big day.