St Patrick's Day wedding of Anne-Marie & Alan
What better way to celebrate the Irish-Scottish union than on St' Paddy's Day? For this lovely couple it was crucial to incorporate their national heritage into their big day and the effect was phenomenal – a mix of vintage with a touch of Ireland and Scotland. From an Irish post box for wedding cards, table names, Irish Baileys truffles and Scottish tablet as favours to having prosecco and Guinness for their reception, Anne-Marie & Alan's wedding was a truly international affair. Read on…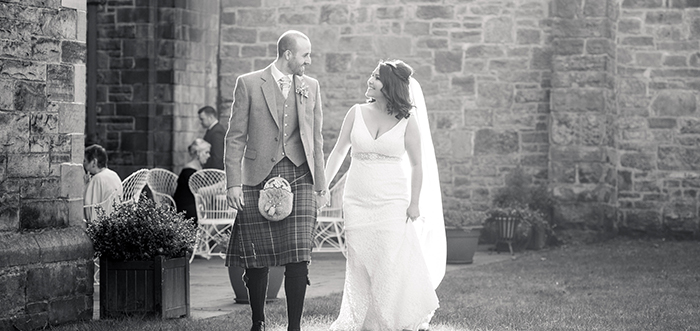 How did you meet?
We met at the Royal Infirmary Hospital over 6 years ago when we were both working as Junior Physiotherapists, hit it off and started dating!
How was the big question popped?
Alan proposed on the 29th December 2014 at North Dock in Dublin. Alan arranged for us to stay in the Marker Hotel in Dublin as a surprise. On the way to dinner by the water, he gave me a personalised photo book of pictures of us and our families and friends. When I got to the end of the book, he was down on his knee proposing and I of course said yes!
How did you end up choosing to get married at Mansfield Traquair and why?
We had passed by Mansfield Traquair many times and always thought it was a beautiful venue. When we got engaged it was top of our list to view, we fell in love with it and thought it was just stunning! No other venue compared!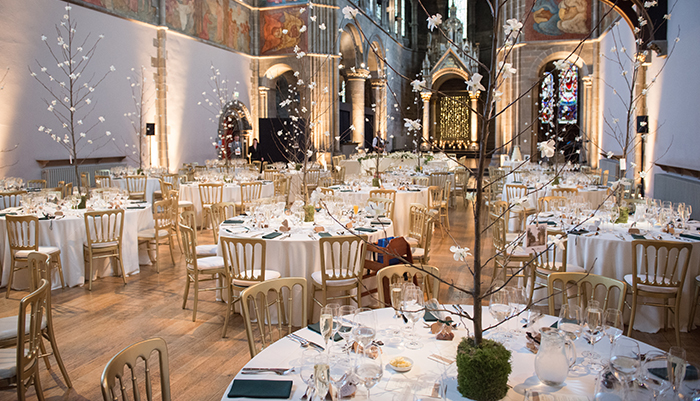 What made you choose this date?
We chose 17th March as it was St. Patricks Day and we wanted to have an Irish- Scottish themed wedding.
Did you enjoy preparing for your wedding and the whole planning process?
We enjoyed lots of things about planning our wedding...parts were stressful but we will definitely look back on it as an amazing experience! Some of the highlights included getting my wedding dress, the food tasting at Mansfield, buying our wedding rings, our hen and stags parties, planning the honeymoon and getting Alan's kilt.
We did organise a lot of things ourselves like driving to Calais to get the wine and making our own photo booth to name a few but we have to say that the staff at Mansfield (Helen in particular!) were amazing at helping us with every detail and achieving what we had envisaged for our day.
Did you have a theme?
Our theme was a mix of vintage with a touch of Ireland and Scotland. Some examples of this included having prosecco and Guinness for our reception drinks, an Irish post box for cards, table names and menus made from kraft paper, Irish baileys truffles and Scottish tablet as favours.
How did you personalise your wedding day?
As mentioned above, with all the little touches we added - the photo booth, the ladder with the letters LOVE on it at the bottom of the stairs, the Irish and Scottish favours, the selfie sticks on each table, the evening buffet being a variety of pies (which everyone loved).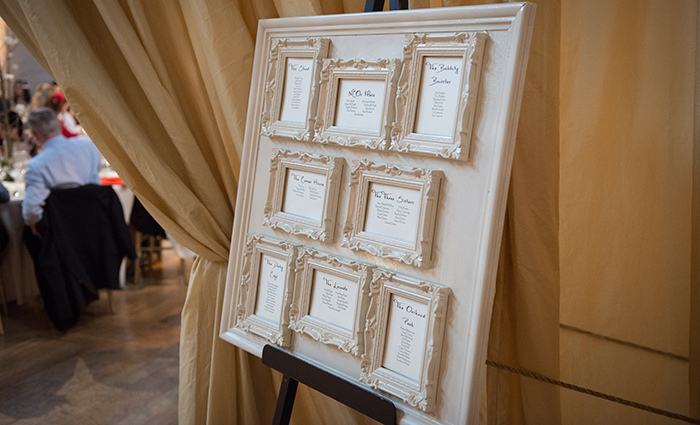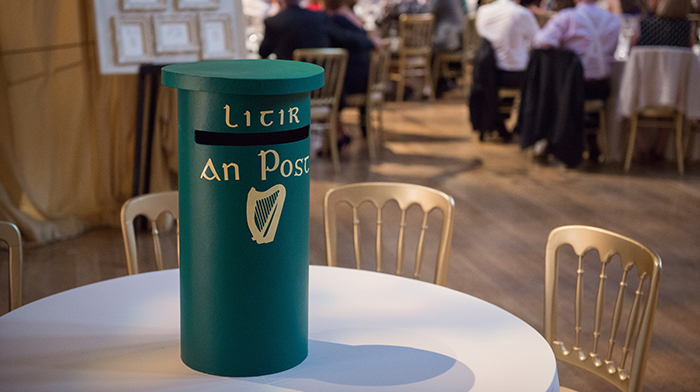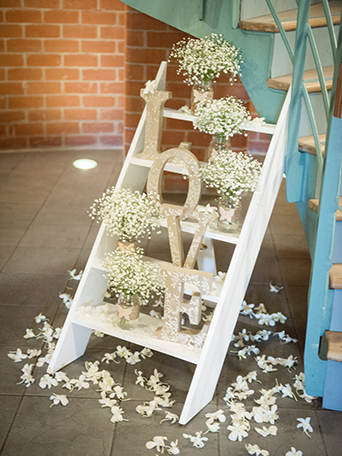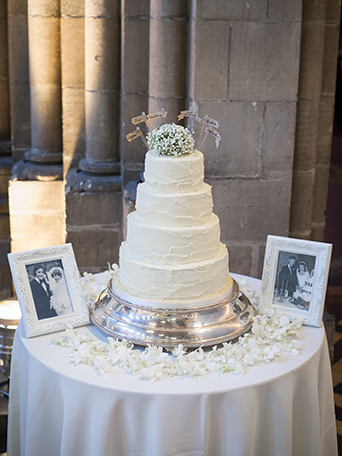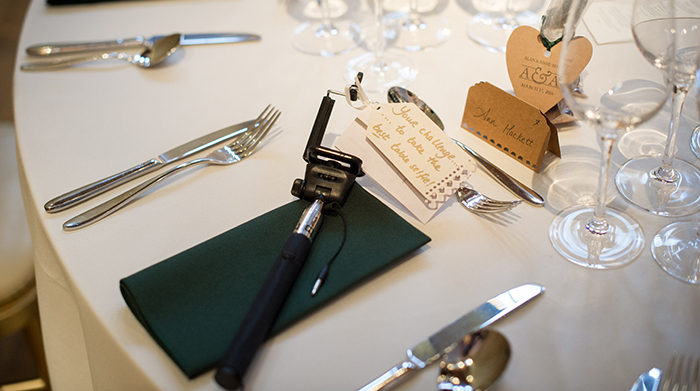 Bride: Your dress – what made it perfect?
My dress was just perfect to me because I thought it was very classic. It was a Pronovias dress called Marciel and it fitted me like a glove! Had just about enough space to dance! I had a jewelled belt added to the waistline and a long veil with satin trim.
Groom: What was your style?
The Kilt was from McCalls with a light grey jacket and granite pride of Scotland tartan kilt.
How did you feel walking down the aisle, standing at the altar?
Anne-Marie - Excited but nervous...it's a very long aisle! Just wanted to get up to the top as quickly as possible and my legs were shaking!
Alan - Also felt excited and nervous. Was overwhelming standing at the top with all our family and friends sitting in front of me. Felt emotional seeing Anne-Marie coming down the aisle.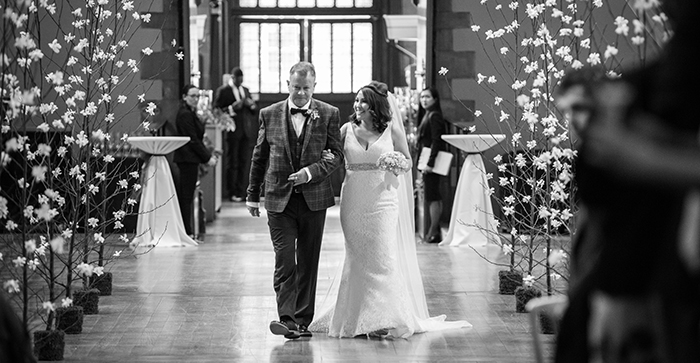 What was your ceremony like, what made it special?
It was humanist ceremony which we wrote with the humanist celebrant so it was very personal to us. We had a close friend Michelle singing during the cermony and her voice was stunning. It had two readings which was read by Alan's sister Carolyn and our friend Orla. We also drank whisky from a quaich along with both our fathers as a sign of welcoming each other into both families. The ceremony was then finished with a poem written by one of Anne-Marie's oldest friends Caroline.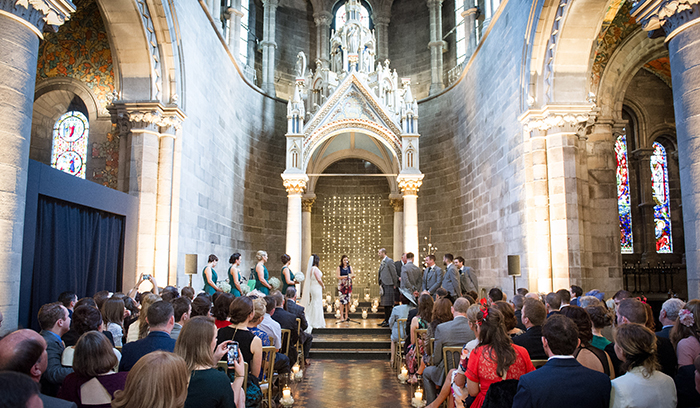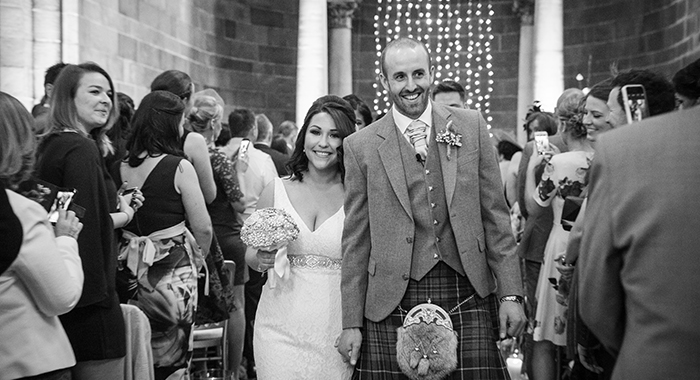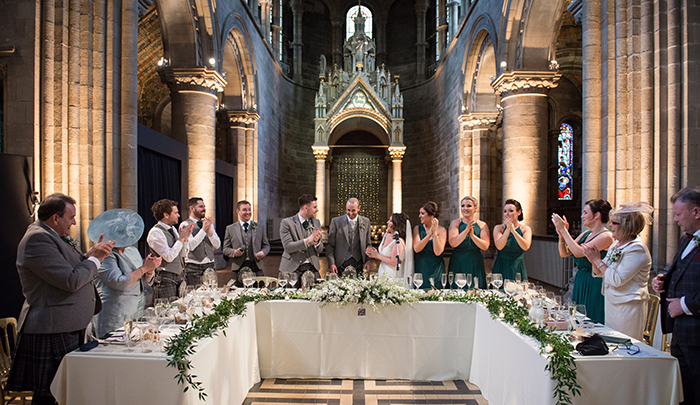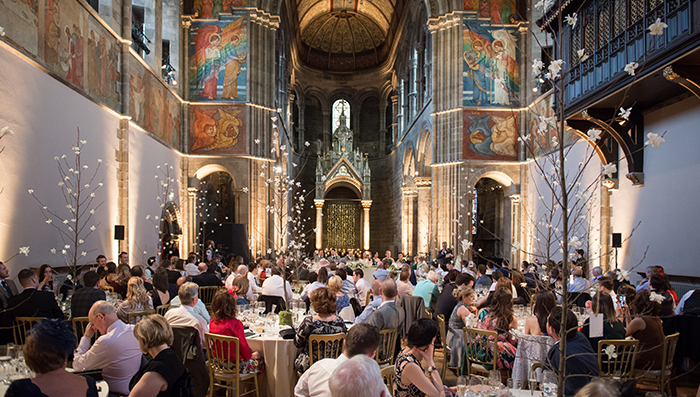 First dance…
Ed Sheeran - Thinking out loud
We found it difficult to choose a song but we had been to see Ed Sheeran in concert and both loved this song so couldn't think of anything else we would rather dance to! We did some lessons but forgot/ improvised on the day!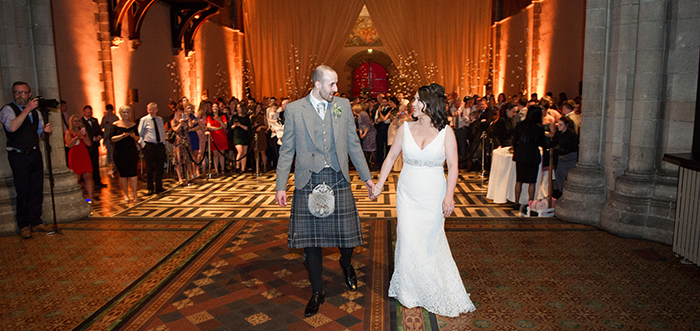 The menu…
We had a Scottish broth with potato dumplings, braised beef daube and chocolate tart with pistachio ice-cream. It was all amazing and I really couldn't choose a favourite course! Everyone complimented the food and thought it was delicious!
What about the cake?
The cake was a four tiered cake, one chocolate biscuit cake layer and three sponge layers. All with butter cream icing. It was made by The Little Cake Place (Karen Oliver) and decorated by Planet Flowers. It was delicious!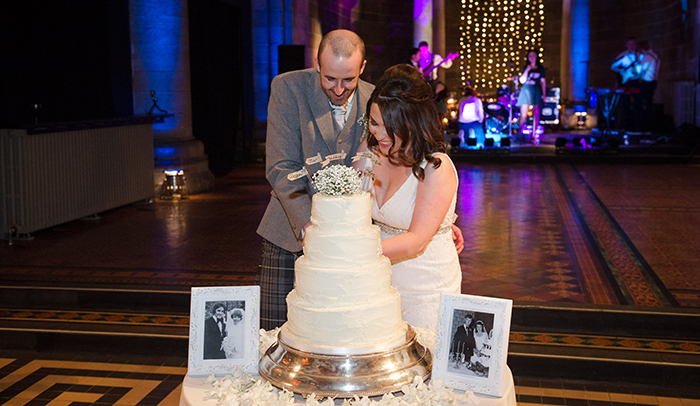 Memorable moment…
Alan - The moment Anne-Marie arrived at the top of the aisle.
Anne-Marie - Was walking down the aisle together at the end of the ceremony, first time as a married couple.
Any words of wisdom for the future couples?
Everyone probably says this but try not to stress out about things that ultimately won't matter at the end of the day! Enjoy your day as it really is the quickest day but the most amazing experience!!!
What are some of the compliments you've received about your wedding day?
The food was the best food they've ever had at a wedding. The venue was stunning. The staff at the venue were amazing. The band were great.
If you had to describe your Big Day in 3 words, what would they be?
Overwhelming, amazing and exciting!
Suppliers
Venue: Mansfield Traquair 'Could not have been looked after better! The venue is stunning and the staff looked after us so well and made our day so special! Could not recommend this venue more!!!'
Catering: Heritage Portfolio
Florist: Planet Flowers
Photographer : Laurie Gray 'Made everyone so relaxed and really captured our day'
Videographer : Erin Rose Films 'Very professional and great to deal with!'
Dress: Pronovias 'Loved my dress.'
Hair: Sesh 'Very happy with our hair and the girls were great on the morning!'
Make-up: Glam by Aysha 'Best make-up ever....was so so happy with the results!'
Shoes: Steve Madden
Groom's wear: McCalls 'Great to deal with'
Cake: The Little Cake Place 'Amazing cake! Delicious butter cream icing'
Entertainment: A-side Soul