Super-stylish spring wedding of Lisa & Ross
From the super-stylish black and pearl theme and the amazing angel-feathered cake, to the Coldplay soundtrack and frenzied 'dance off', Lisa and Ross's wedding at Mansfield Traquair in Edinburgh was full of flair and originality and we absolutely loved being part of it! Read the whole story and find out what made it special for them.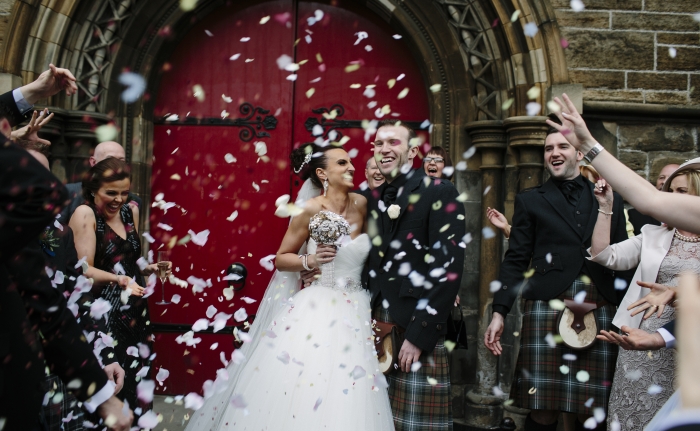 When Ross Urquart proposed to his childhood sweetheart, Lisa Kerr, there was no doubt about which wedding venue they would choose.
"I've always loved Mansfield Traquair", Lisa told us, "It was the first venue we looked at and nothing else compared."
With the location easily sorted, it was time to consider their theme. With such magnificent surroundings Ross and Lisa decided to keep things simple, but very, very stylish.
"We wanted everything quite plain and timeless, so we chose a colour scheme of black and cream with pearl detail on invites and tablecloths, right through to the bridesmaid's dress and table plan."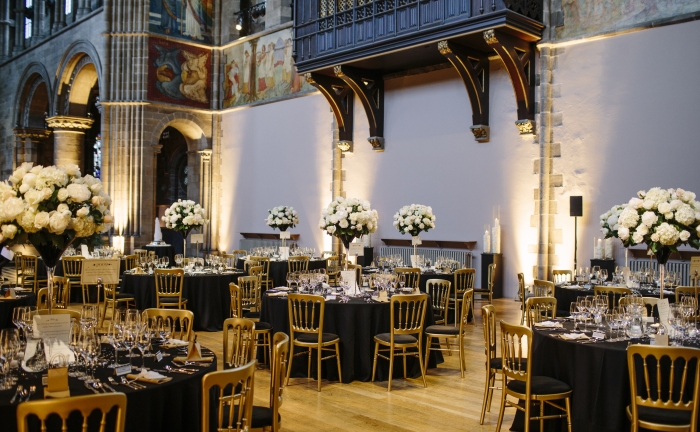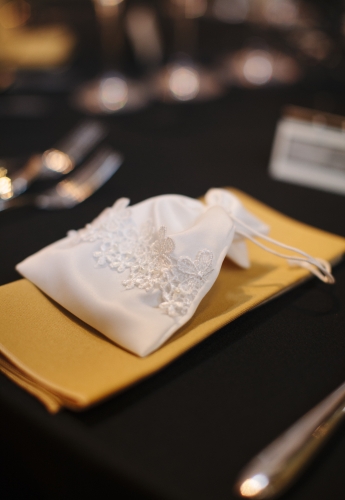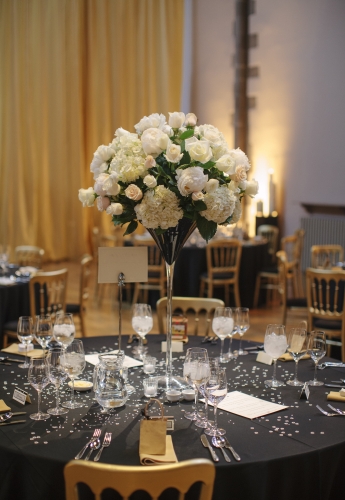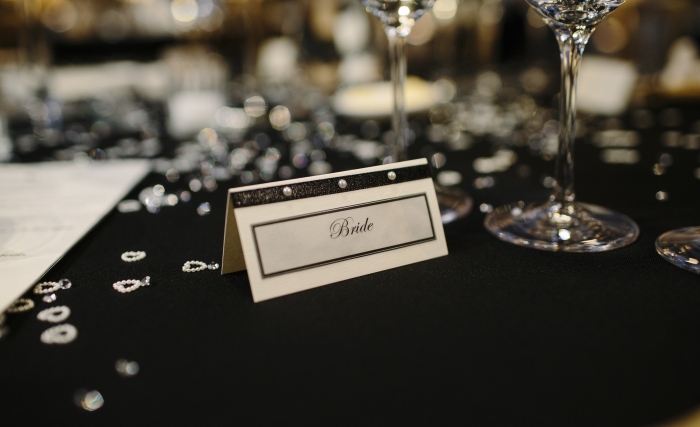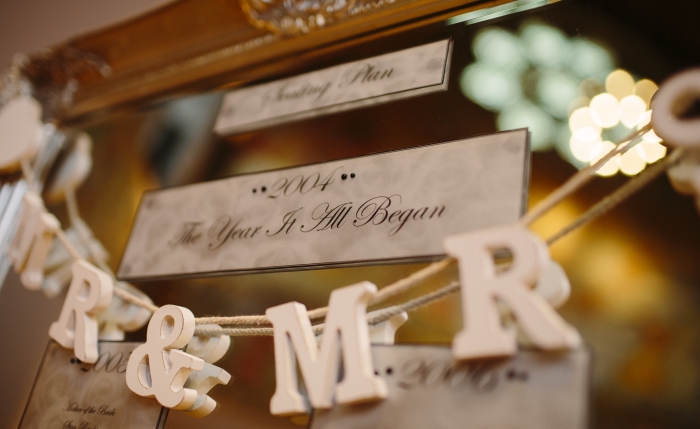 With pearls scattered on the tables and beautiful pearl-studded name cards, it was only natural that the bride would be equally adorned. Lisa wore a stunning strapless white dress with a full 'fairytale' skirt – which wasn't what she had thought she would be wearing . . .
"It was not what I'd set out to choose at all, but it suited me so much better than the style I'd planned and with pearls added to it, it was perfect for our theme."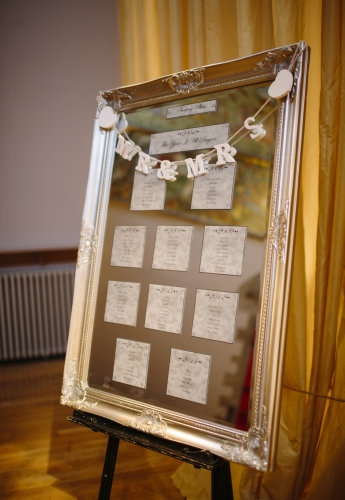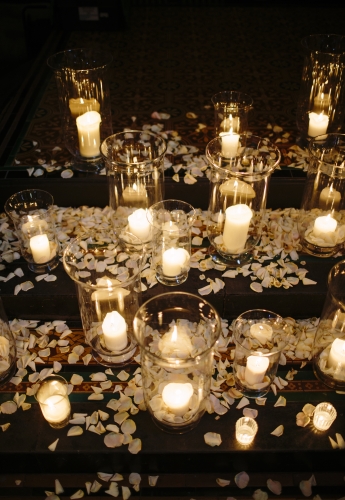 Lisa added Jimmy Choo shoes and bold statement earrings and an unusual pearl decoration in her hair to complete her gorgeous bridal look. Brooches donated by friends and families went into making her brooch bouquet – a really original touch instead of the usual floral posy.
With a kilt made of a weathered version of the Urquart family tartan kilt and tan brogues, Ross made a smart groom with a touch of hipster!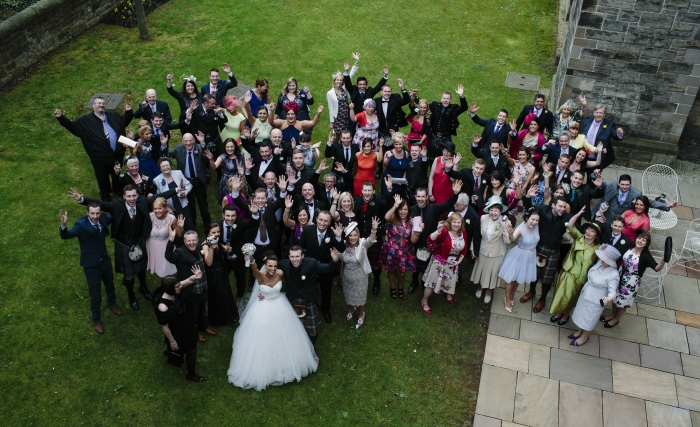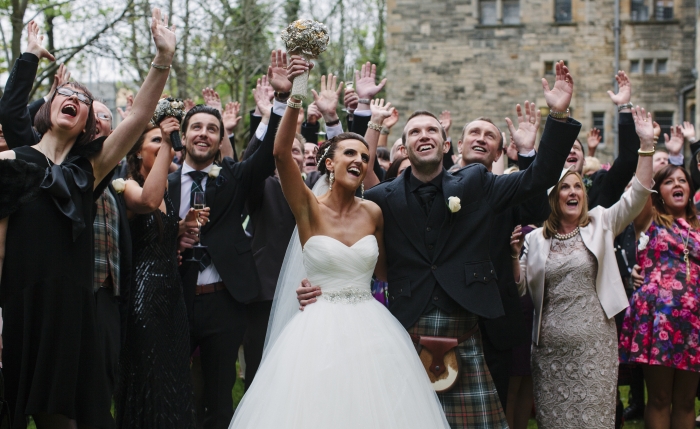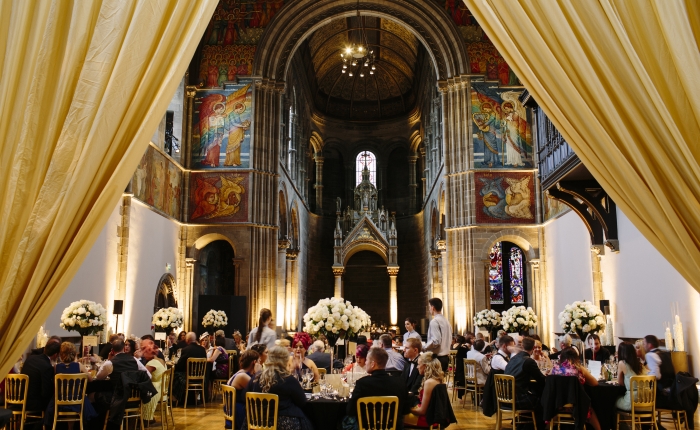 Lisa is a keen baker and as an engagement present Ross sent her on a Paul Bradford cake-making course. A good move, as Lisa brilliantly recreated Paul Bradford's famous 'Angel Cake' for her wedding – an unusual cone shape and covered in tiny pieces of hand cut rice paper which makes it look like it's covered in feathers.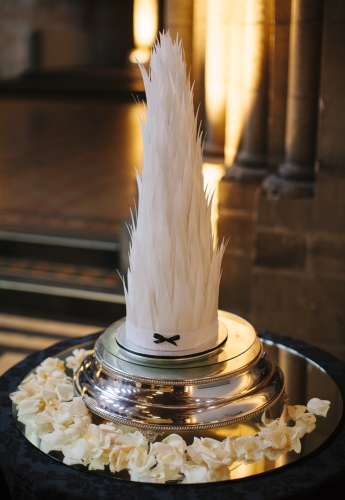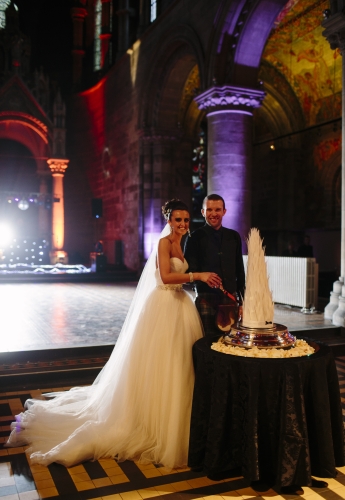 On the big day Lisa walked down the aisle to 'Magic' by favourite band Coldplay – before canapés and fizz were served to all – the venison chipolatas in redcurrant syrup and mini chocolate tarts voted a firm favourite. Lisa told us she enjoyed selecting their menu – "We simply chose the food and wine we loved - and must have got it right because everyone raved about the food, especially the canapés!" The wedding breakfast included Highland Gold beef daube with grated potato cake and seared baby tomatoes and an exquisite passionfruit cheesecake.
Mansfield Traquair looks stunning at any time of day, but at night with candles and special lighting effects it really comes into its own. Lisa and Ross' stunning floral centerpieces from Planet Flowers were made from hundreds of cream, peach and the palest pink roses, and they were offset beautifully by the candlelit, pearl-scattered tables.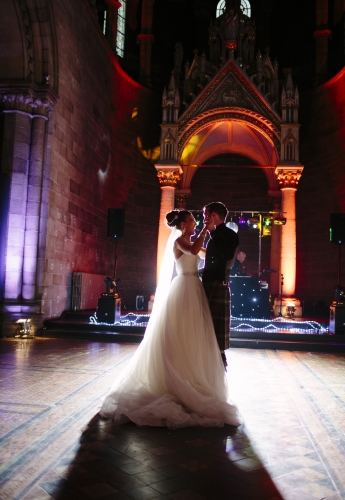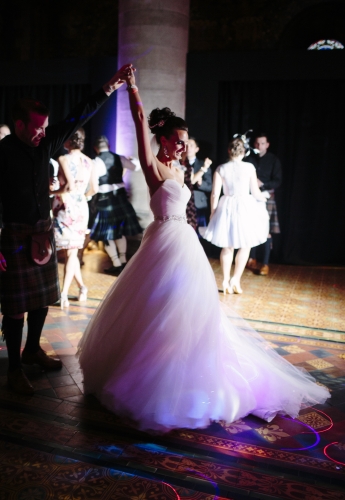 When evening guests arrived, the dancing began, with welcome bacon rolls and more wedding cake later in the evening – very necessary as Lisa and Ross had organized a dance off meaning all the guests were on their feet determined to out groove each other!
When 1am struck, Mansfield Traquair bade farewell to another beaming couple starting their journey together. As Lisa said afterwards, their choice of venue was summed up with the song they chose for leaving the altar: Pharrell Williams' 'Happy'.
We're sure the guests were too. . .
Photographer: Duke Studios
Caterer: Heritage Portfolio
Florist: Planet Flowers