Snowflake themed magical Scottish winter wedding
It's not everyday that we get to witness a wedding as special as this one. Hayley & Ross's snowflake themed Scottish winter wedding is sprinkled with seasonal magic and gorgeous details – from stunning lighting that incorporated the colours of the changing winter sky to tartan, thistles, white roses, snow, snowflakes, candles and much more! Read on…
Photographer: Philip Stanley Dickson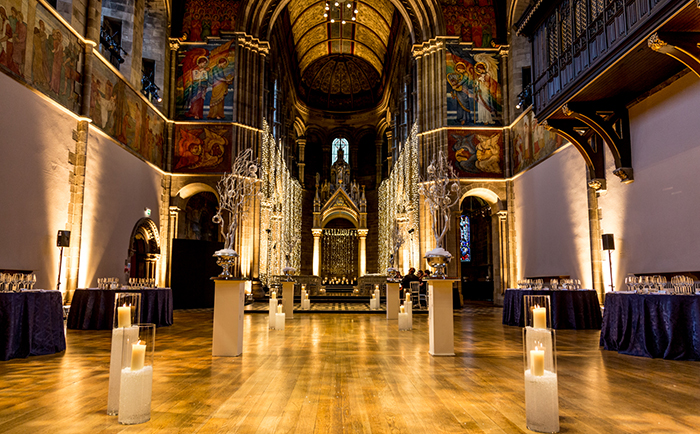 How was the Big Question popped?
Ross originally had planned to propose on 27th December 2013 down at the light house next to the Loch Fyne restaurant in Edinburgh after a meal. But due to the heavy rain and wild winds on the days leading up to it, he thought it would be suspicious and hard to get Hayley to walk to the light house in the horrible weather in her high heels. Instead Ross popped the question on Christmas morning 2013 in our first home together that we moved into on the October. Through heavy sobbing Hayley said yes!
How did you end up choosing to get married at Mansfield Traquair and why?
We looked around many venues before we came to Mansfield Traquair for a viewing. We chose a snowflake wedding theme and were looking for a venue in Edinburgh to work with this theme. When we arrived at Mansfield Traquair we both just knew that this was the place for our wedding. It was absolutely stunning, from the beautiful murals to the amazing jaw-dropping detail in the roof and the Baldacchino. We knew our theme would work perfect here, and it did.
How did you feel walking down the aisle/standing at the altar?
I felt very serene walking down the aisle and so proud of my handsome Dad. Standing at the alter with Ross was the best feeling in the world – this day took two years to plan and it was finally here. It was the happiest and best day of our lives.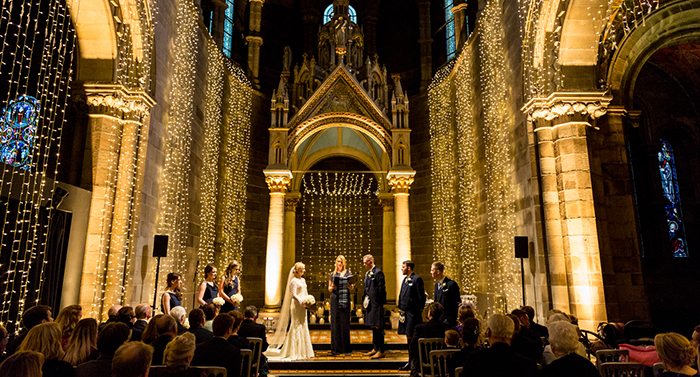 What was your ceremony like, what made it special?
We had a humanist ceremony and Melanie Leckie conducted it for us. Writing our own vows made it very special and using the tartan tying of the knot confirmed the joining of our two families.
Did you enjoy preparing for your wedding and the whole planning process?
We loved planning our wedding, thinking about all of the things that would make it a special day for us, our family and friends. We arranged all our suppliers ourselves and had fantastic support from Helen our Wedding Designer from Mansfield Traquair.
What was your theme?
Our theme was a magical Scottish Winter Wedding. We wanted to incorporate the colours of the changing winter sky, tartan, thistles, white roses, snow and snowflakes, candles and the tradition of tying the knot (bringing our families together as one). The lighting we selected changed throughout the day, starting with a golden glow for the ceremony moving through to warm pinks and cool blues for the wedding breakfast and evening reception. Candles were used to great effect conveying warmth and the beautiful curtain of fairy lights finished the whole effect. Tables were decorated with beautiful silver trees with hanging tea lights. Snow effects, entwined silver branches and snowflake place cards enhanced the look of the tables.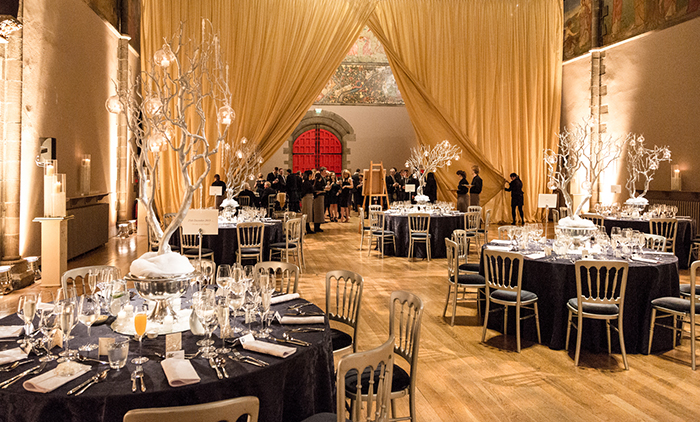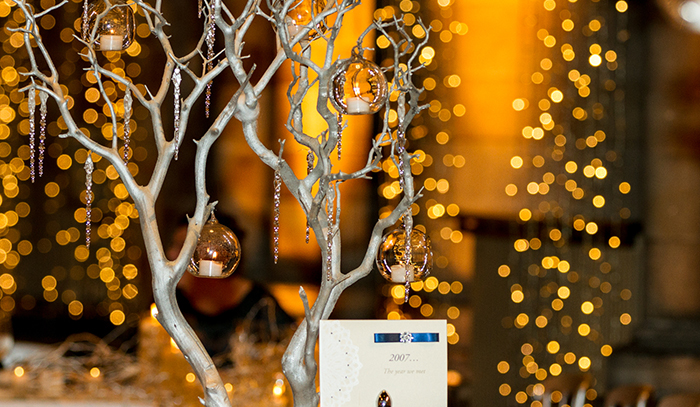 How did you personalise your wedding day?
Writing our own vows and tying the knot made the wedding very personal for not only us but for our family and friends. We wanted to remember members of our family who could not be there. We released helium balloons in the garden in remembrance and Ross read a poem. It was very moving for us all. As proud Scots we wanted to start the evening reception with a big BANG and Clann An Drumma certainly did that – everyone was up highland dancing or playing instruments. As a dance teacher I wanted to involve some of the children I teach and they performed during the break in the evening reception – everyone loved this. The children loved the bacon rolls and cake after their performance.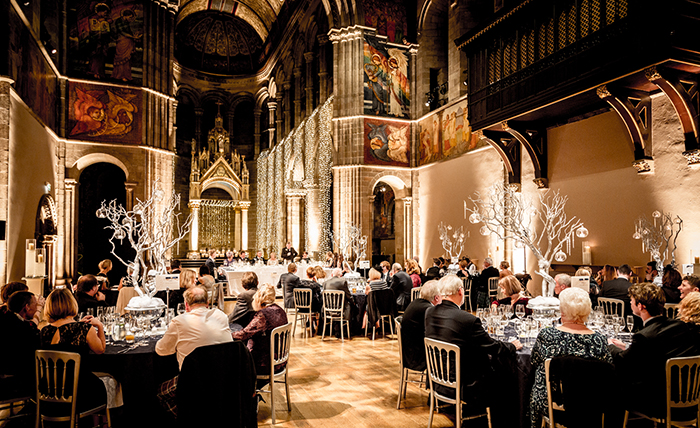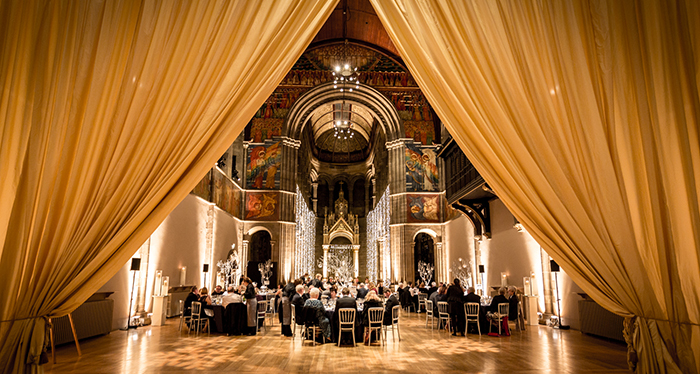 Bride: Your dress – what made it perfect?
Liliana Dabic of La Novia and I worked together on the design for my dress. The style was a one off and made me feel so beautiful, it fitted perfectly and was more than a match for the splendour of the Mansfield Traquair. I know that no-one else could have produced such a wonderful gown for me. My Jimmy Choos shoes complemented my wedding gown perfectly!
Groom: What was your style? Any tips?
I wanted to wear a kilt and plaid with a modern twist and the tartan I selected Navy Shard fitted the theme perfectly. Tip: Grooms may be reluctant but, go to some of the wedding fayres as you can see the latest tartans available. This helped me select the right outfit for the day.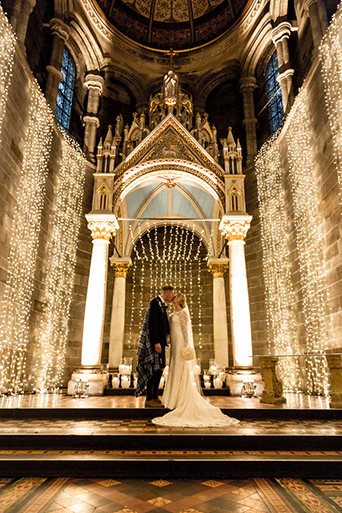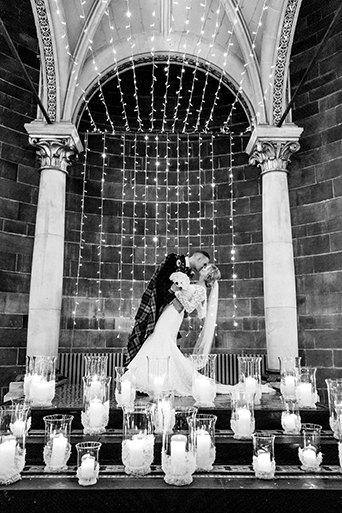 Tell us about your favourite moment.
It's so hard to choose we loved it all, but if we had to choose it would be everyone up dancing to Clann An Drumma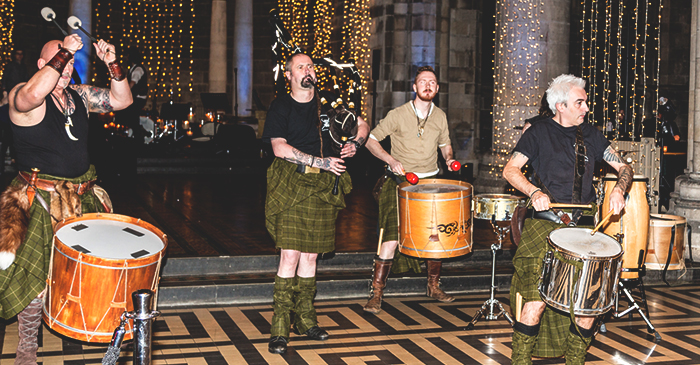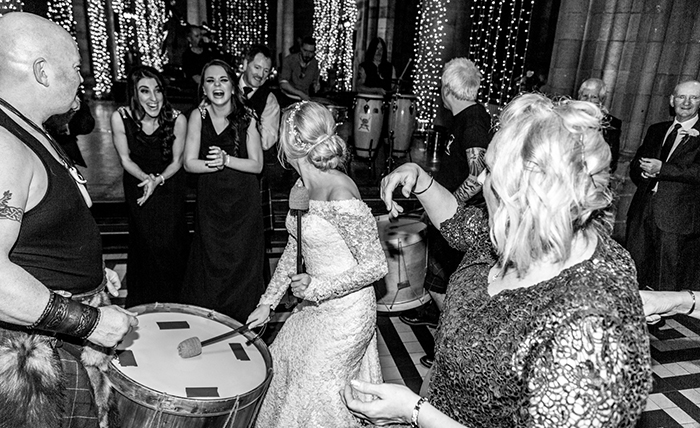 The menu – how did you select your menu? What were your favourite elements? What did people say?
We attended a tasting session with our Mums and enjoyed the whole experience. As it was a winter wedding we wanted a warming meal and opted for Butternut squash soup, chicken and delicious chocolate tart and pistachio - who doesn't love chocolate! A special mention must go to the canapes in particular the venison sausages – everyone raved about them. Our guests loved all of the dishes and wines provided by the Mansfield kitchen – the chef did a wonderful job. We would also like to add that the waiters/waitresses were fantastic ensuring food was served at the same time and glasses were always topped up.
What about the cake?
Our cake was made by Fiona Ferguson (Regal and Royal, Cakes of Distiction) and continued our winter theme with snowflakes cascading down one side. We had four layers comprising red velvet, double chocolate and Victoria sponge.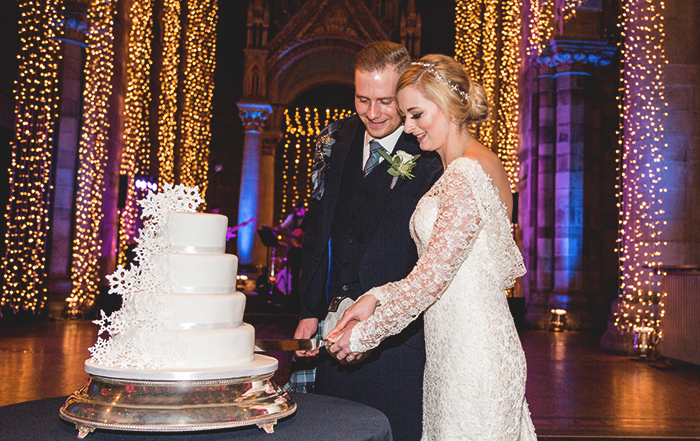 First dance – choreographed or improvised?
'Kiss Me' by Ed Sheeran was our first dance as husband and wife, and was sung live by our band. We have always loved the song and always said it would be our first dance song. As I am dance teacher I choreographed our dance and had Ross practicing lifts every night after work!! I would give him 10 out of 10, he was perfect.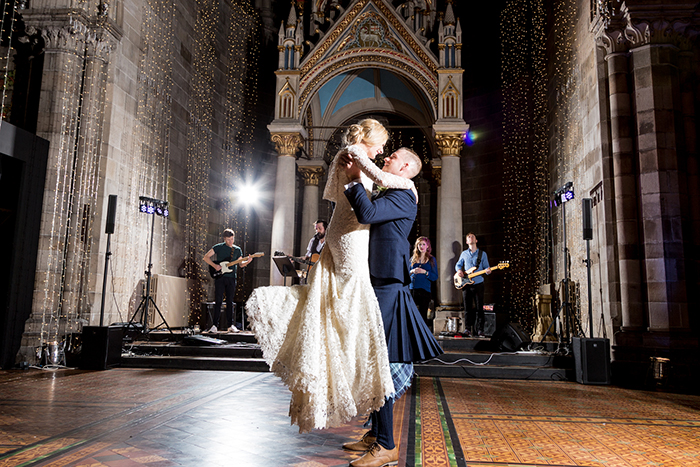 Any words of wisdom for future happy couples?
Yes, having a plan and using the professional skills of an excellent wedding designer like Helen will ensure that your day goes smoothly and leaves you worry free on the day.
What are some of the compliments you've received about your wedding day?
"Best wedding ever! Lovely venue! Stunning what else can I say! Fantastic food and wines! Great having real ales available (men!). How did you find such a beautiful place? I never knew this lovely place existed. Superb event!"
If you had to describe your Big Day in three words, what would they be?
Beautiful, loving and FUN!
Photographer: Philip Stanley Dickson
Venue: Mansfield Traquair
Catering: Heritage Portfolio
Flowers: Planet Flowers
Dress: Liliana Dabic at La Novia
Hair: Myles Hairdressing
Make-up: Nicci Weston
Shoes: Jimmy Choo
Groom's wear: The Highland Kilt Connections
Bridesmaid dresses: Emma Roy
Wedding cake: Regal and Royal Cakes of Distinction
Entertainment: Glasgow House Band, Capella String Quartet, Clann An Drumma