English rose Rachel and Scottish gent Keith's love story was over a decade in the making and culminated in a magical, fun and beautiful Mansfield Traquair wedding. Within the soft glow of pea-lights and amongst the beaming smiles of their guests, they said their vows, danced the night away and enjoyed their perfect day.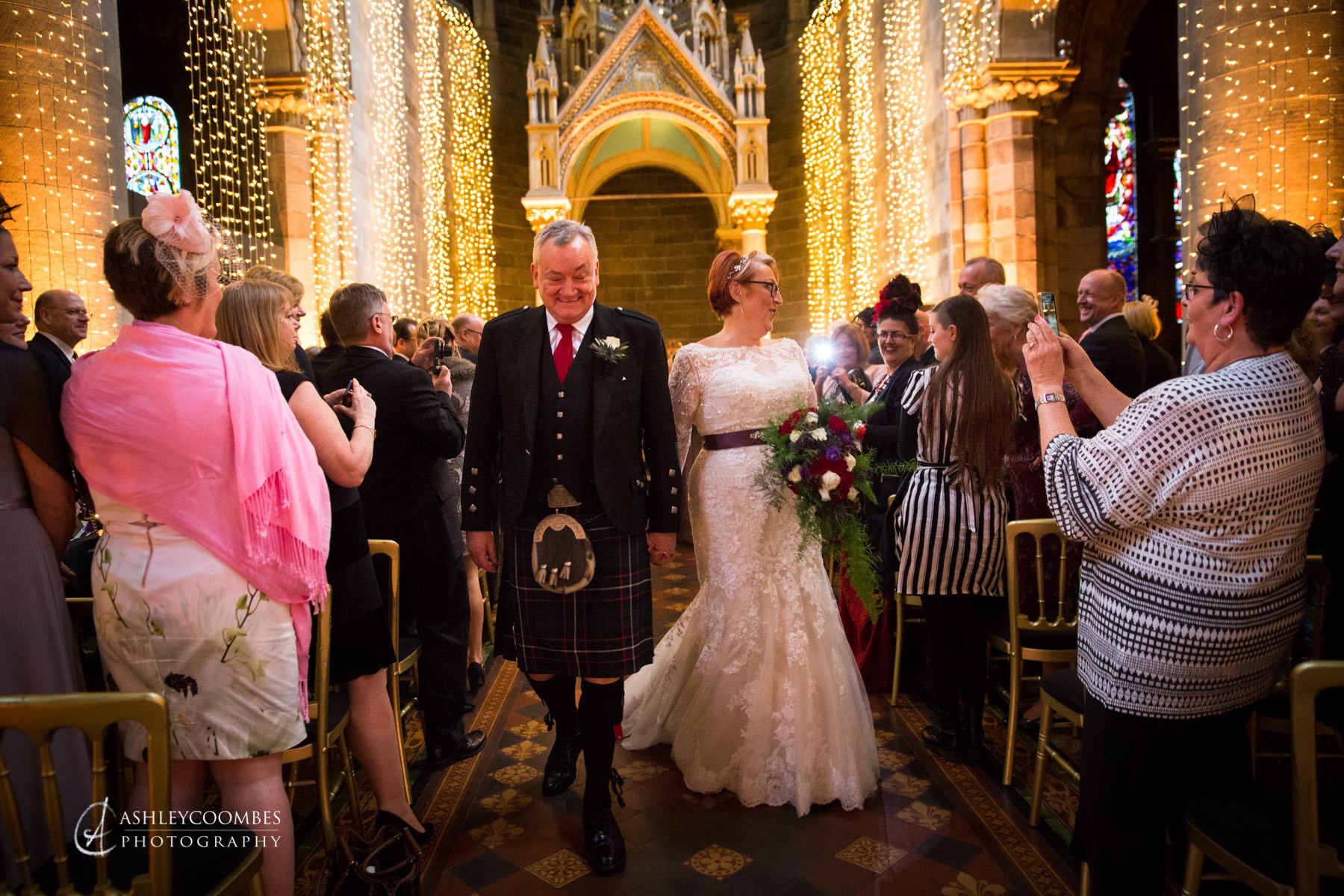 Photographed by Ashley Coombes
How/where did you meet?
We met on 5 March 2001 when Rachel started a new job as a civil servant and had to report at 09:30 to her new boss, one Keith Jenkinson. The rest is history!
When/where/how was the big question popped?
We go to a beautiful place in Turkey every year and Kalkan has become a second home. On 7 October 2015, Keith surprised Rachel by popping the question under a starlit sky. After being together for 15 years, the event was hoped for but not expected!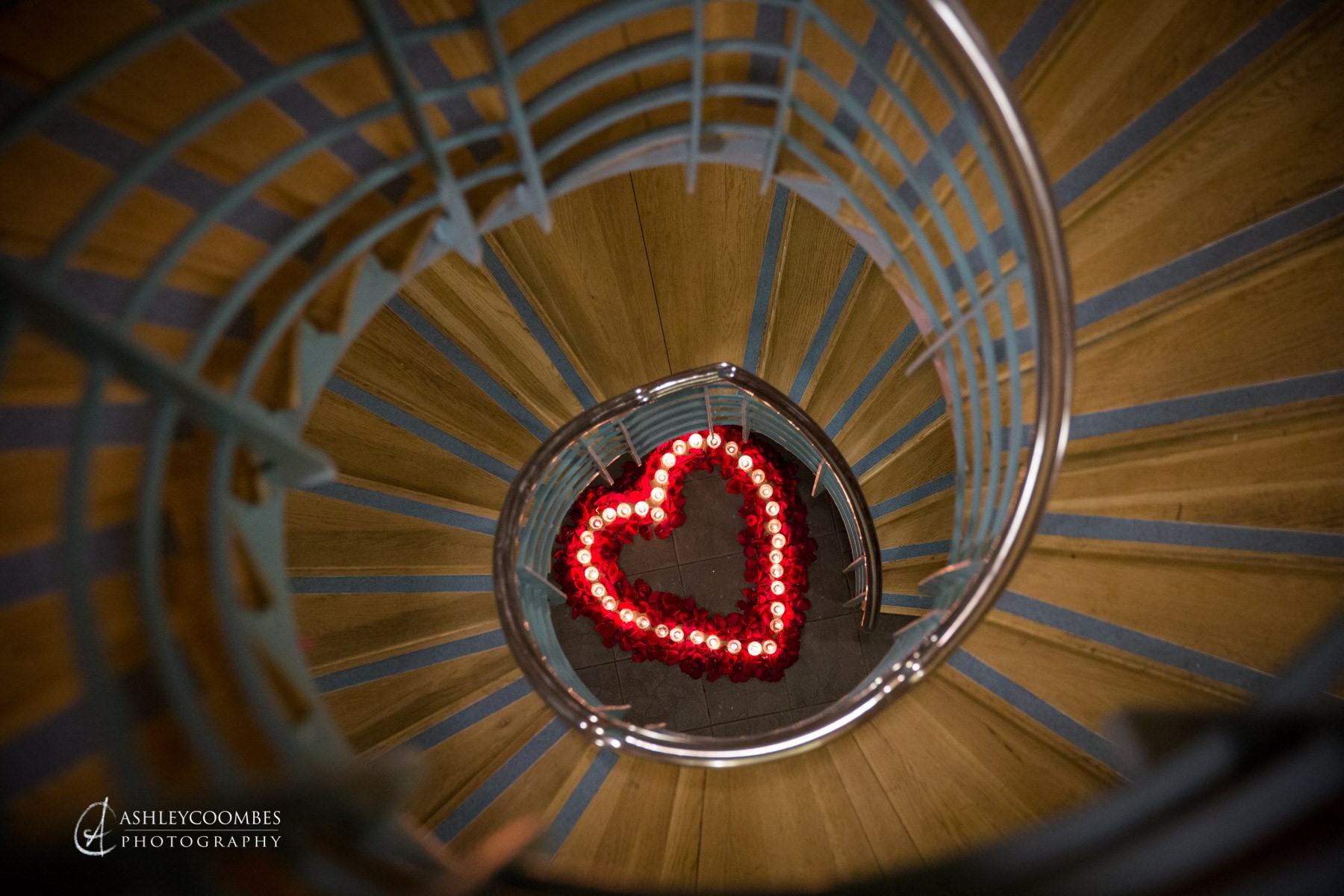 How did you end up choosing to get married at Mansfield Traquair and why?
We started wedding discussions straight away, the choices being a Kalkan or Edinburgh wedding. My parents couldn't travel, so Edinburgh it was. Rachel used to organise events and Heritage Portfolio were her favourite 'go-to' caterers and she knew Mansfield Traquair would provide the most stunning space (in Scotland, or indeed anywhere!) for the celebration. It was a no brainer and we didn't contemplate any other venue.
What made you choose this date/time of year?
We wanted a winter wedding, the colours and lighting are particularly beautiful that time of year. Not too soon after Christmas/Hogmanay and not too close to Easter, and then avoiding home game six nations rugby matches, so 18 Feb it was.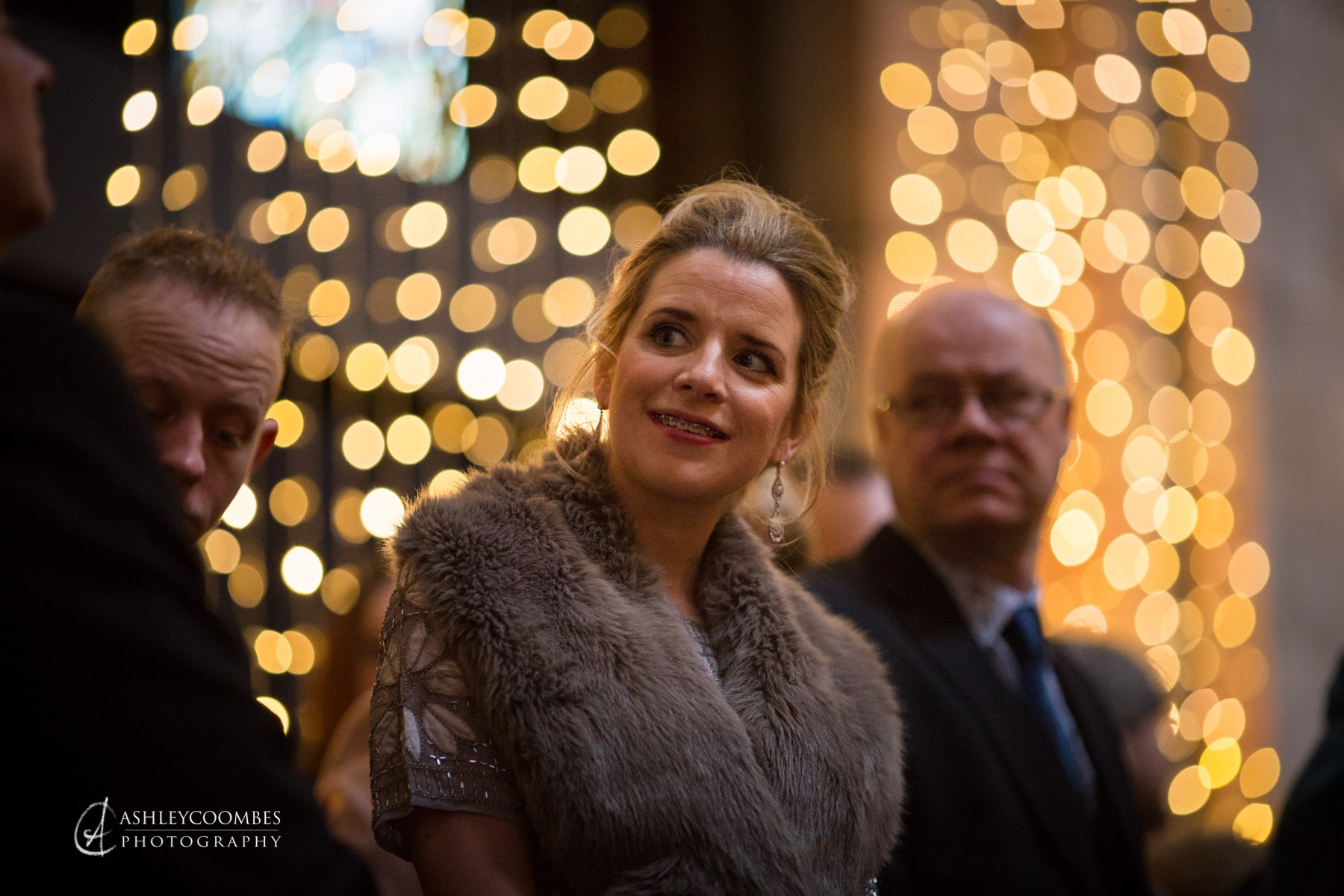 Did you enjoy preparing for your wedding and the whole planning process? What did you enjoy most and least?
We loved planning it! It was very much a joint effort and very much 'our' wedding, with every aspect planned and decided together. There was not one disagreement, not one bit of tension. It was a really enjoyable, fun project.
We knew what we wanted - a fun, laughter-filled day where everyone would have the best, most relaxing time. Working with Jacqueline at Mansfield Traquair was a joy. Having run very large scale events Rachel knew the what/how and when, and Keith has run complex programmes, so we created fabulous spreadsheets that made planning and tracking everything easy.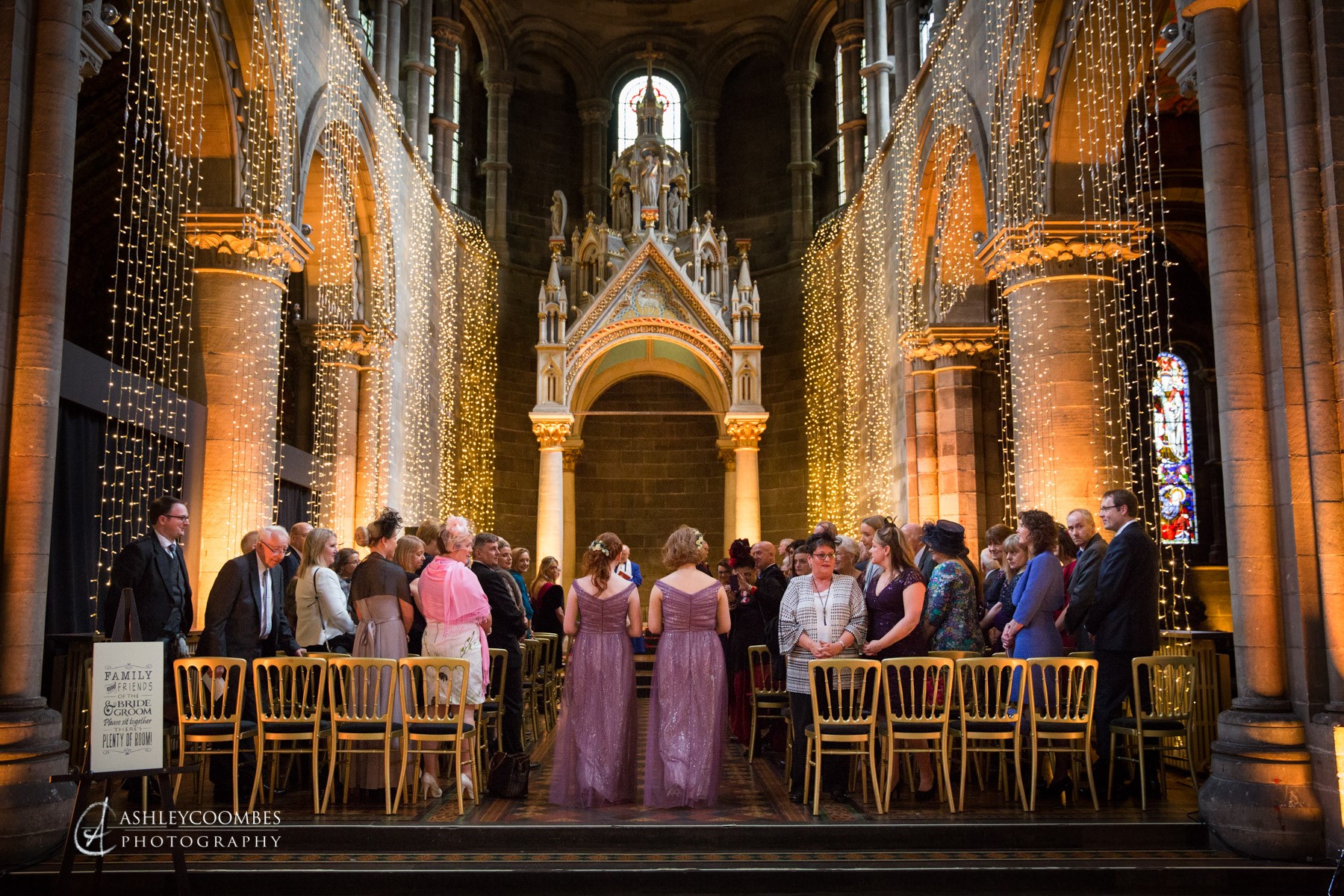 Did you have a theme? What was it and why did you choose it? Did you use it for table names
and other elements of the wedding?
Our theme was Thistle and Rose, combining our Scottish and English heritage. After much googling Rachel found Borders-based Sarah O'Neill whose stationery is exquisite. We had her Light of the Moon, Thistle and Tudor rose set with the Celtic heart picked out in purple (Rachel's favourite colour and other recurring theme).
The thistle rose was picked up also in one of our favours, the most yummy hand made chocolates from the Pittenweem Cocoa Co, in little wooden boxes with the thistle and rose on them. We also had ribbon in Keith's tartan printed with the wedding date on it, and the napkins were wrapped in this.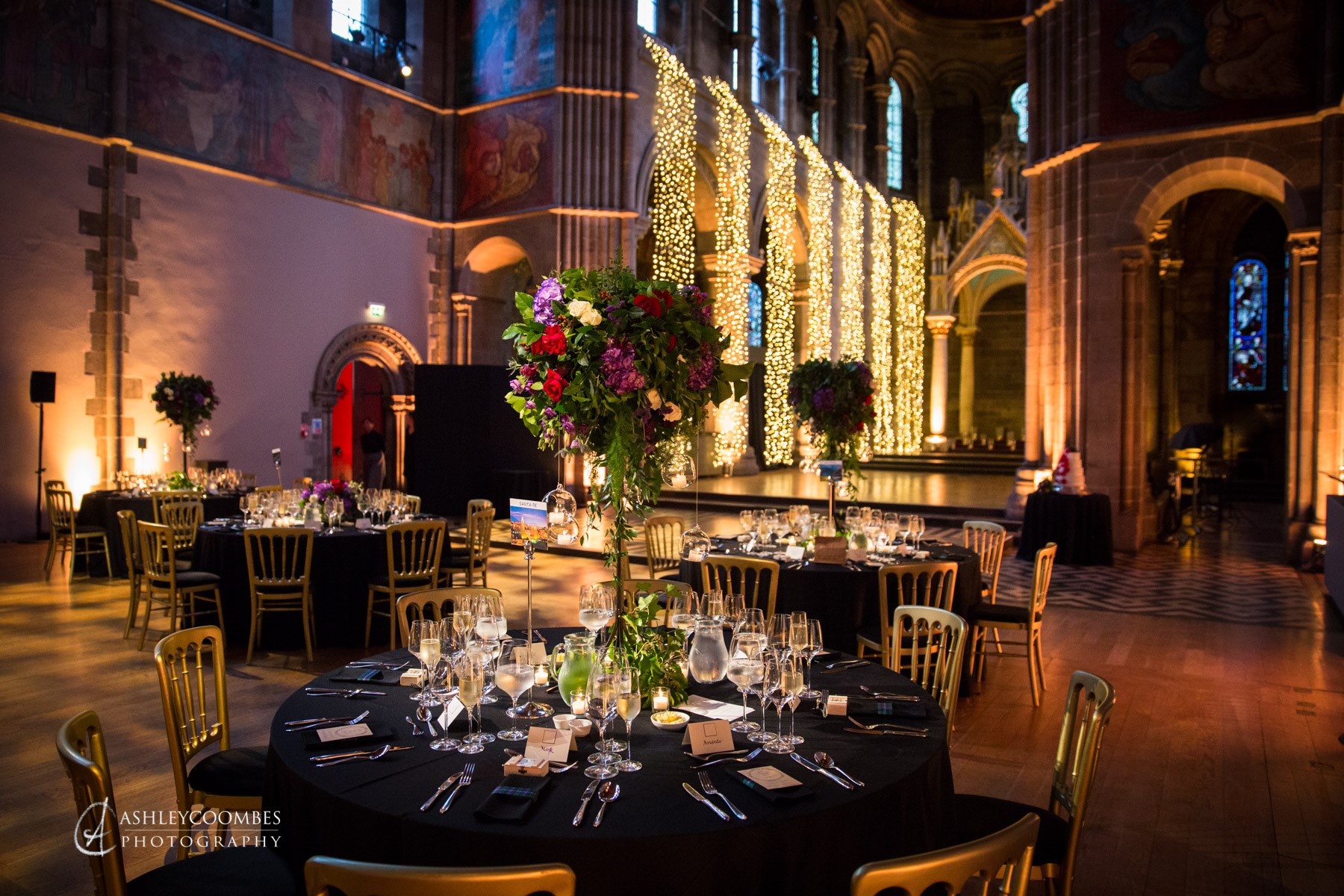 How did you personalise your wedding day? Where did you get your inspiration?
Table names were places we love, 6 in Scotland, 4 in the USA and, of course, Kalkan. We used photos we'd taken and made the table names ourselves. The table plan was another labour of love, which Keith crafted, using maps of Scotland and the USA with threads leading from the location to wooden hearts with ordnance survey maps of the exact location with people's names on them.
We also had a 'Clifford's Corner' with comfy seating and some tartan knee blankets so my 88 year old dad and other elderly guests could sit in comfort.
Our most special thing though was our 'Story of Us'. We reset everything after the wedding breakfast, so everyone left their tables and moved back behind the curtain for the re-set to happen. Once the evening guests arrived we ran a photo slide show to 'Every River' by Runrig, then into 'One Day Like This' by Elbow. The slide show went from our grandparents to us, so that each side of the family got to know a bit about each other, and it also meant Keith's parents were very much with us on the day even though we lost them years ago, it was very special. And when Elbow sang "throw the curtains wide, one day like this a year would see me right" we literally threw the curtain wide, and the evening fun began! There were audible gasps of delight as the curtains drew back to reveal the re-set room, with lighting changed from amber to purple. Magical!
Bride: The dress – what made it perfect? Were there any special accessories that you chose?
Being older (!) and not exactly slim, I was dreading the dress hunt. Emma Roy of Edinburgh were amazing. The only boutique I went to, and it was the first dress I tried on. I described how I wanted to feel (vintage/classic) and what I didn't want (meringue, sleeveless) and Amy found the perfect dress: Maggie Sottero Ascher, with a Mori Lee Bolero. We also got my bridesmaids dresses there (my two nieces), in a lovely purple with slight sparkle from Dessy. To tie it together I got the same colour fabric as their dresses made into a belt for mine with some Swarovski crystals for some bling. Shoes were from Irregular Choice - sparkly with a mid heel that I could dance in all night. Keith gave me my earrings - beautiful bespoke diamond drop earrings from our jeweller friend in Kalkan.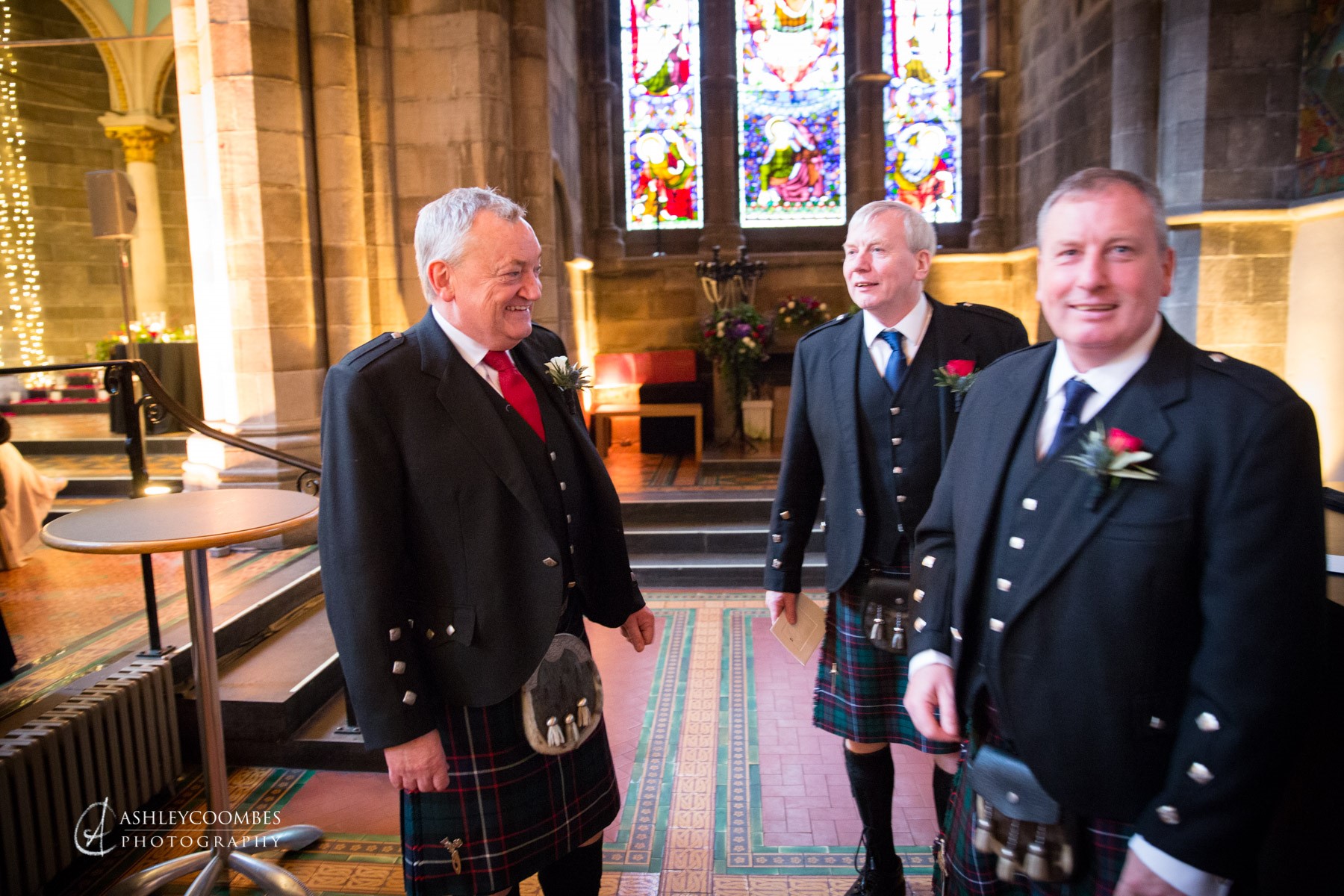 Groom: What was your style? Any tips?
Keith has had his own kilt outfit for a good few years - the Modern Mitchell tartan (from his mum's family), Argyll jacket, waistcoat, the works. So easy for him! He had a special white shirt made, and chose a new tie and flashes. Rachel found a wonderful silversmith in Dundee who makes bespoke kilt pins. Islay Spalding made a stunning pin based on our invitations using the thistle and Tudor rose.
On the day
How did you feel walking down the aisle/standing at the altar?
Rachel - as soon as I arrived at Mansfield Traquair, and could hear the clarsach, knowing Keith was waiting for me with all our family and friends, I couldn't stop crying (with happiness)! Thankfully the team had lots of tissues ready and iced water glasses with straws (with love hearts on them) so lipstick wasn't smudged. Typical of the MT team's thoughtfulness and attention to detail! Mum and Dad walked me down the aisle, and I just remember seeing Keith, waiting, and just about bursting with joy.
Keith - I just couldn't wait to see Rachel walking towards me. Anticipation as I knew she'd look stunning and she took my breath away.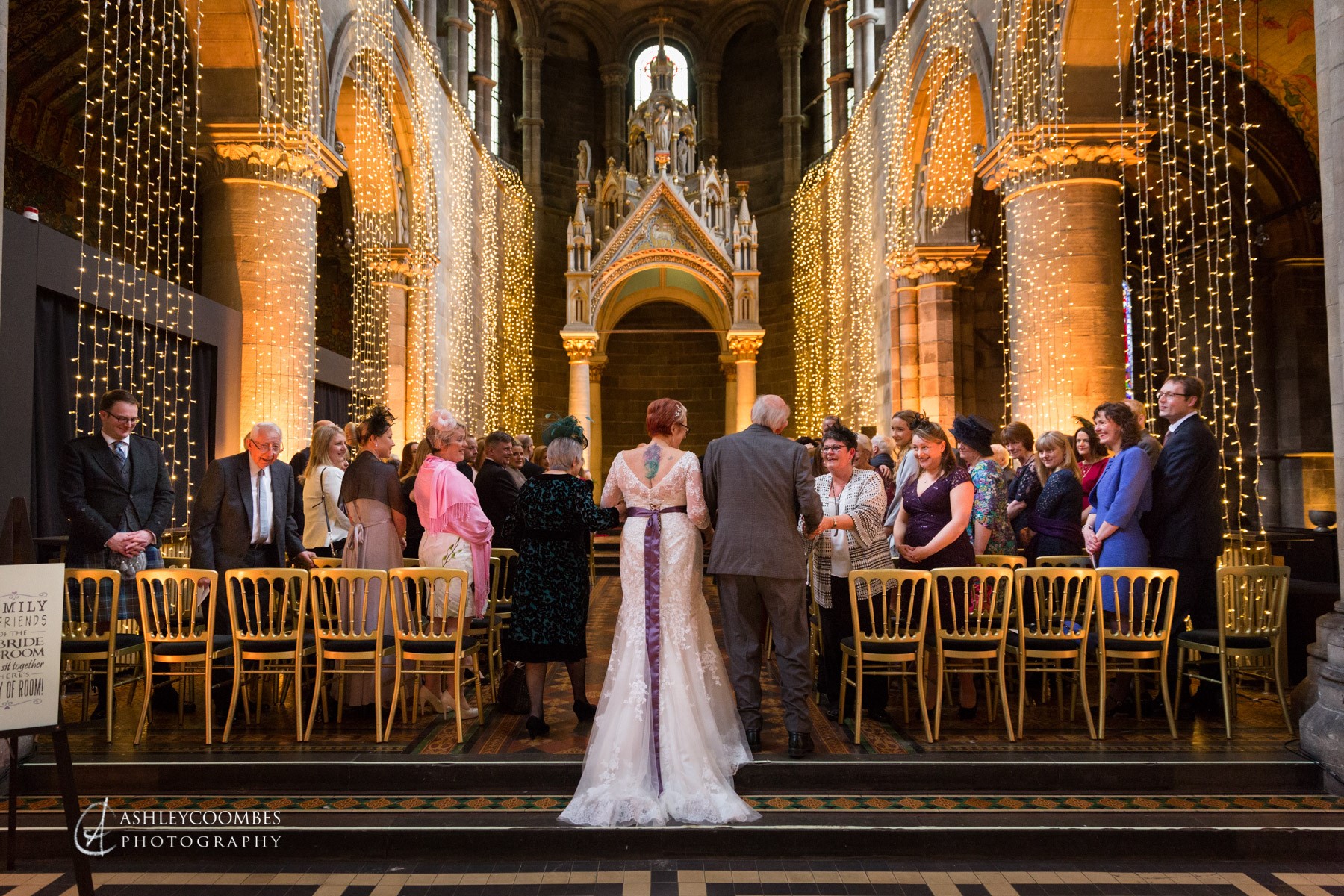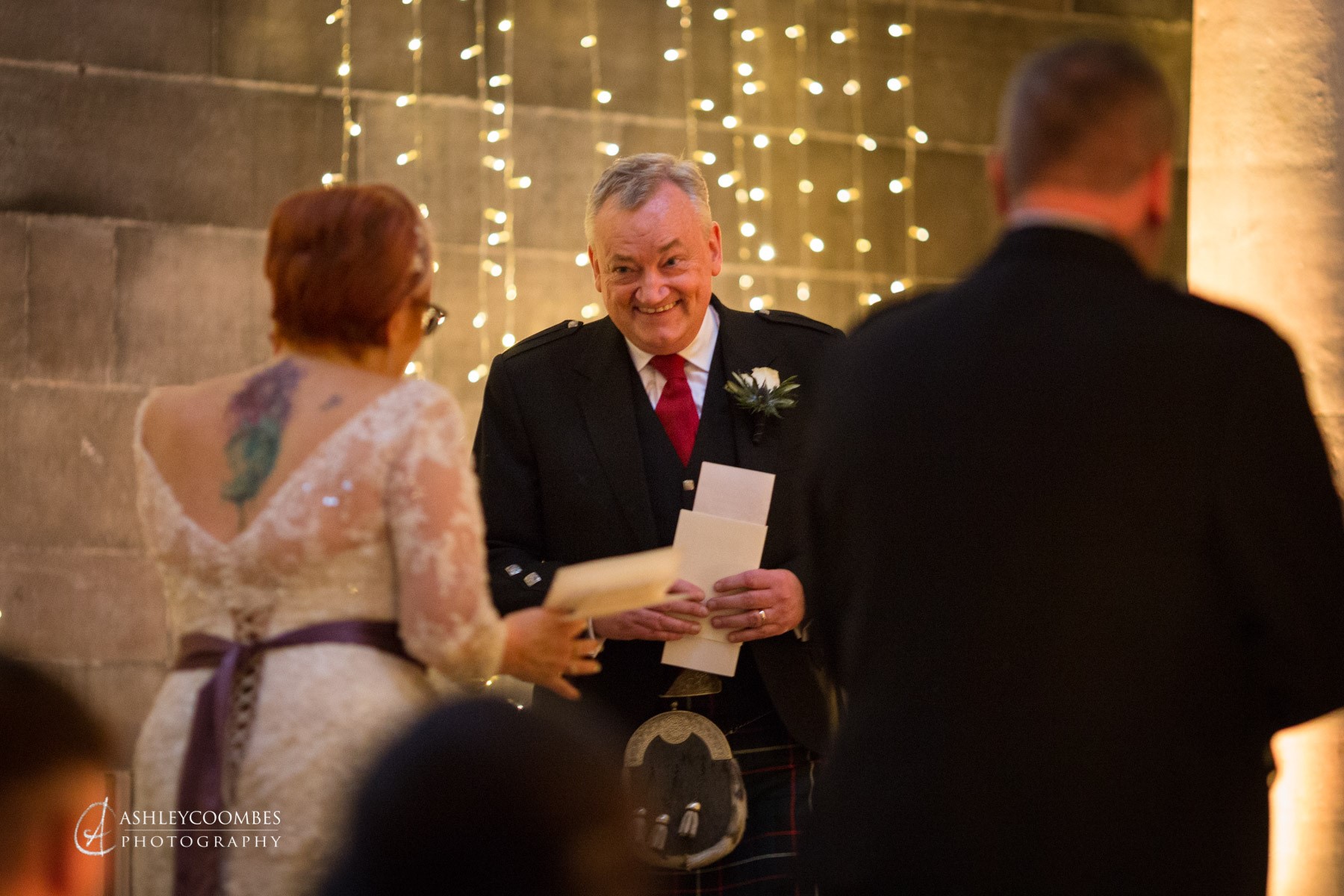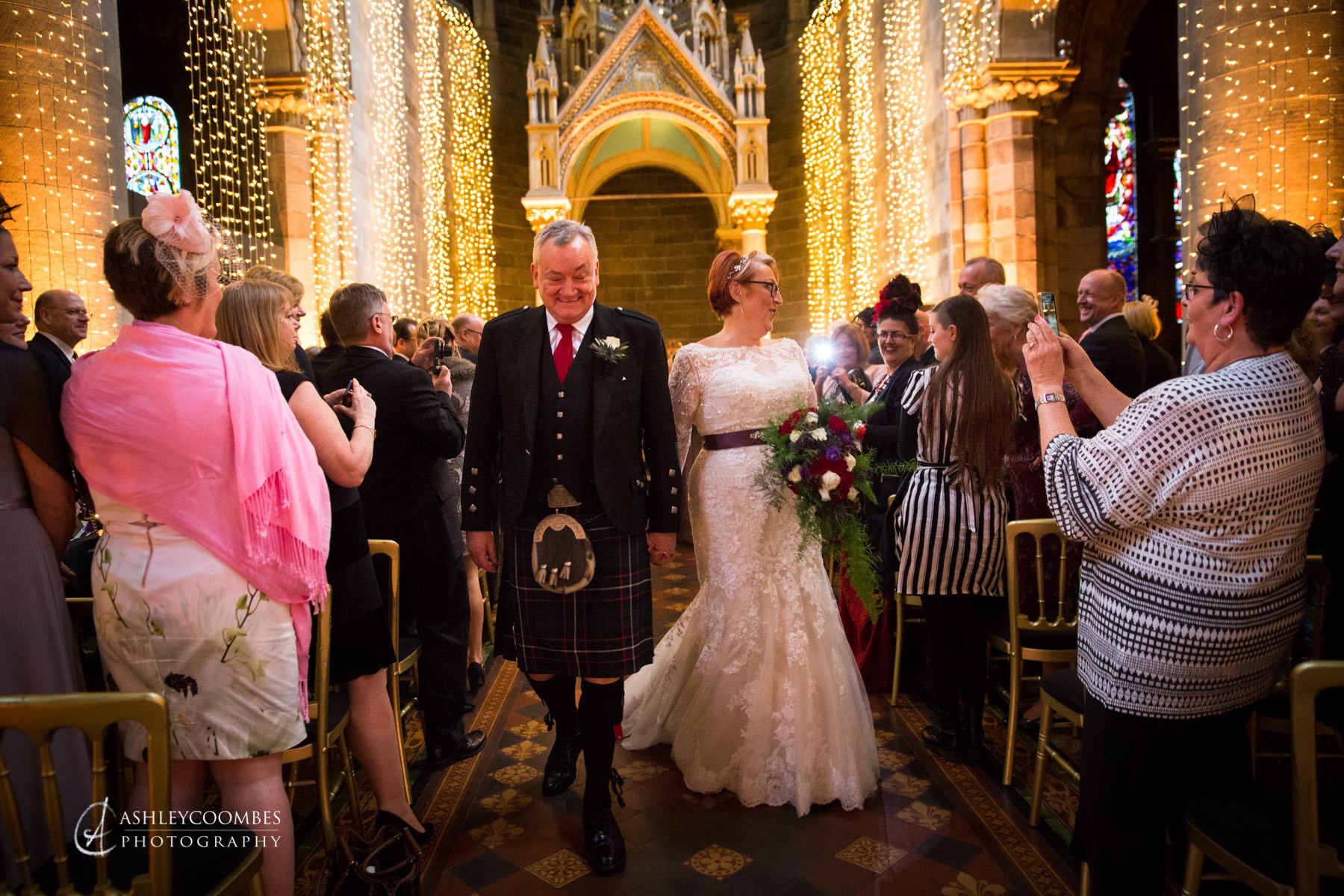 What was your ceremony like, what made it special?
We met Rev Tom Gordon through our work, as each year there is a Remembrance Sunday service in St Andrew's House, and Tom leads it. He's a delight and he 'got us' completely. We had the Church of Scotland liturgy and it was perfect. My dad is a retired Methodist Minister and he's written hymns for every family wedding since his own in August 1954. We were so pleased he was able to write one for us, which we set to the Skye Boat Song. Our dear friend Jennifer Port, one of Scotland's best (if not the best) clarsach players, played for the entire ceremony and she performed Dad's hymn so beautifully. We were very moved that at the last chorus the entire congregation spontaneously joined in singing. Dad was also able to offer the prayer of blessing and commendation, which made it even more special.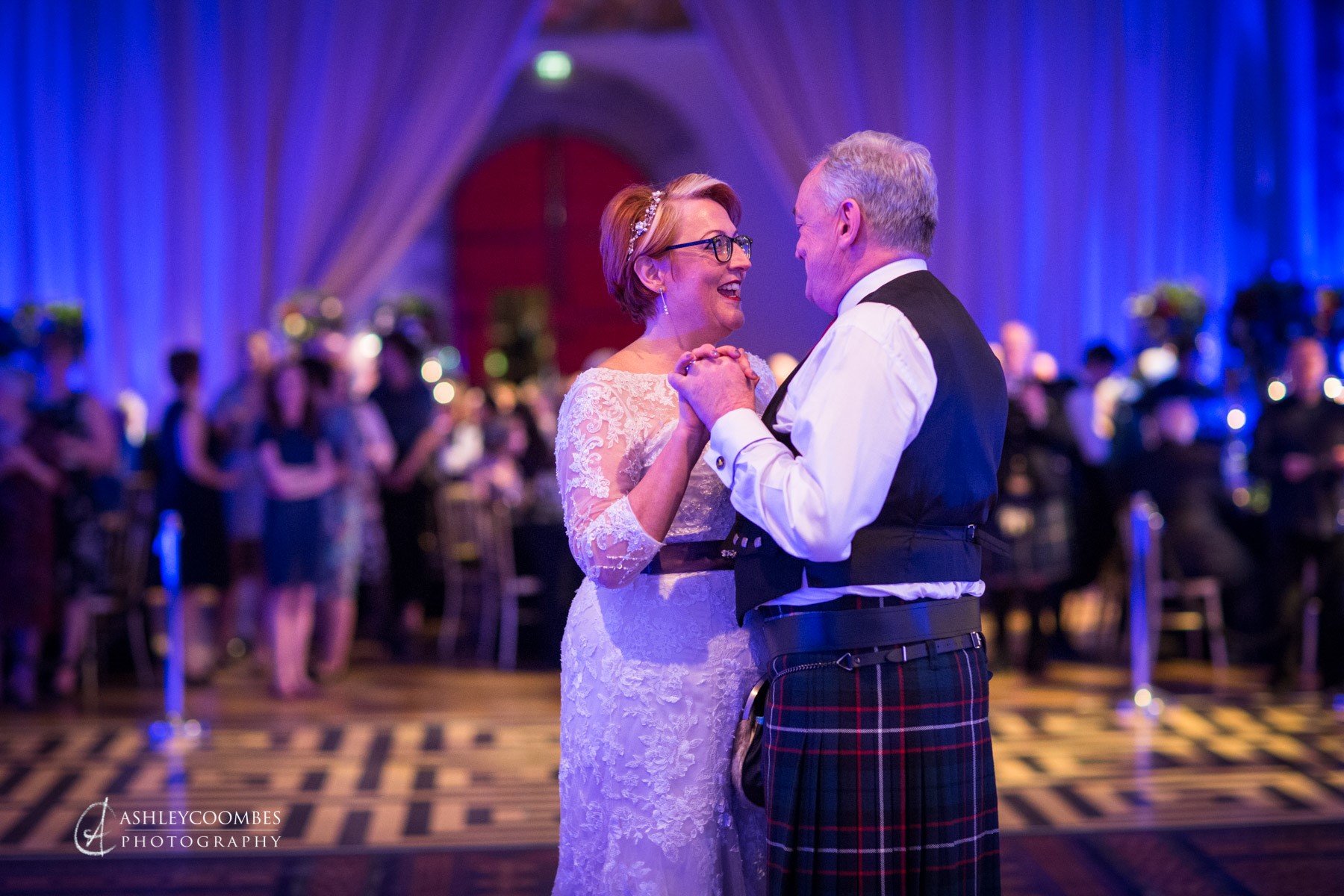 First dance – what was your song? What made you choose it? Was your dance choreographed or did you improvise?
Rod Stewart's 'Forever Young' - the slow, unplugged version. We've never had an 'our song', but we love Sir Rod, and we kept coming back to this, not a typical first wedding song (which appealed to us), and Callanish performed it beautifully.
The menu – how did you select your menu?
The food - ah! We love our food and fine dining. Having run many events with Heritage Portfolio Rachel knew the food would be amazing - and it was. So many compliments about it! We wanted a warming, hearty winter menu, that showed off Scotland's larder. And that's what we had. So, so good! It was all yummy, and the service was stunning. The heart shaped shortbreads with coffee went down a treat. The evening food was equally superb. Guests couldn't believe the quality, the presentation, the yumminess, the service. Exceptional.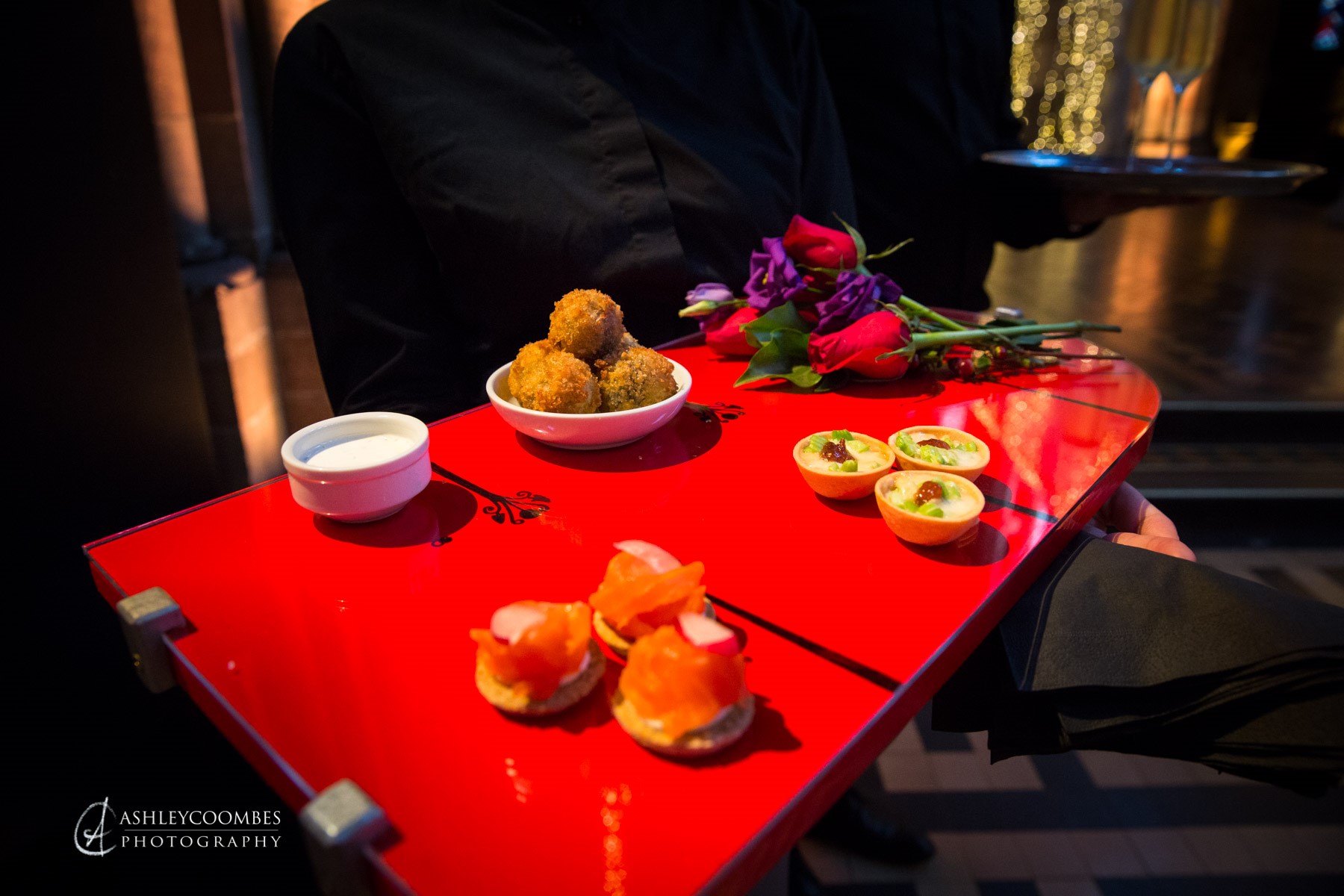 What about the cake?
The cake took us a long time to find. Then Rachel met Jen, the granddaughter of an old - sadly no longer with us - dear friend from her St Andrews days (Rachel came to Scotland to study there). Jen informed Rachel her mum had a home cake-making business, and that her cakes were yummy and beautiful So, off to St Andrews we went, and Jen was right: Sandra's Cakes are amazing. We had four tiers (gluten free chocolate; pink champagne and white chocolate ganache; orange drizzle with dark chocolate ganache; then a classic Victoria sponge), covered in white icing decorated with red hand crafted roses, topped with fresh thistles. Then we had another, fun cake. We both have MINIs, and Rachel especially is a MINIac! When getting her latest MINI Rachel mentioned to her salesman at Peter Vardy how her dream car to go to the wedding it would be a MINI. And so the dealership made her wish come true and provided, at no cost, two beautiful white, brand new MINI Countrymen and drivers to take her and the bridal party to MT. So, we also had a MINI cake that Sandra made to exactly copy Rachel's red convertible, complete with Keith and Rachel crafted! (Choc and caramel if you're wondering about the flavours!). Everyone was raving about the cakes - so moist, the flavours so, so good!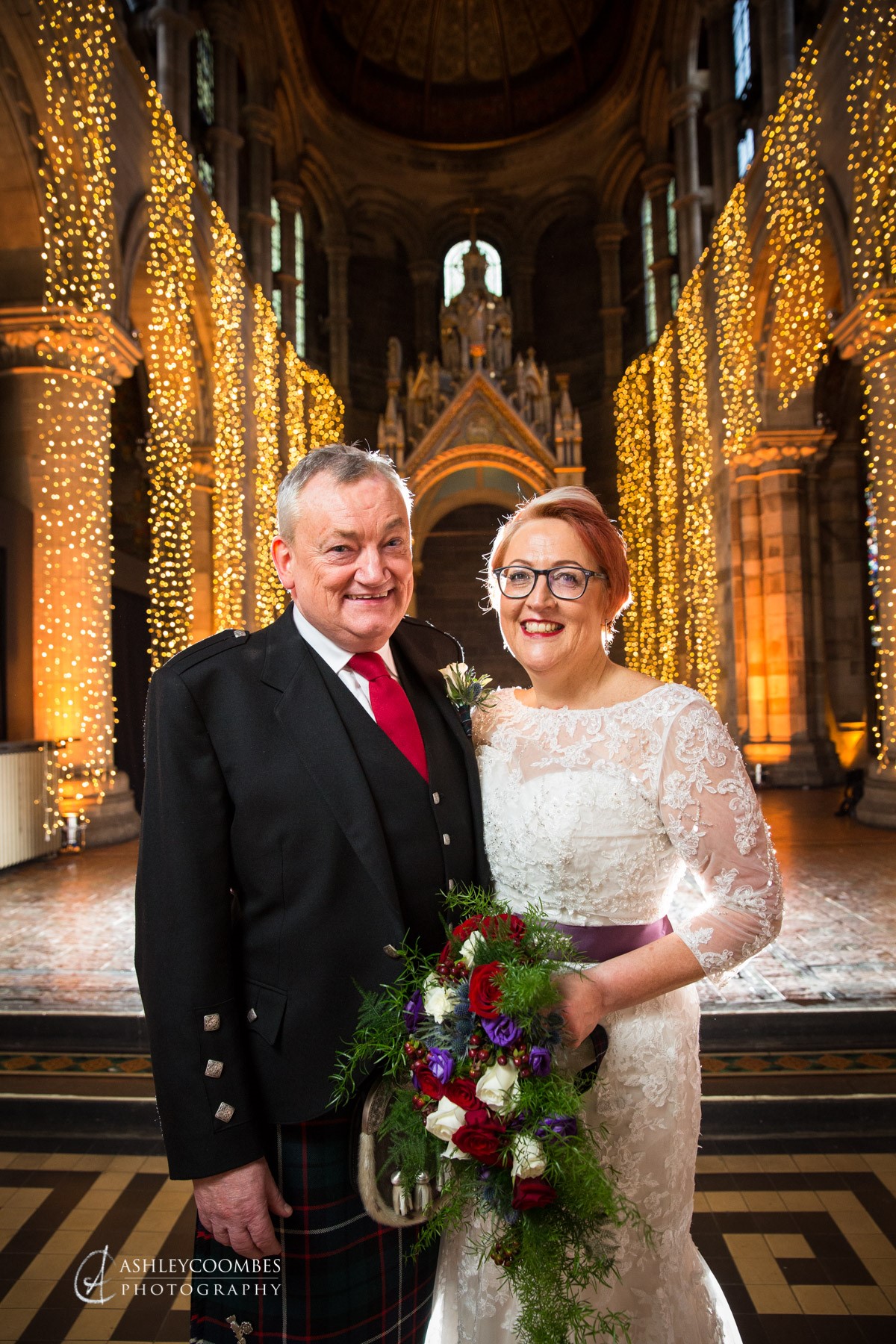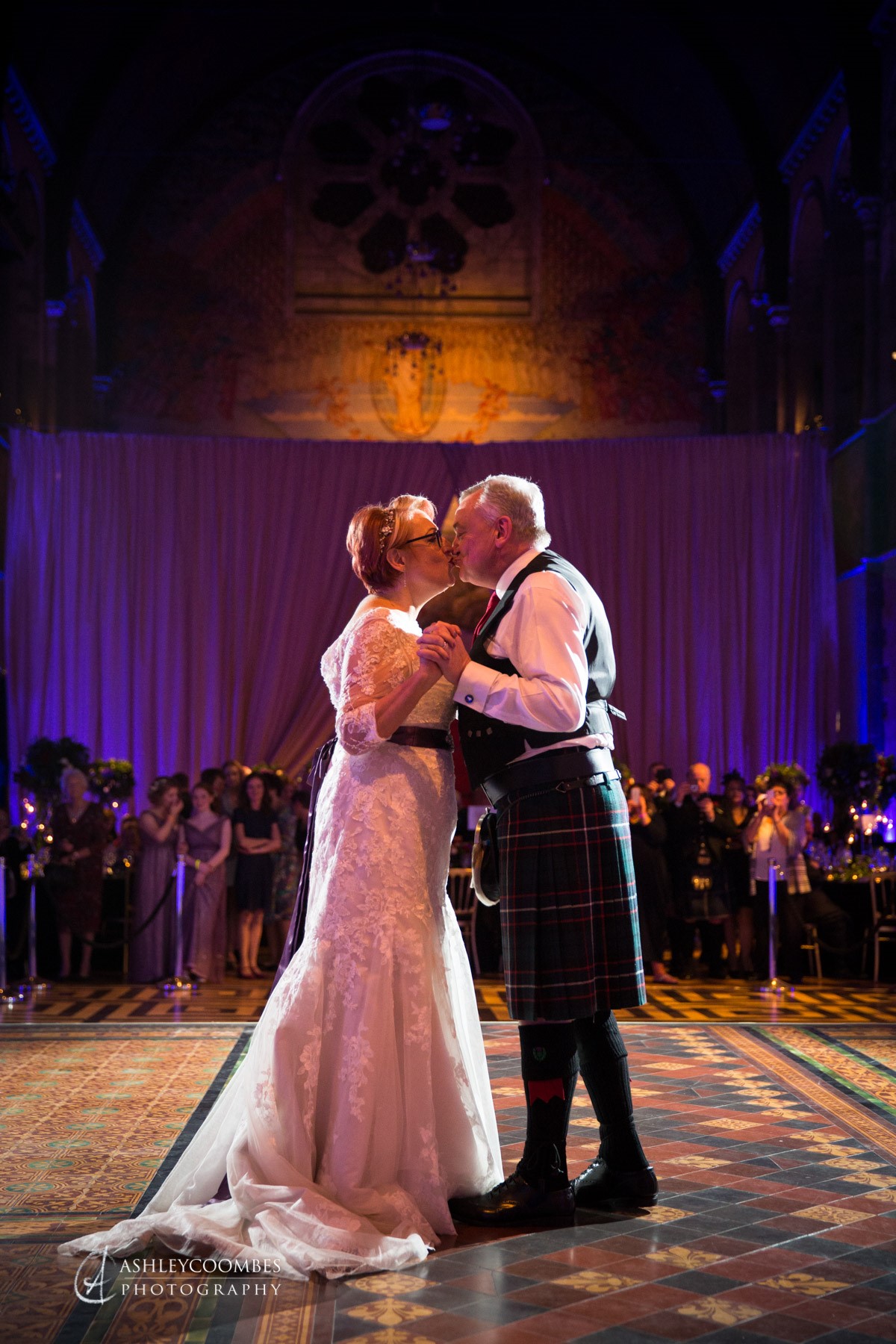 Tell us about a favourite or memorable moment.
Too many! Every moment! Simply knowing we were surrounded by friends and family and that everyone was there to celebrate with us. Jennifer singing dad's hymn. Signing the marriage schedule and finally becoming husband and wife. Seeing everyone's reaction to 'the story of us'.Seeing everyone smiling, laughing, dancing, renewing old friendships and making new ones. At the end, standing in the middle while everyone made a circle around us singing Loch Lomond at the top of their voices will live with us forever.
Any words of wisdom for future happy couples?
Enjoy the planning - do it together! And remember it's YOUR day, so do what you want, how you want, when you want.
And it's only the beginning - it's just the start of a new part of your journey together. Don't lose sight of the real meaning of the day: it's not the wedding; it's the marriage that counts.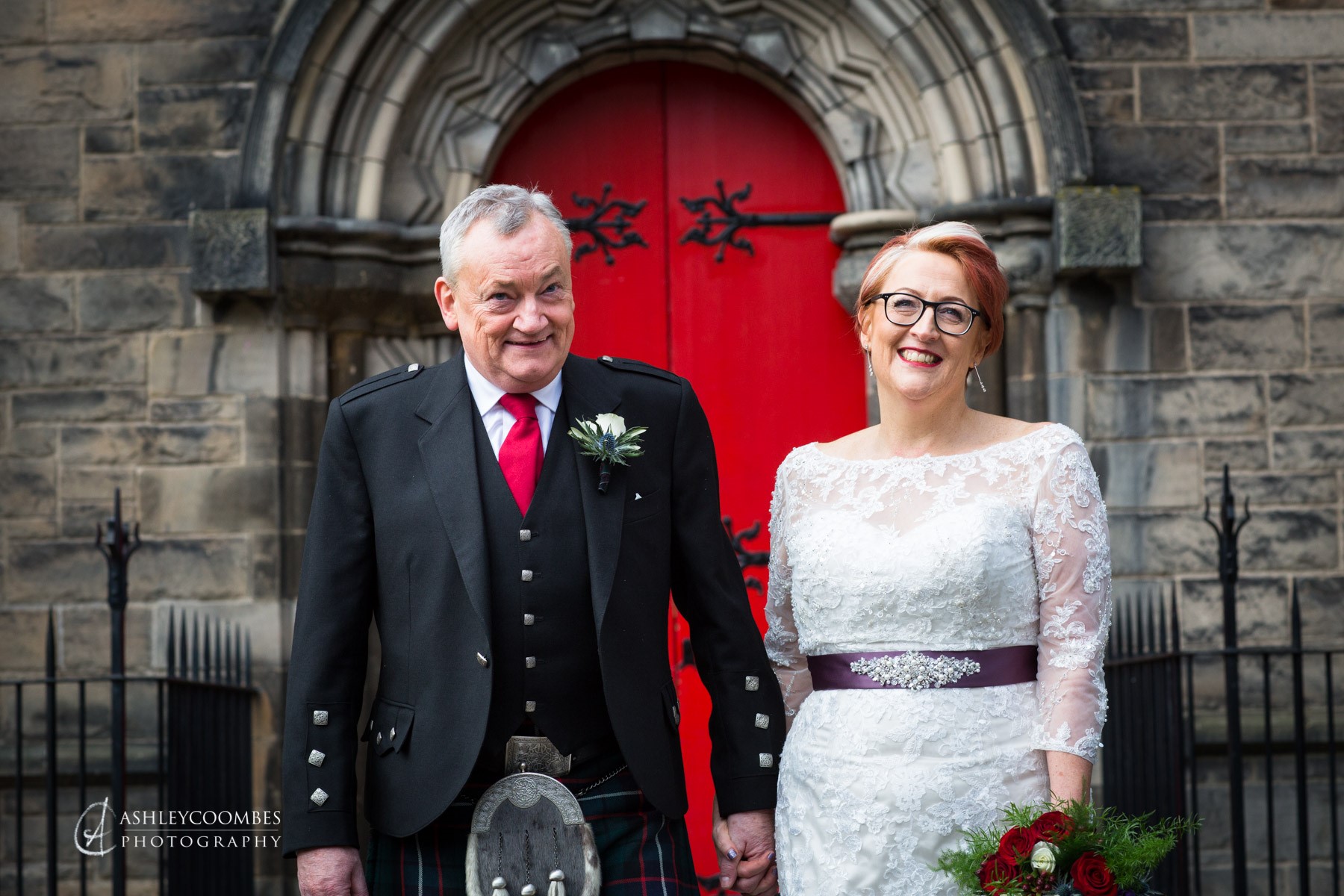 What was the most unusual situation or unexpected moment?
Our dear friend who was supposed to do a reading had a bad accident (she's going to be fine), so couldn't make it. Keith instead read it (it was the reading he'd chosen): Ordinary Morning by Joyce Grenfell. It perfectly described that moment in March 2001 when Rachel walked into his office and we met for the first time.
What are some of the compliments you've received about your wedding day?
"Best wedding we've ever been to" (from everyone) ; "the most beautiful venue I've ever seen"; "the food was so, so good!"; "we had the best time"; "brilliant", "What a day!", "the flowers are incredible"; etc, etc.
If you had to describe your Big Day in three words, what would they be?
Magical, perfect, fun.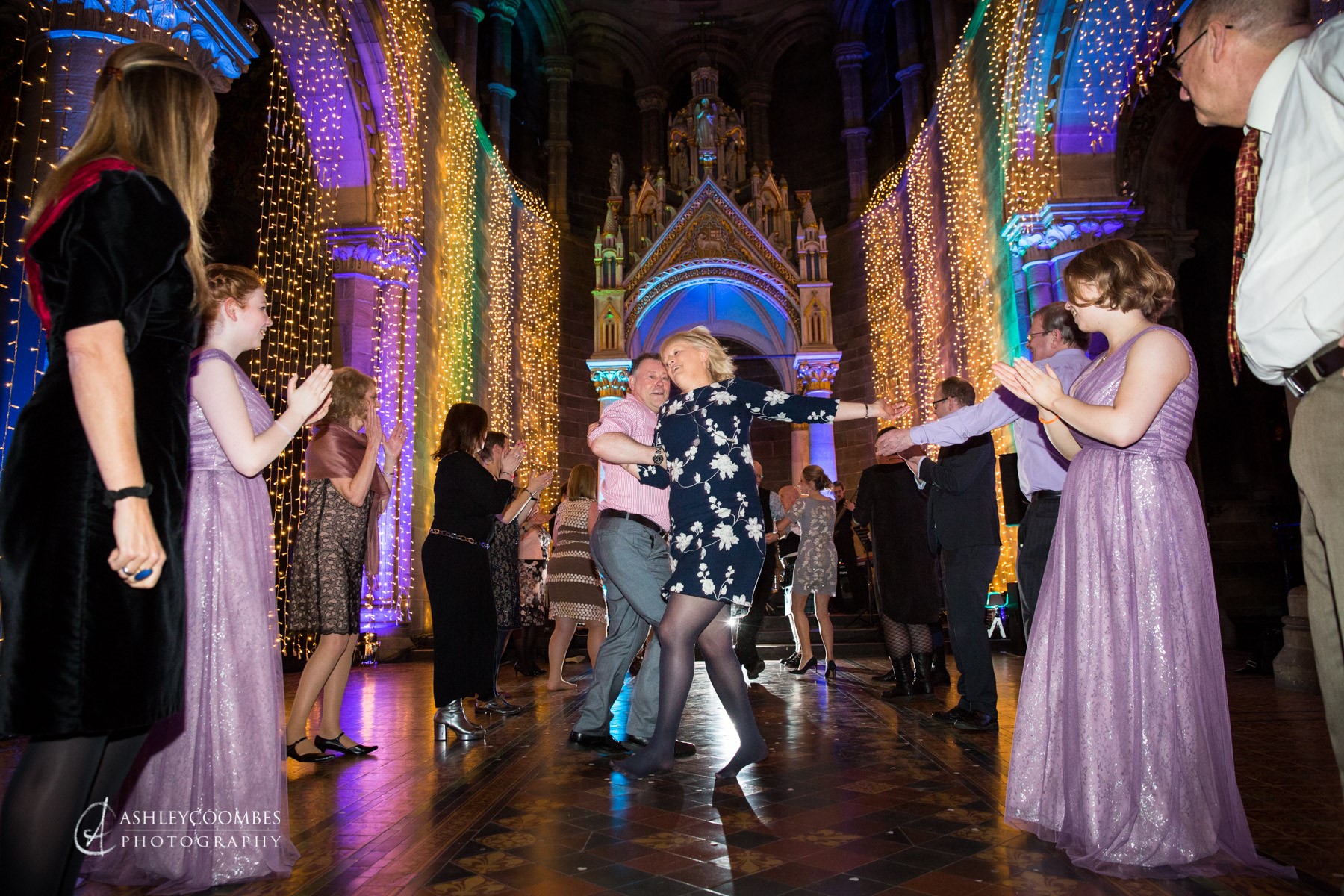 A new story begins… that is, what happens after the wedding? Where was your honeymoon, any big plans?
We went to Prestonfield Hotel straight after the wedding, then off to St Lucia for the honeymoon which was idyllic and a total chill after the business of the past few months. Next, we have a major refurbishment and extension to the house to get started on, once we get our building warrant!
Supplier
Venue: Mansfield Traquair
Celebrant: Rev Tom Gordon
Shoes: Irregular Choice
Groom's wear: Own Kilt
Bridesmaid dresses: Dessy
Wedding Cars: Peter Vardy