Love is in the air! Vicky & James' dreamy autumn-winter wedding
Vicky & James' wedding was characterised by a lovely autumn-winter theme with beautiful burgundy and dark green details, complemented with little personal details and a relaxed atmosphere.
Read more to hear all about their day and for some very useful tips from the bride on how to prepare for your big day...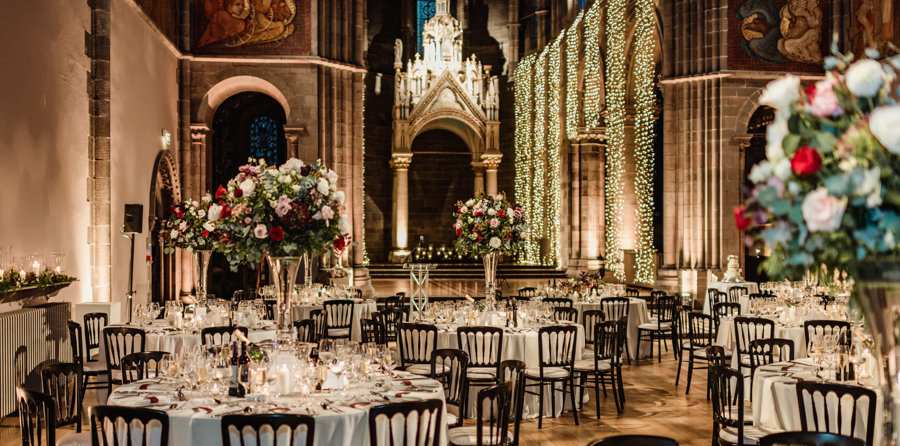 Where did you meet?
We met at university during our first year in 2007.
How was the big question popped?
On holiday in Dubai, next to the Burj Al Arab!
How did you end up choosing to get married at Mansfield Traquair and why?
The main reason we chose Mansfield Traquair was because of their large capacity, we had a big guest list. We also loved the fact that everything was in one space. Also because it's such a spectacular and unique venue – you definitely feel the WOW factor when you walk in, just stunning.
How did you prepare for your wedding and the whole planning process?
Lots of lists and being organised. I also knew some of the suppliers my sister had used for her wedding 3 years ago and they were very helpful.
What did you find was most helpful about having an Event Planner?
Megan, our event designer was very helpful in answering all the questions about the logistics for the day and being the go-to person for anything!
Did you have a theme? What was it and why did you choose it?
We decided to have an autumnal theme, with burgundy as the main colour, we thought it was a nice colour to have for a November wedding and we thought complemented the venue.
How did you personalise your wedding day?
We went for simplicity, we wanted a really relaxed and chilled day for everyone involved, we mainly focused on the ceremony being the personal part of our day.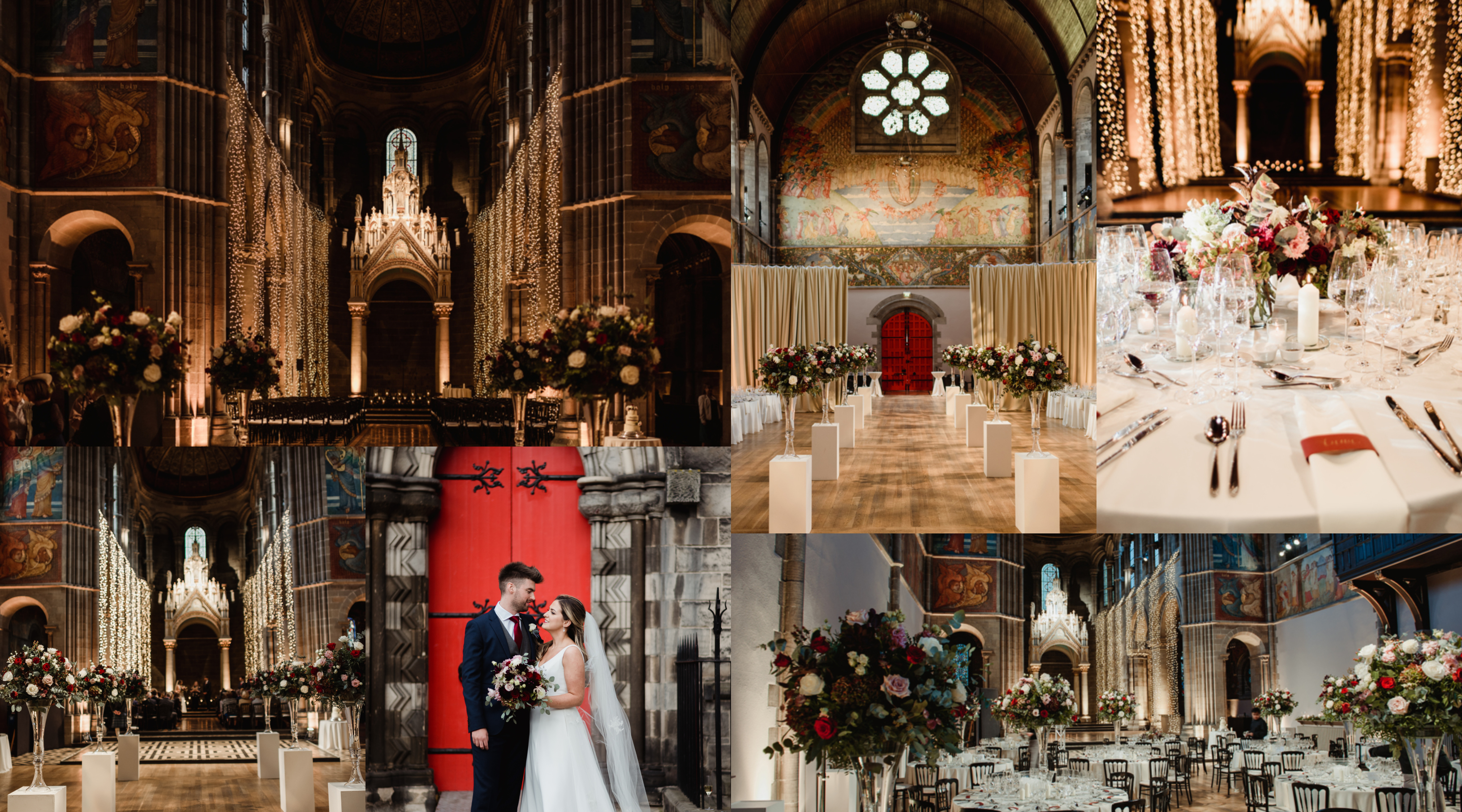 Where did you get your inspiration?
Pinterest, Instagram, the venue website and Planet Flowers website.
How did you feel walking down the aisle/standing at the altar?
Excited and nervous!
What was your ceremony like, what made it special?
Very personal and special since we had helped write it, we wanted it to be laid back, informal and funny.
Describe how you found the process of selecting your wedding menu.
Very easy-going, there were loads of options and again we wanted to go for something easy that would be a crowd pleaser. The food was delicious and very high quality.
How would you describe the service and quality of the food on your wedding day?
Amazing, the beef was outstanding and we had lots of comments from our guests about how lovely the food was.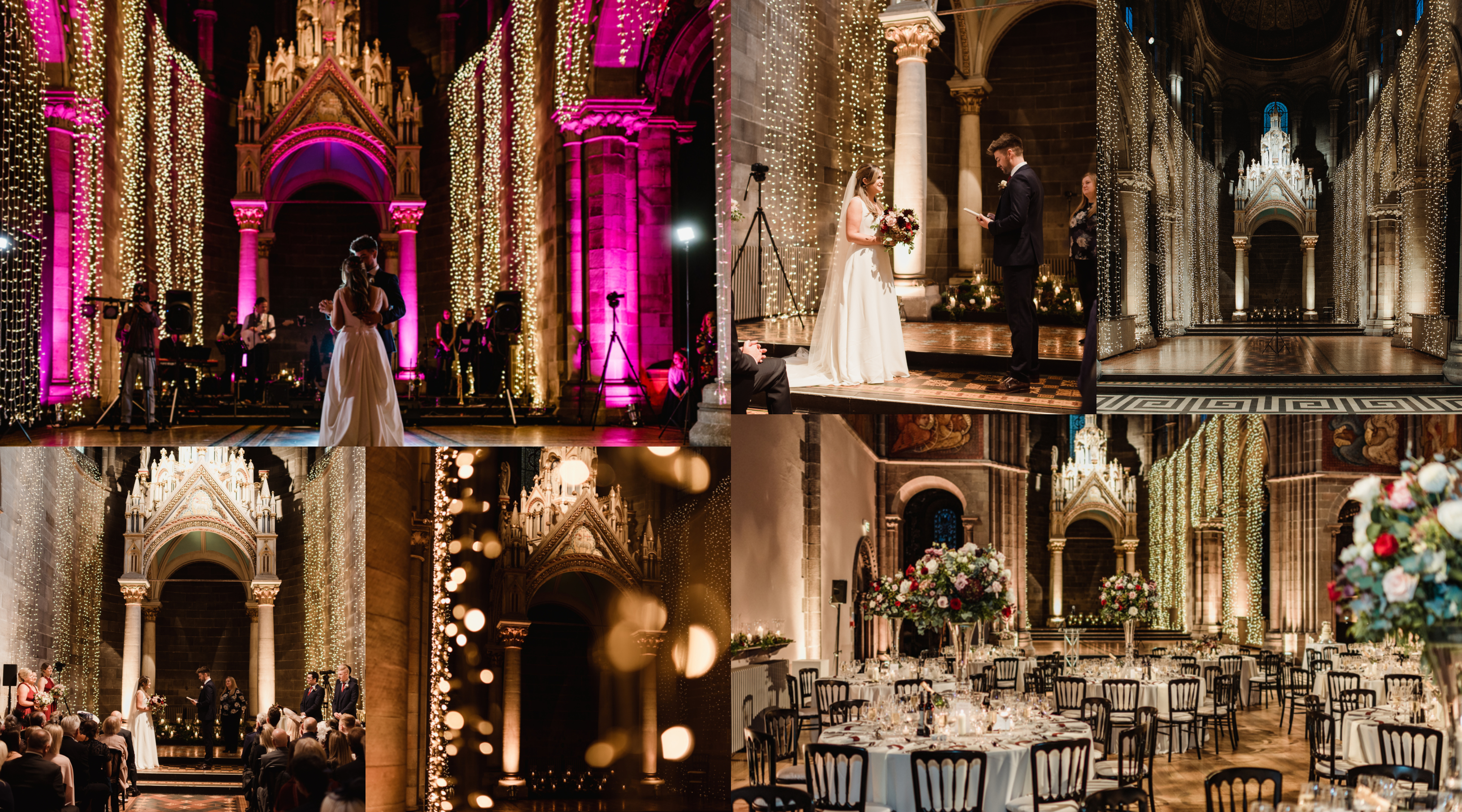 What about the cake?
Great! A family friend made the cake!
Tell us about a favourite or memorable moment.
Walking down the aisle and the ceremony, taking the venue in, seeing all our friends and family, seeing each other, seeing the venue come together with the chairs, lights, flowers, music etc. It was just amazing and loved every minute of it, after being very scared and nervous.
Any words of wisdom for future happy couples?
Try not to get wrapped in what a wedding should be, try not to over think the little details, what will be, will be. Just try to relax and enjoy every minute of it because it goes by so quickly
What are some of the compliments you've received about your wedding day?
Flawless service, amazing venue, spectacular ceiling, lights, flowers, the setup, food, drinks ( especially the gin!), music, all the staff - everything was just amazing, thank you.
If you had to describe your Big Day in three words, what would they be?
Unforgettable, spectacular, big party! (maybe 4 x words)
Where was your honeymoon, any big plans?
We went to South Africa, back for our fourth time, absolutely love it!
Please add any of your suppliers with any comments
Flowers - Planet Flowers
Music - Woo Hoo Band
Photographer - Marc Millar
Videographer - MacDonald Studio
Makeup - Nikki Marshall
Hair - Charlie Miller
Dress - Caroline Castigliano (Two Birds - Bridesmaids)
Humanist - Louise Young
Cake - Tweedledees
Cars - Majestic Wedding Cars
Photo booth - Blushbooth
Always dreamt of a winter wedding in Edinburgh? Contact our wedding planners by calling 0131 524 7287 or emailing mansfield@heritageportfolio.co.uk and start planning your big day.