Jamie and Sheelagh's beautiful fairy-tale wedding
Having fell in love at the University of Edinburgh in the same halls of residence, this couple started with fleeting glances at parties and finally met through a shared friend. From then on it's been a decade long love story. Read on for how they met and why they chose Mansfield Traquair.
How did you meet?
Jamie and I met at the University of Edinburgh where we were placed in the same halls. He apparently knew me as 'the pretty blonde girl who treated him to fleeting glances at parties.' I got to know him though my flatmate and with her help, we eventually got to share a meal together... literally. We ended up splitting a cheese burger!

How was the big question popped?
Jamie and I booked a trip to Loch Fyne in the Easter holidays as we had once been to a festival there and loved the beautiful scenery. Even though we had been together for roughly 10 years, I truly wasn't expecting it. The weather was absolutely horrible so all picturesque proposing went out the window and he did it in the room one evening where I think nerves got the better of him. I loved it though, as it was just us and we had a nice cup of tea after.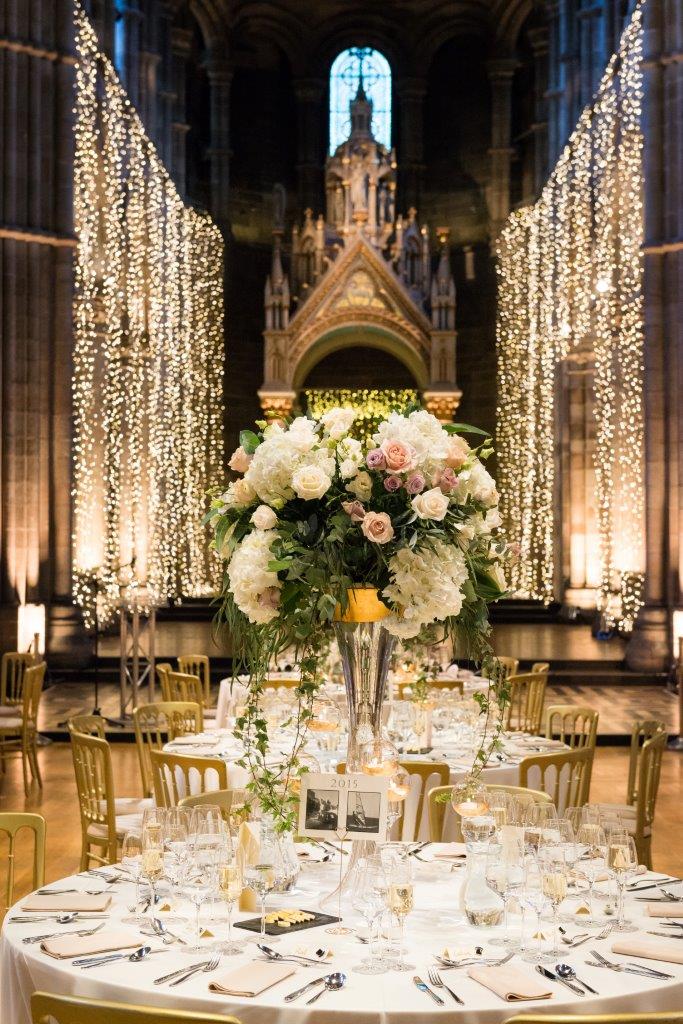 Why did you choose Mansfield Traquair as your venue?
Mansfield was always a dream venue and I had seen it in magazines and heard incredible things about it. After my sister's beautiful wedding at the Royal College of Physicians, I knew my mother would want something just as special. It was a bonus that they were both run by events caterer Heritage Portfolio. I showed her the venue and she too felt how magical it was.
How did you prepare for your wedding and the whole planning process?
I think I was quite a relaxed bride and my husband had the approach of letting my mother and I get on with it! My mother is extremely organised and our event designer Jaqueline is equally organised, calm and helpful. She was always on call to answer my questions, albeit sometimes they were the same question. The suppliers we used were all familiar with one another and in some cases good friends and so worked seamlessly together.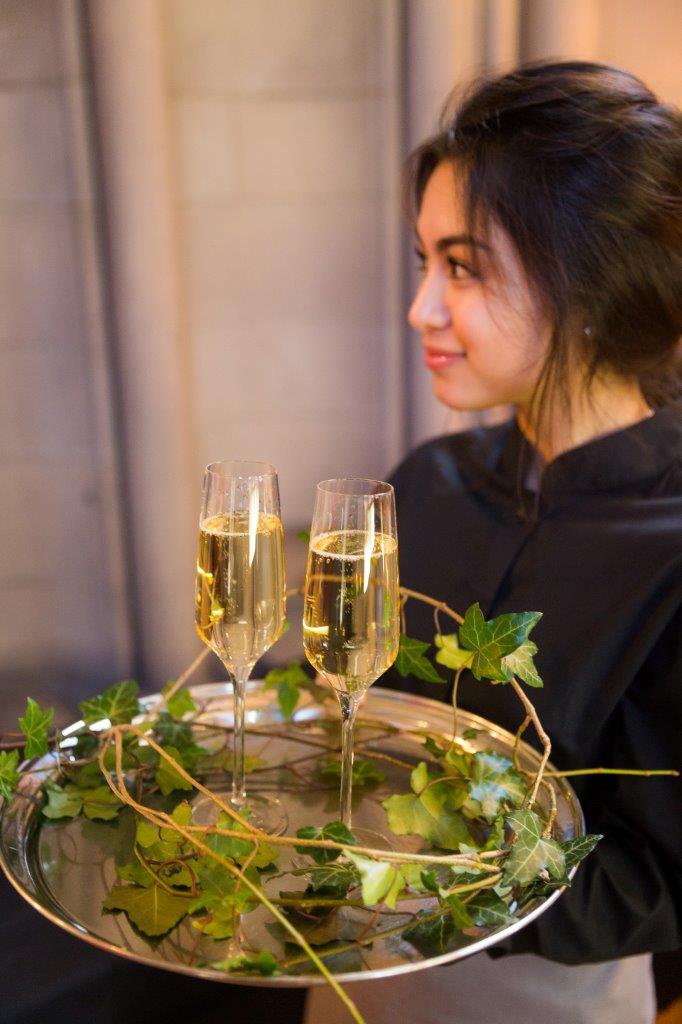 How did you personalise your wedding day? Where did you get your theme/inspiration?
Whilst my husband loved the character of the building, I loved the romance of the building and I fell in love with the twinkly fairy lights. As the building holds so much character already, we didn't have a theme and instead added a few Pinterest ideas and personal touches which were easily arranged by the Mansfield Traquair event designers.
How did you feel walking down the aisle/standing at the altar?
I was nervous about the long walk down the aisle but on the day I loved every minute of it. Your wedding day passes so quickly and often brides don't remember walking down because it was such a short walk. Fortunately Mansfield has the most fantastic aisle.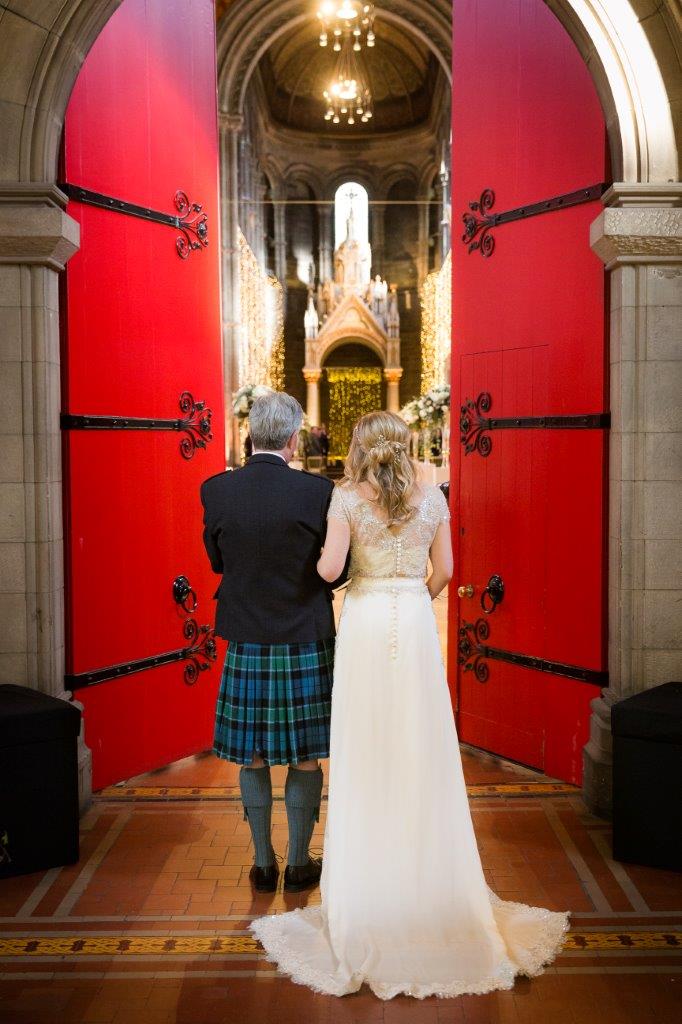 When you walk through the bold red door and get to see the venue bathed in the beautiful natural light, the magnitude of the building and significance of the walk hits you. As you walk down, the vibrant colours of the murals really stand out and with each step forward on the swirl tiled floor, you're brought closer to a beautifully intimate ceremony area. It feels cosy yet dramatic at the grand altar and to top it all off, you're surrounded by the glow of twinkling fairy lights and all of your loved ones.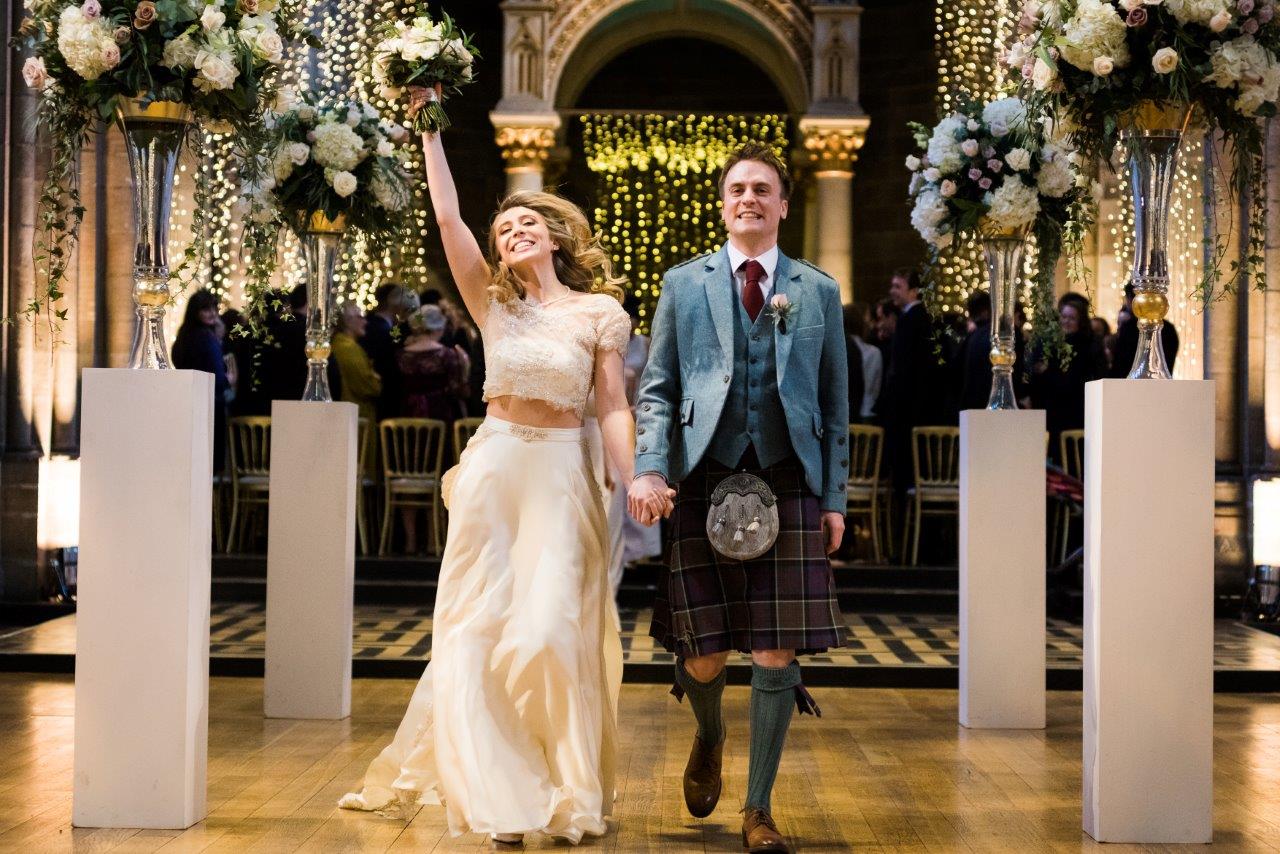 What are some of the compliments you have received about your wedding day?
On the day it felt like a fairy-tale wedding, and all of our guests commented on the beauty of the venue, how exceptional the service was, the high standard of food and beverages and the magical feeling in Mansfield Traquair.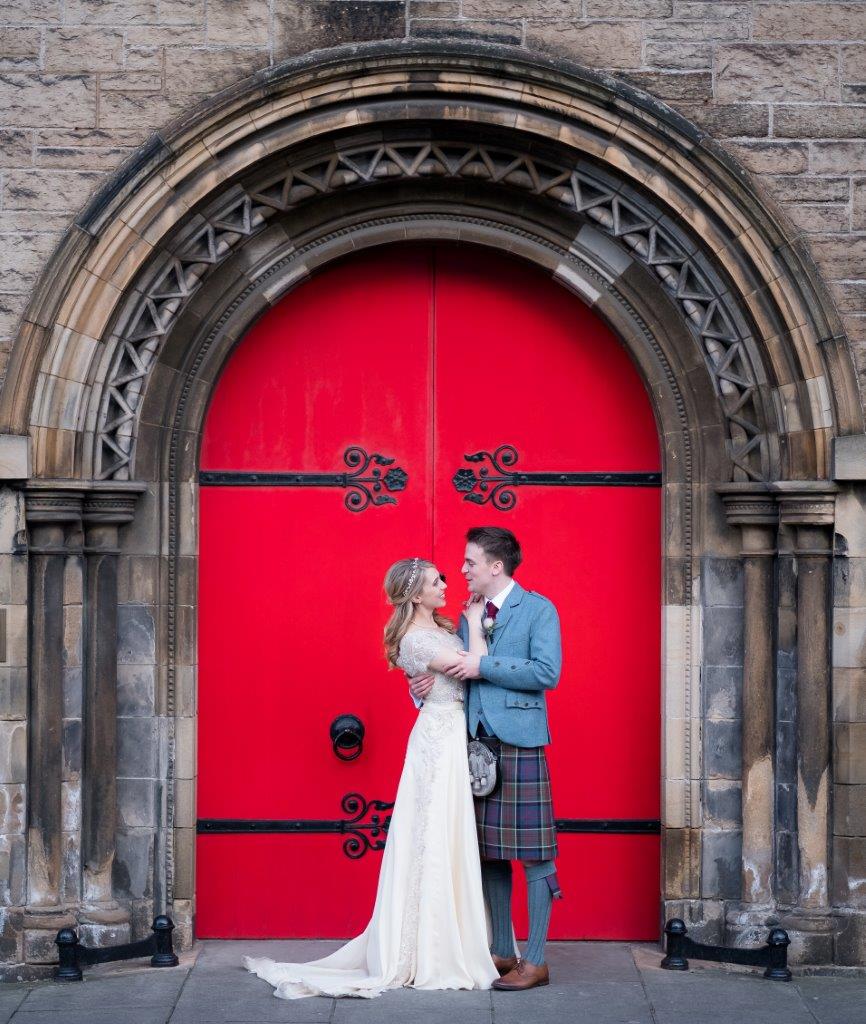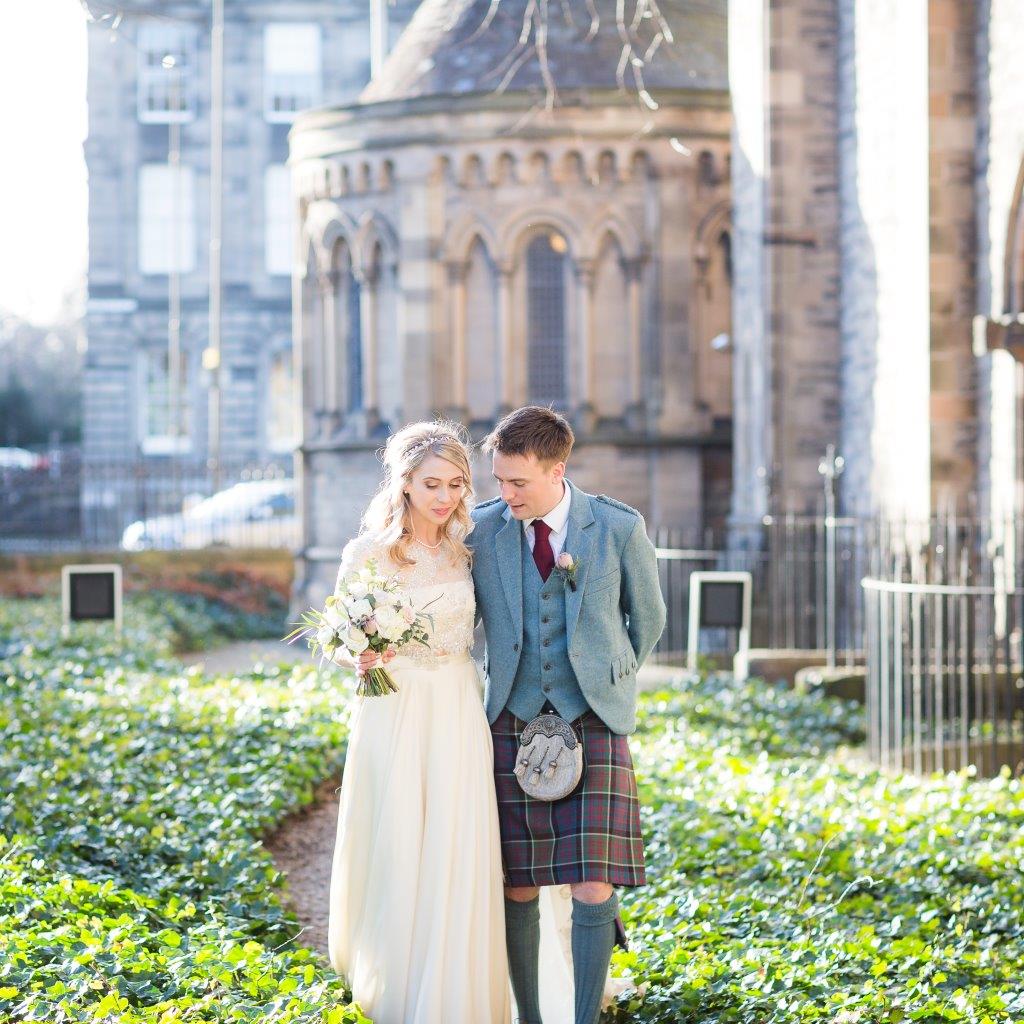 Tell us about a favourite or memorable moment during your wedding?
We thought the ceremony was just the 'must do' bit of the day but actually it was the part my husband and I enjoyed the most! That and the photographs outside the building with the wonderful Ditte from First Light Photography!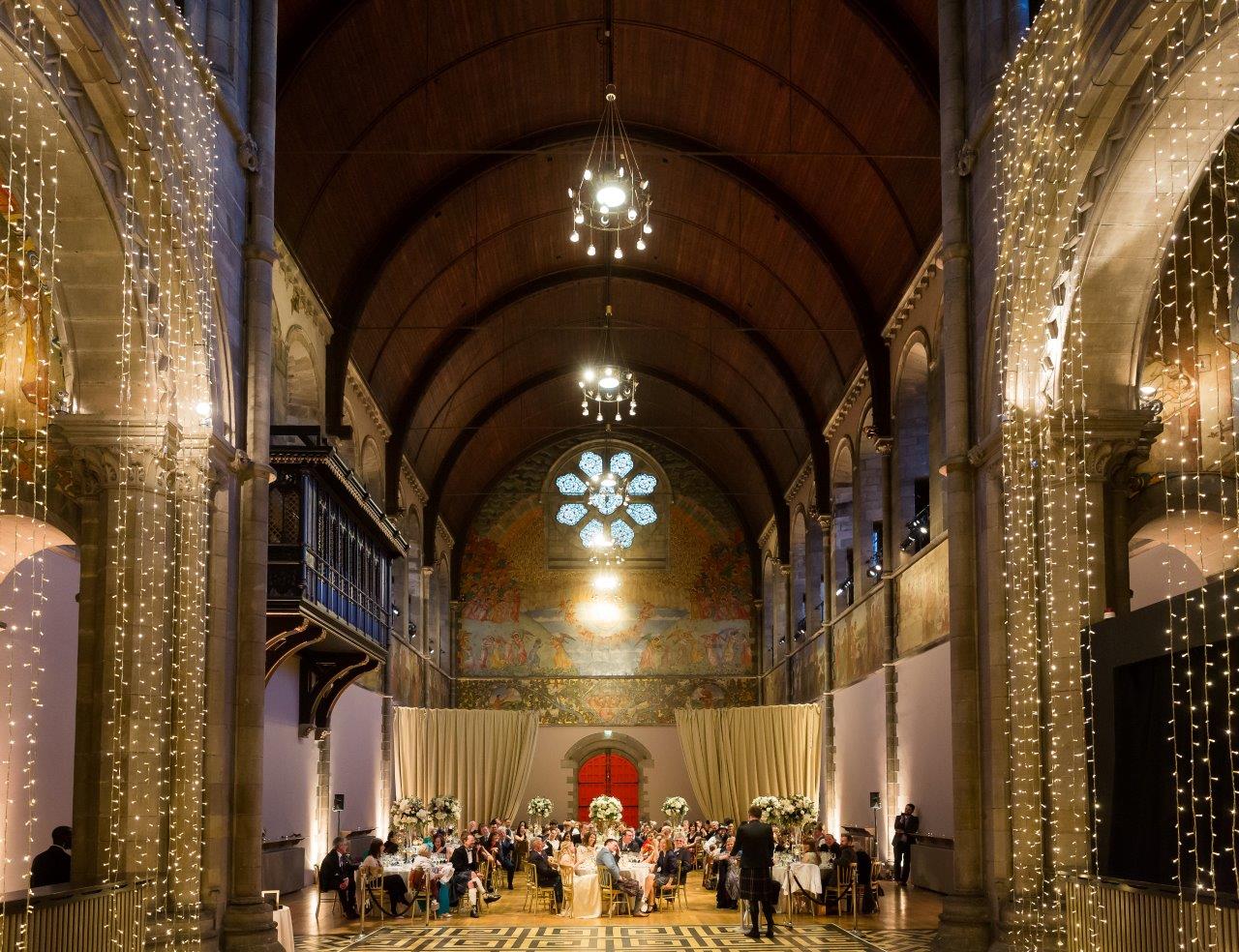 What words of wisdom do you have for couples planning their wedding?
Go with suppliers that you know work well together and talk to newly married people to find out their recommended suppliers. Also remember to relax and have fun and leave the hard work to your suppliers - they know what they are doing. Don't worry about everything going as you planned because it won't- it will be better than that! Savour every moment … it goes far too quickly!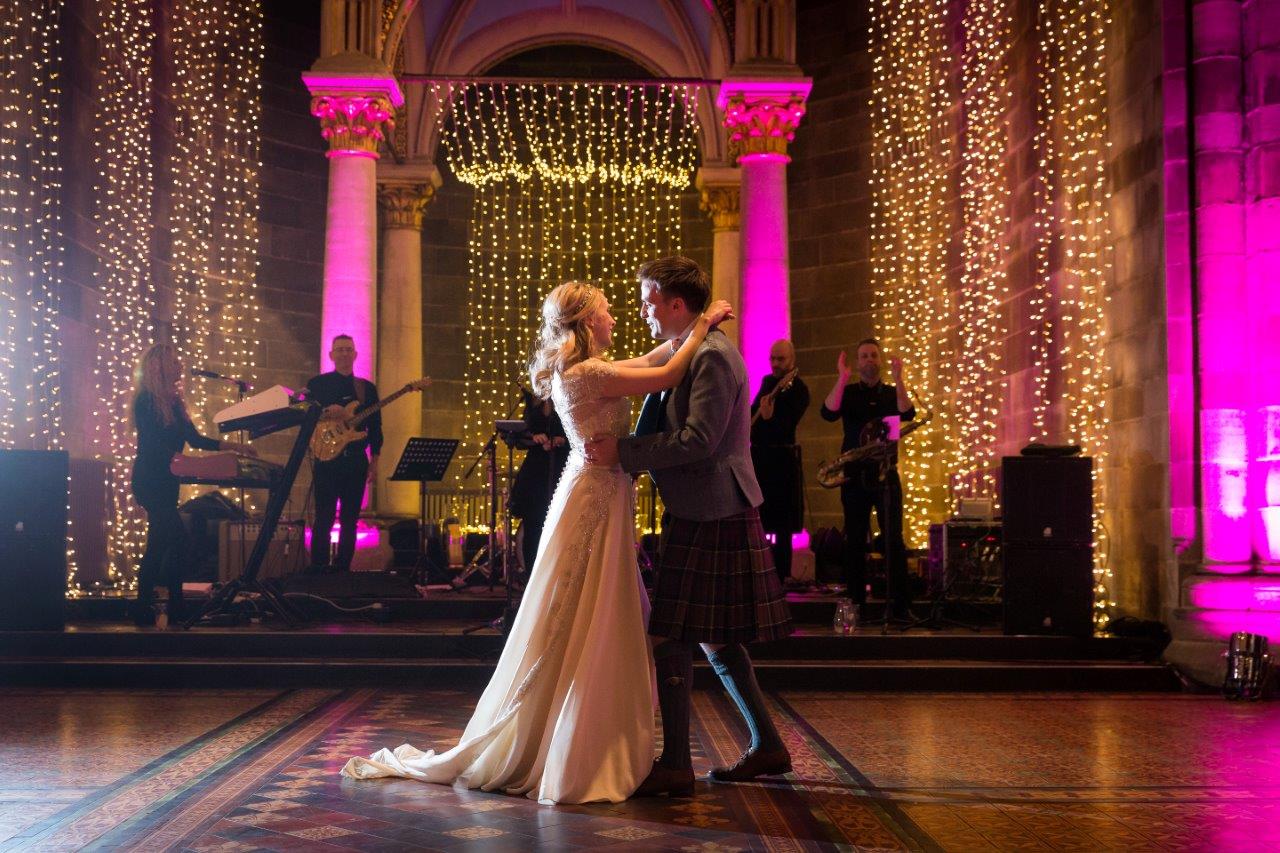 Please add any of your suppliers with any comments
We cannot recommend our suppliers highly enough. They were like one big happy family and all worked so well with one another.
My gorgeous dress was designed and made by the incredible Mette at Freja in Edinburgh. After trying on many dresses I was disheartened as couldn't find one that was right for me. I decided to see Mette, (she designed my sisters incredible wedding dress the year before) I had a drawing and a rough idea. She sat with me and helped me establish exactly what I wanted and helped me create the dress I knew I would love. We picked fabrics and played with the design as we went along. She is incredibly kind and fantastically creative!
First Light Photography are a breeze to work with. Ditte is incredibly passionate about her work and is very flexible and talented at capturing moments. She seemed to capture everything in our day yet was not intrusive. During our couples shoot she was extremely relaxed and made sure we have fantastic photographs to treasure forever.
Gemma at Planet Flowers put me at ease. I had no clue what to ask for or what to suggest but I know I had fun trying to work it out with Gemma. She is fantastic at pulling a range of ideas together. On the day the venue looked phenomenal and I know Gemma's flower arrangements were a large part to play in the overall look.
Rebekah McVitie was the makeup artist I pinched from a friend's wedding. She has now done my make up for weddings three times and each time I am amazed at how natural yet long lasting her application is. She is extremely organised and has a very relaxing nature (something which all brides could do with the morning before your wedding!)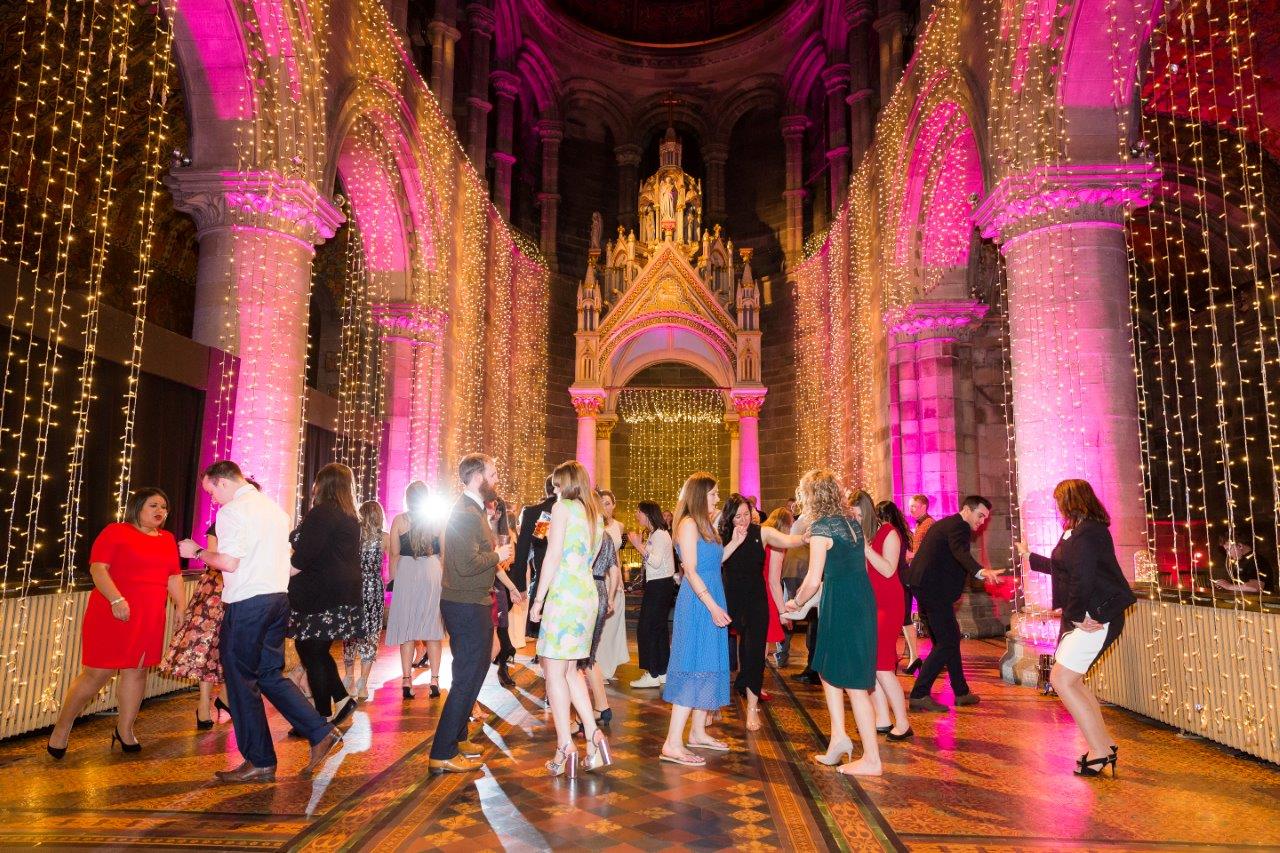 If you want to learn more about the venue and see it set for a stunning wedding, come to our Wedding Open Evening on Friday 4 May from 6 – 8pm. Call 0131 474 8013 or email cassie@heritageportfolio.co.uk for more details or to make an appointment.