Lucy & Dougie's angels themed wedding
For us, Lucy & Dougie's wedding was a love at first sight. Angels theme complemented by beautiful bold colours, lots of little personal details, bride's quirky blue hair, relaxed atmosphere - an absolute stunner of a wedding!
Photographed by Amy B Photography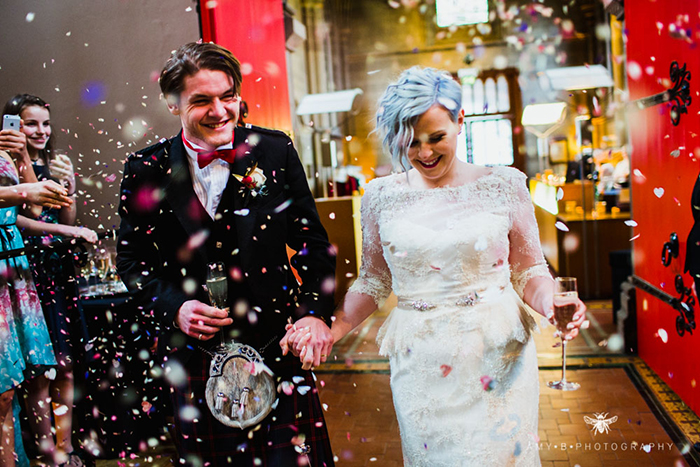 How did you meet?
We met on a night out through mutual friends - we actually could have met over the course of 4 years but kept missing each other, but the night we met the rest was history!
When/where/how was the big question popped?
December 2014, we went back to Linlithgow Loch which was special to us and took a picnic, and Dougie proposed.
How did you end up choosing to get married at Mansfield Traquair and why?
Angels are important to the family, and the mother of the bride studied History of Art years ago and discovered Mansfield and so immediately when we got engaged she showed us and we fell in love! How could we not!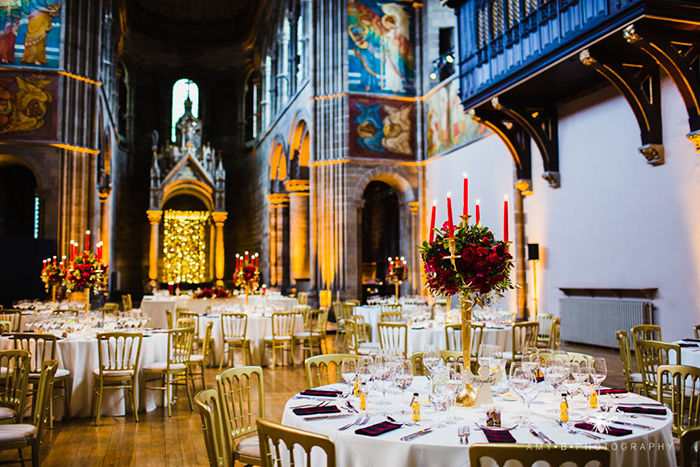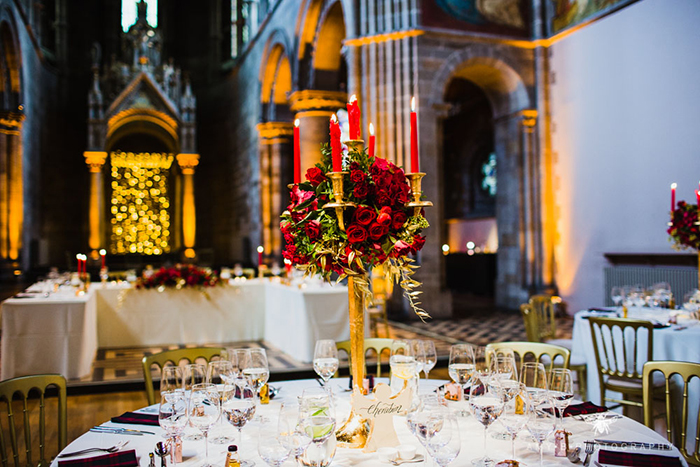 What made you choose this date/time of year?
22 April was my papa and gran's first date, a number he always played on the lottery haha. My papa Dan was my most special person so it made sense that when we decided to have a spring wedding, we would make it that date.
Did you enjoy preparing for your wedding and the whole planning process?
We LOVED planning the wedding, we did everything ourselves as we wanted to fill the day with special, personal touches and we wanted everyone to feel how special it was. Obviously we had help along the way but all the ideas were ours.
Did you have a theme?
Angels was our theme. Angels are special to the family and along with the murals at Mansfield Traquair it was truly perfect. We had our angel table plan from Planet Flowers and our table names were the 9 choirs of angels.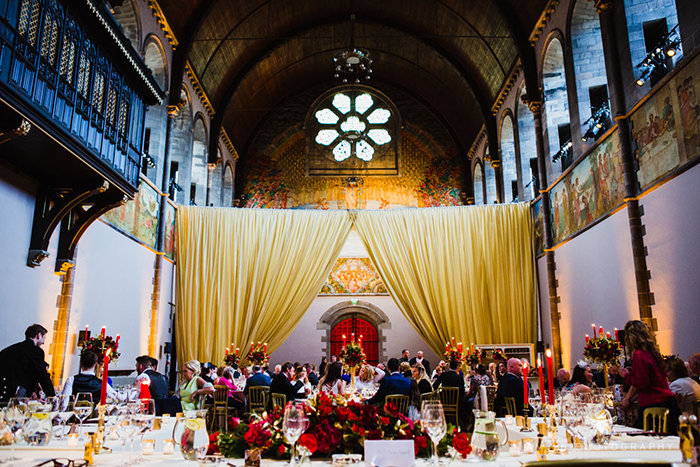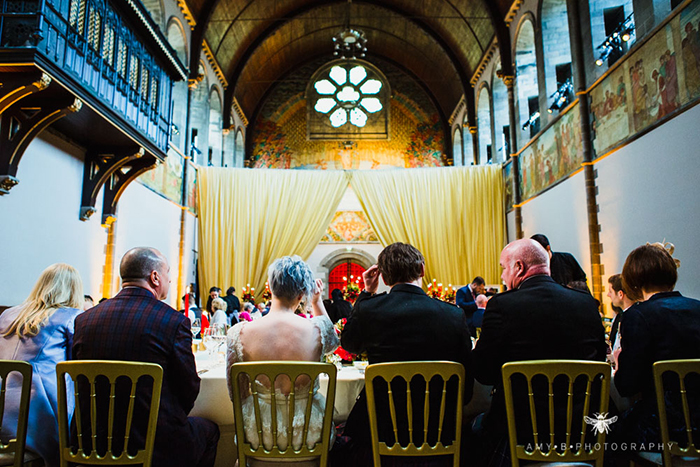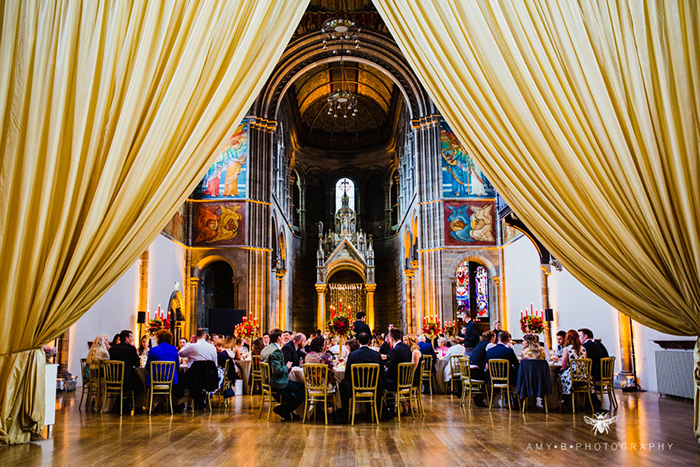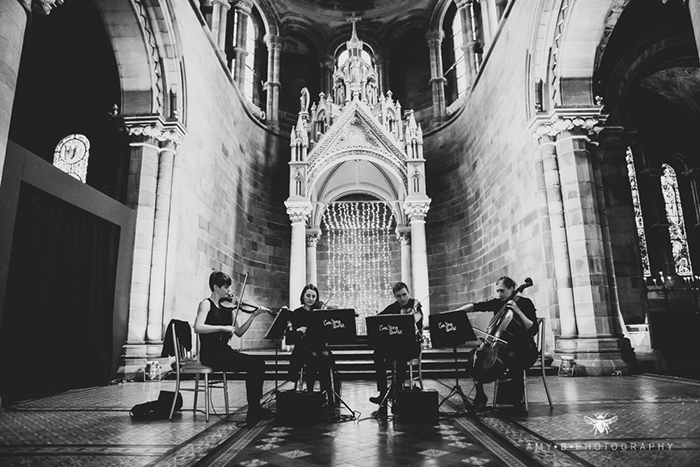 How did you personalise your wedding day? Where did you get your inspiration?
We had lots of little personal ideas, we linked everything as much as we could and just took inspiration from us, our journey together and the vision we had for the day.
Bride: Your dress – what made it perfect? Were there any special accessories that you chose?
I loved that the dress was different to any I had ever seen before, it had everything I could have ever dreamed of and more. Special accessories - it's got to be my blue hair! I have always had quirky hair and it's very me and something Dougie loves, so I had to make it a feature on the wedding day. And what's better than making it my 'something blue'.
Groom: What was your style? Any tips?
Dougie loves his kilt and would wear it for the weekly shop if he could. His family are quite traditional and they all wear tartan that is linked to family names so that it is all very personal.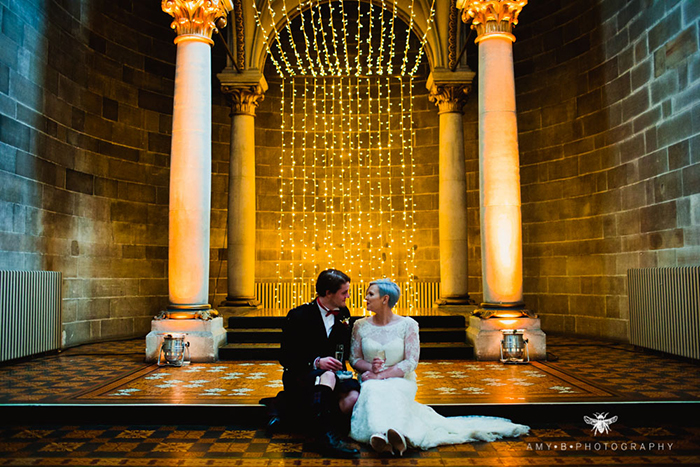 How did you feel walking down the aisle/standing at the altar?
I felt very emotional walking down the aisle and seeing Dougie standing waiting for me was the most amazing feeling.
Standing waiting at the altar was nerve wracking and when I saw Lucy it was overwhelming, amazing feeling.
What was your ceremony like, what made it special?
Our ceremony was very personal to us, it was a Catholic ceremony and Lucy has known the priest for years so it was very personal and emotional and felt very special to us.
First dance…
Our first dance was Be My Baby by the Ronettes, purely because the lyrics could be us! It was like listening to our story. We completely improvised and it was the most 'under pressure' we had felt all day haha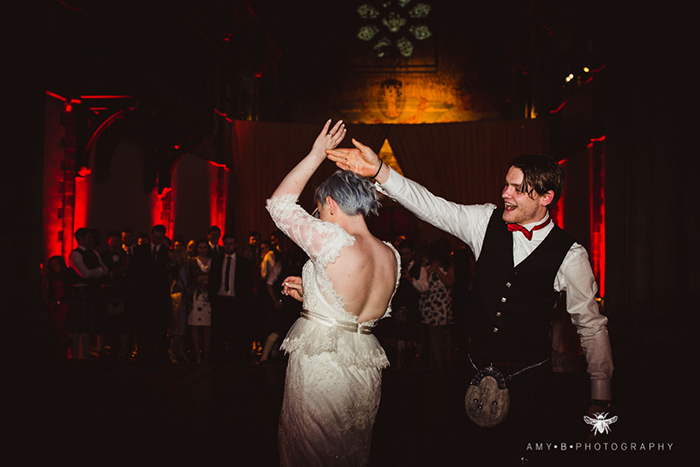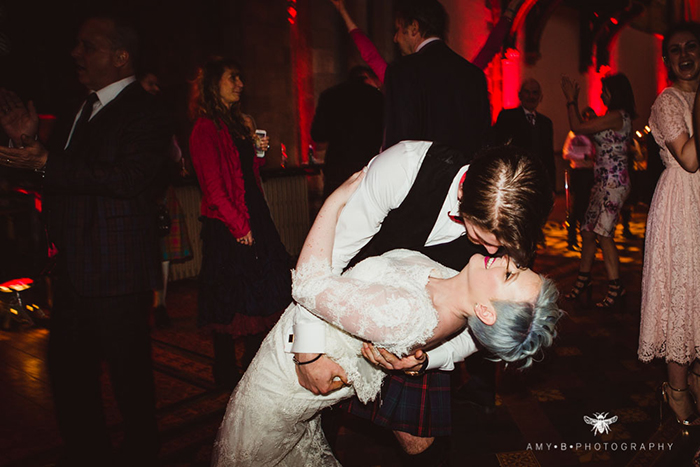 The menu – how did you select your menu? What were your favourite elements? What did people say?
We had a tasting with Helen at Mansfield Traquair and she was so helpful and everything was so delicious! We loved our antipasti platter for our starter as we love food like that and love Italy and that was our little taste of Italy for the day. Everyone commented on the food being delicious!
What about the cake?
My auntie provided and decorated the cake - and wasn't it beautiful!!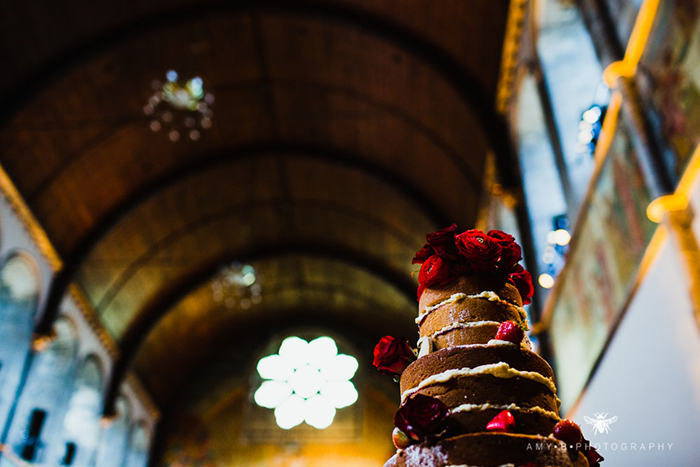 Tell us about a favourite or memorable moment.
Everything was so memorable, the Mansfield team truly made us have such a wonderful day and we were completely relaxed knowing everything was taken care of!
Any words of wisdom for future happy couples?
Plan for YOU and do what YOU want, everyone will have opinions but only yours matters! It's your day!
What are some of the compliments you've received about your wedding day?
That the food was fabulous, the venue was fabulous. One of my closest friends said the best comment we have received, that it was one of the best days of her life!
If you had to describe your Big Day in three words, what would they be?
Most perfect day.
A new story begins… that is, what happens after the wedding?
We are back to work for a couple weeks then we are off to NYC and then Antigua for our honeymoon.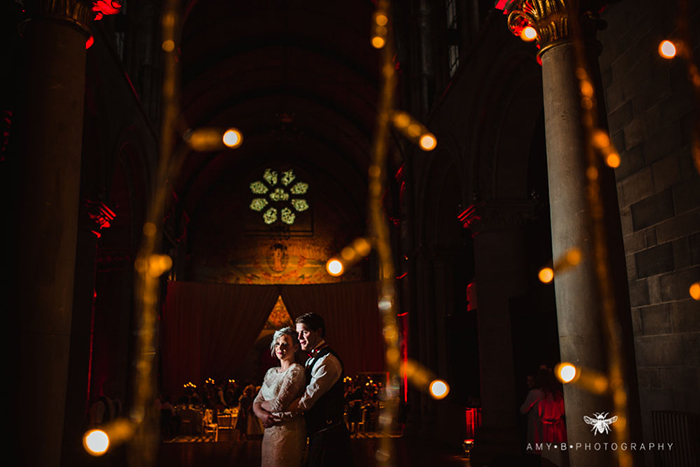 Suppliers
Ceremony venue: St John the Baptist RC Church, Fauldhouse
Reception venue: Mansfield Traquair
Photographer: Amy B Photography – 'An absolutely wonderful photographer and an amazing person who was an absolute delight to have on the day, and her photos are second to none.'
Flowers: Planet Flowers
Catering: Heritage Portfolio
Dress: Lusan Mundongus – 'Bought at Ivory Pinks, Bothwell - I would recommend all the wonderful ladies here'
Band: Wedding Band Goldstar – 'We didn't have an empty dancefloor all night - they were outstanding and many people commented on how fab they were!'