Mansfield Traquair - If you've recently said 'yes' to the big question, chances are you're looking for a wedding venue. The place where dreams come true is Mansfield Traquair. A spectacular exclusive use venue for weddings, parties and corporate events, Edinburgh's 'Sistine Chapel' is simply extraordinary. Located in the heart of the city and lovingly restored to create a versatile space which combines stunning, historic architecture with state-of-the-art lighting and specification, you'll find that anything is possible at Mansfield Traquair. Event partners, Heritage Portfolio rise to the challenge creating events to be remembered forever - an experience beyond food, every time.
News
Elegant white spring wedding in the heart of Edinburgh
From the soft natural colour and gorgeous florals to personal and elegant touches, the wonderful family atmosphere and impressive dance moves, we absolutely loved being part of Katy and Kevin's special day!
MORE
Christmas Carol Concert at Mansfield Traquair
Start off your Christmas celebrations in style and come along to Mansfield Traquair on 14th December 2014 at 6.30pm for 'Carols with the Salvation Army'!
MORE
We had a fantastic day – the team were superb, the bowl food was great and the staff were everything you could ask for.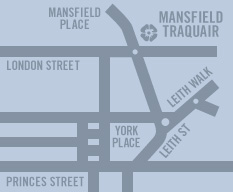 A venue supported by Heritage Portfolio