Mansfield Traquair - If you've recently said 'yes' to the big question, chances are you're looking for a wedding venue. The place where dreams come true is Mansfield Traquair. A spectacular exclusive use venue for weddings, parties and corporate events, Edinburgh's 'Sistine Chapel' is simply extraordinary. Located in the heart of the city and lovingly restored to create a versatile space which combines stunning, historic architecture with state-of-the-art lighting and specification, you'll find that anything is possible at Mansfield Traquair. Event partners, Heritage Portfolio rise to the challenge creating events to be remembered forever - an experience beyond food, every time.
News
A joyful winter wedding for Thomas and Jamie
Inseparable from the moment they first met, the wedding between these two handsome grooms was a truly romantic and special day. Their engagement may have started with sweety rings in New York, but it was concluded in the city where they met and fell for one another.
MORE
Suzanne and Monday's magical Scottish-Nigerian winter wedding
Having met and fallen in love in Edinburgh, the city has a special place in Suzanne and Monday's hearts, and when it came to choosing where to get married they both knew there was no other city.
MORE
It was such fun to watch all the guests as they first walked in – you could literally see them all saying WOW!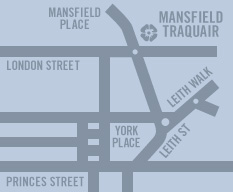 A venue supported by Heritage Portfolio