Mansfield Traquair - If you've recently said 'yes' to the big question, chances are you're looking for a wedding venue. The place where dreams come true is Mansfield Traquair. A spectacular exclusive use venue for weddings, parties and corporate events, Edinburgh's 'Sistine Chapel' is simply extraordinary. Located in the heart of the city and lovingly restored to create a versatile space which combines stunning, historic architecture with state-of-the-art lighting and specification, you'll find that anything is possible at Mansfield Traquair. Event partners, Heritage Portfolio rise to the challenge creating events to be remembered forever - an experience beyond food, every time.
News
Wedding Open Days 19 & 20 September 2015
Looking for a perfect wedding venue? If Edinburgh is your city of dreams, then Mansfield Traquair could be exactly what you're searching for. Visit us at our Wedding Open Days and find out.
MORE
Enchanting Valentine's Day wedding in the heart of Edinburgh
If you love weddings then you're in for a real treat. When the time came for this charming couple from the Scottish Borders to tie the knot, they wanted to throw a glamorous black tie affair. Graced with elegant details, golden lighting and a magical atmosphere, their Big Day was truly special from start to finish….
MORE
We had a really super day, thank you to everyone. We only wish we could do the whole thing all over again.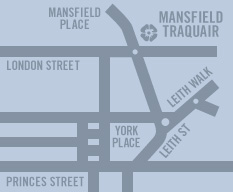 A venue supported by Heritage Portfolio