Mansfield Traquair - If you've recently said 'yes' to the big question, chances are you're looking for a wedding venue. The place where dreams come true is Mansfield Traquair. A spectacular exclusive use venue for weddings, parties and corporate events, Edinburgh's 'Sistine Chapel' is simply extraordinary. Located in the heart of the city and lovingly restored to create a versatile space which combines stunning, historic architecture with state-of-the-art lighting and specification, you'll find that anything is possible at Mansfield Traquair. Event partners, Heritage Portfolio rise to the challenge creating events to be remembered forever - an experience beyond food, every time.
News
Dave TV end of Festival Fringe summer party
It's always fun for us to exceed our client's expectations and we relish the challenge of transforming our beautiful building into something completely different for a night – and the Dave TV end of Festival Fringe summer party is a testimony to that!
MORE
New couture bridal label launched at Mansfield Traquair
Mansfield Traquair's dramatic and awe-inspiring setting recently provided a perfect backdrop for a fantastic bridal fashion show that saw the launch of La Novia's new bridal label Oscar Lili. We were delighted when we heard that Mansfield's breath-taking murals were Liliana Dubic's inspiration for her 2016 collection!
MORE
The food, wine and service were excellent, you have a great team and we felt in such capable hands all evening.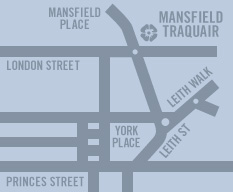 A venue supported by Heritage Portfolio