Mansfield Traquair - If you've recently said 'yes' to the big question, chances are you're looking for a wedding venue. The place where dreams come true is Mansfield Traquair. A spectacular exclusive use venue for weddings, parties and corporate events, Edinburgh's 'Sistine Chapel' is simply extraordinary. Located in the heart of the city and lovingly restored to create a versatile space which combines stunning, historic architecture with state-of-the-art lighting and specification, you'll find that anything is possible at Mansfield Traquair. Event partners, Heritage Portfolio rise to the challenge creating events to be remembered forever - an experience beyond food, every time.
News
Fairytale winter wedding
A Mansfield Traquair winter wedding is the perfect canvas – the dramatic interior is especially beautiful as the winter light fades on the stained glass windows. Gemma and Scott chose an equally dramatic and sophisticated black and white colour theme. Pinspot lighting highlighted the floral centerpieces that mimicked snow laden trees complete with sparkling baubles and hand-cut snowflake place cards.
MORE
Christmas Winter Wedding Inspiration
When Laura and Stewart decided on a Christmas winter wedding at Mansfield Traquair we were nearly as excited as they were! The happy couple had fun with a subtle Christmas theme. Projecting snowflakes on the floors and adding Christmas trees to the hall for quests to decorate with messages for the couple was a perfect touch.
MORE
Thanks again for making the whole process so enjoyable and dealing so serenely with the chaos that inevitably comes with us!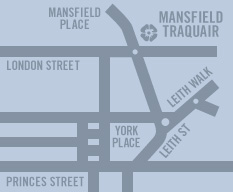 A venue supported by Heritage Portfolio