Mansfield Traquair - If you've recently said 'yes' to the big question, chances are you're looking for a wedding venue. The place where dreams come true is Mansfield Traquair. A spectacular exclusive use venue for weddings, parties and corporate events, Edinburgh's 'Sistine Chapel' is simply extraordinary. Located in the heart of the city and lovingly restored to create a versatile space which combines stunning, historic architecture with state-of-the-art lighting and specification, you'll find that anything is possible at Mansfield Traquair. Event partners, Heritage Portfolio rise to the challenge creating events to be remembered forever - an experience beyond food, every time.
News
Angels themed wedding of Lucy and Dougie
For us, Lucy & Dougie's wedding was a love at first sight. Angels theme complemented by beautiful bold colours, lots of little personal details, bride's quirky blue hair, relaxed atmosphere - an absolute stunner of a wedding!
MORE
Father's Day celebrations
With Father's Day coming up this weekend we wanted to do a feature on the roles our dad's play in your wedding, from walking you down the aisle, giving a touching speech or helping financially – thanks dad! At Mansfield Traquair the entrance is so grand and quite long so dad definitely needs to be there for support.
MORE
It was such a pleasure to be sitting at the table listening to the compliments from guests about the food and the venue.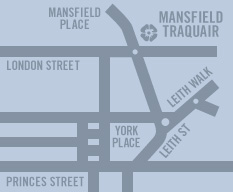 A venue supported by Heritage Portfolio