Mansfield Traquair - If you've recently said 'yes' to the big question, chances are you're looking for a wedding venue. The place where dreams come true is Mansfield Traquair. A spectacular exclusive use venue for weddings, parties and corporate events, Edinburgh's 'Sistine Chapel' is simply extraordinary. Located in the heart of the city and lovingly restored to create a versatile space which combines stunning, historic architecture with state-of-the-art lighting and specification, you'll find that anything is possible at Mansfield Traquair. Event partners, Heritage Portfolio rise to the challenge creating events to be remembered forever - an experience beyond food, every time.
News
A Proposal to Remember
Every wedding starts with a question, specifically a proposal and we at Mansfield Traquair are always interested to hear about how our couples ask or were asked one of the most important questions of their lives.
MORE
A Devilish and Decadent Birthday Celebration
Its a commonly known fact that birthdays are when we can allow ourselves to indulge and be treated to cake and be spoilt with presents. What if you want a once in a lifetime party though?
MORE
Monday night at Mansfield was a superb event – the venue was simply stunning and your staff were amazing (again!).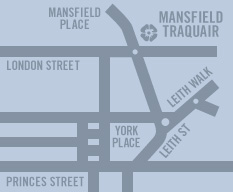 A venue supported by Heritage Portfolio